Nevada Caucuses Go as Expected
Media overreacts to the Sanders victory all the polls predicted.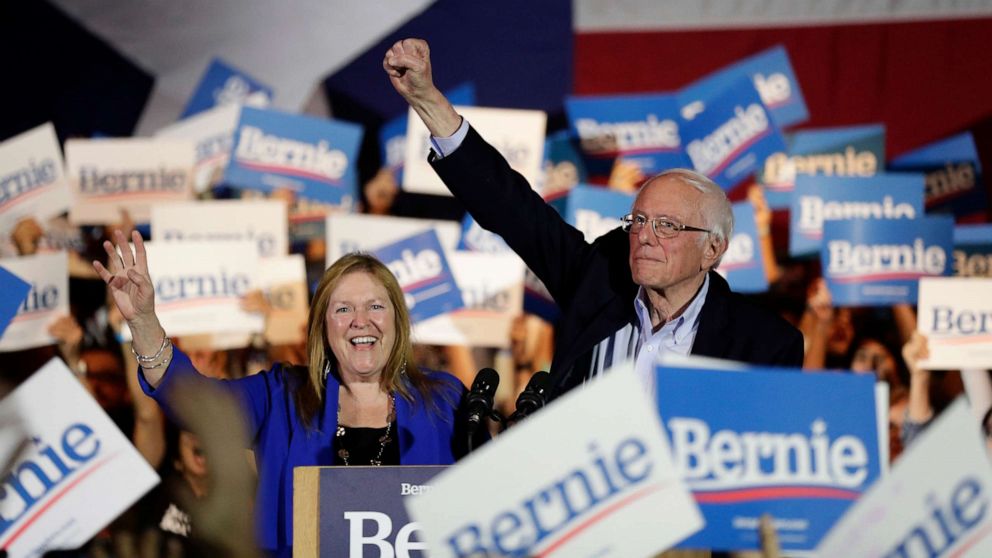 When several news alerts to my phone announced that Bernie Sanders had won the Nevada Caucuses, I had little reaction. It would, after all, have been shocking if he hadn't.
But the press headlines this morning are treating it as a major surprise or development in the race.
The New York Times' main story is headlined "Bernie Sanders Wins Nevada Caucuses, Strengthening His Primary Lead" and carries the subhed "His triumph will provide a burst of momentum that may make it difficult for the still-fractured moderate wing of the Democratic Party to slow his march to the nomination." The lede:
Senator Bernie Sanders claimed a major victory in the Nevada caucuses on Saturday that demonstrated his broad appeal in the first racially diverse state in the presidential primary race and established him as the clear front-runner for the Democratic nomination.

In a significant show of force, Mr. Sanders, a liberal from Vermont, had a lead that was more than double his nearest rivals with 50 percent of the precincts reporting, and The Associated Press named him the winner on Saturday evening.

His triumph in Nevada, after strong performances in Iowa and New Hampshire, will propel him into next Saturday's primary in South Carolina, and the Super Tuesday contests immediately thereafter, with a burst of momentum that may make it difficult for the still-fractured moderate wing of the party to slow his march.
The Washington Post is more restrained with "Bernie Sanders decisively wins Nevada caucuses."
Sen. Bernie Sanders won a resounding victory in the Nevada caucuses Saturday, providing another boost to an insurgent campaign that is challenging the Democratic establishment and stifling the plans of rivals who still hold out hope of stopping him.

Sanders's advantage in Nevada was overwhelming, with substantial leads in nearly every demographic group, allowing him to set down a marker in the first state with a significant share of nonwhite voters. Sanders expanded the electorate by attracting relatively large numbers of first-time caucus-goers, providing momentum as the race shifts into a critical stretch over the next 10 days.

He prevailed among those with college degrees and those without; those living in union and nonunion households; and in every age group except those over 65. He won more than half of Hispanic caucus-goers — almost four times as much support as his nearest rival, former vice president Joe Biden — and even narrowly prevailed among those who identified as moderate or conservative. Despite attacks on his health proposal by the powerful Culinary Union, he won in caucus sites filled with union members.
USA Today goes with "Bernie Sanders scores a commanding victory and other takeaways from the Nevada caucuses."
Sen. Bernie Sanders cemented his frontrunner status in the Democratic primary Saturday with his huge victory in the Nevada caucuses.

The Vermont senator, who has been leading in national polling and in several state polls, heads into South Carolina and Super Tuesday with a lead in pledged delegates to be the Democratic nominee. A candidate needs 1,991 pledged delegates to become the party's nominee. He won New Hampshire and was in the top two in Iowa.

After news organizations projected a Nevada win for Sanders, he declared his movement "unstoppable."
This result has also spawned numerous reaction pieces about Sanders' inevitability. Even Nate Silver, whose algorithm has been predicting that no one will win a majority of delegates going into the convention, headlined his post "Bernie Sanders Wins Nevada — Putting Him In The Driver's Seat To Win The Nomination."
Now, it's true that, with roughly half the votes counted, Sanders looks to have won really big. He's standing at something like 45%, with the next set of candidates clustered in the mid-teens.
But Sanders has been expected to win in a blowout for a while now. The RealClearPolitics average of Nevada polls—of which, granted, there weren't all that many—had Sanders at 32.5 and Buttigieg, Biden, and Warren clustered in the mid-teens. Silver's 538 had Sanders at 30.2, Buttigieg and Biden in the mid-teens, and Warren at 11.
So . . . the night went pretty much as expected.
Sanders had a very good night in the first diverse state contested. But Nevada only awards 36 delegates–five fewer than Iowa.
There's a strong argument at this point that Klobuchar, who is expected to have yet another poor showing in South Carolina, should drop out and endorse another candidate rather than continue to divide the "moderate" slate. But, otherwise, I don't see how anything has changed from what we knew yesterday afternoon.