Blaming Obama for Government Shutdown
Nick Gillespie advances the counterintuitive argument that President Obama is responsible for today's government shutdown.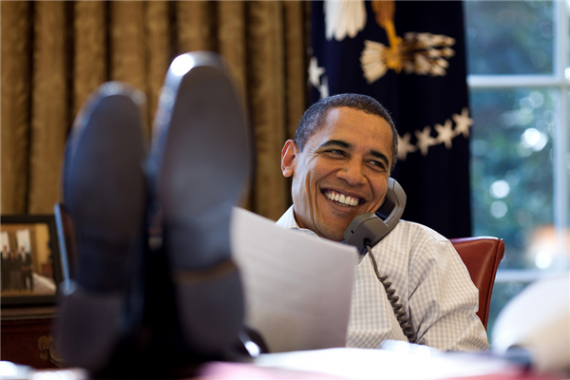 Nick Gillespie advances the counterintuitive argument that President Obama is responsible for today's government shutdown because, well, he's president.
 [I]t is ultimately Barack Obama's fault. He's the deciderer, right, the top dog? The eight years of his time in office will be known to future generations as the Obama Years and not the Boehner Perplex or the Reid Interregnum.
It's true that, rightly or not, presidents get the lion's share of the credit and blame for things that happen during their tenure in office. But it doesn't follow that everything that happens is within his ability to fix. The Constitution assigns the power of the purse to Congress and, well, it has not exercised it.
With great power – and Obama insists he has the unilateral right to kill anyone, even a U.S. citizen, that represents a national security threat – comes great responsiblity.
That's a non sequitur. While I'm leery, indeed, of giving presidents that much power, it's a simple fact of life that they have far more latitude in foreign and national security policy than they do domestic policy. And there's perhaps no other area of domestic policy where they have less power than passing a budget through Congress.
Next, Gillespie accuses Obama of "peevishness" for refusing to negotiate with House Republicans by offering this explanation
"Steve when you say what can I offer? I shouldn't have to offer anything," Obama said. "They're not doing me a favor by paying for things that they have already approved for the government to do. That's part of their basic function of government; that's not doing me a favor. That's doing what the American people sent them here to do, carrying out their responsibilities.
Gillespie retorts:
But you do have to offer something now because you didn't make sure to get a spending plan in place when there was more time to screw around.

Indeed, the shutdown is happening because the federal government doesn't have a budget for fiscal 2014, which starts today. The reason it doesn't have a budget is because the Republican-led House passed a budget calling for $3.5 trillion in spending, the Democratically controlled Senate passed a budget calling for $3.7 trillion in spending, and President Obama issued a proposal calling for $3.77 trillion in spending. This happened back in the spring. The House and the Senate passed their budget plans in late March. The president's proposal, the last to be issued, came out on April 10.
And that much is right. The president is, unintentionally or otherwise, mixing up his talking points. He's arguing, correctly I think, against negotiating on raising the debt ceiling with the threat of defaulting on the nation's obligations. But that fight won't happen for a few more weeks. Right now, the fight is over the continuing resolution—a workaround to deal with the fact that Congress has, yet again, failed to live up to its constitutional responsibility to pass a budget— and House Republicans have no especial obligation to fund programs passed by previous Congresses.
One could, I suppose, argue that Harry Reid and the Democrats are just as much to blame for the shutdown as Republicans. After all, both sides are refusing to give in on the same issue—funding of Obamacare—and Republicans have even offered multiple different compromise bills that Reid and company have summarily rejected. But that strikes me as a specious argument.
Given that the guy after whom Obamacare is nicknamed easily won re-election as president less than a year ago, in an election where said legislation was a key bone of contention, and given that his party retained control of the Senate and received more votes in races for the House than did the opposition party, it's unreasonable, indeed, to pretend that the two sides are on equal footing. The minority party simply does not get to undo election results as a price for allowing the government to continue operating.