Bloomberg Drops Out, Endorses Biden
The wagons have been circled.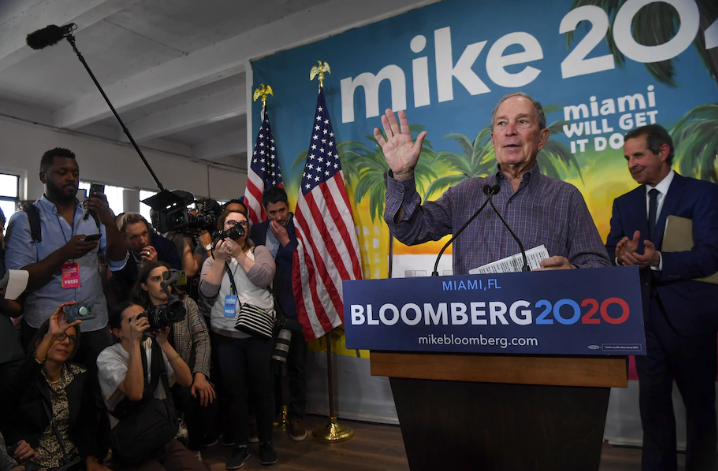 Well, that was fast.
WaPo ("Mike Bloomberg is suspending his presidential campaign, says he's endorsing Biden"):
Mike Bloomberg, the billionaire former mayor of New York who had hoped to self-fund his way to the Democratic presidential nomination but was spurned by voters in Tuesday's balloting, has dropped out of the race.

Bloomberg endorsed Joe Biden, saying the former vice president had the best chance to win in November.

"I've always believed that defeating Donald Trump starts with uniting behind the candidate with the best shot to do it. After yesterday's vote, it is clear that candidate is my friend and a great American, Joe Biden," Bloomberg said in a statement.

Bloomberg will put his resources "in the broadest way possible behind Joe Biden's candidacy," Tim O'Brien, a senior adviser to the Bloomberg campaign, said Wednesday. "We have long-term leases and long-term contracts with the team and the intention was always to put this big machine we have built behind whoever the nominee is."
NYT ("Michael Bloomberg Quits Democratic Race, Ending a Brief and Costly Bid") adds:
After staking his candidacy on doing well on Super Tuesday, he did not collect on his grand bet, winning only American Samoa.

He made the announcement after falling short in his quest to poach enough center-left voters from Mr. Biden, who carried North Carolina, Virginia and other states across the South on Super Tuesday and won a decisive victory last weekend in South Carolina.

In an unprecedented effort to self-finance a presidential campaign — which some rivals derided as an attempt to buy the White House — Mr. Bloomberg's bid cost him more than half a billion dollars in advertising alone. He also spent lavishly on robust on-the-ground operations, with more than 200 field offices across the country and thousands of paid staff. His operation dwarfed those of Democratic rivals who ultimately won states in which he had installed many dozens of employees and spent heavily on radio, television and direct mail ads.

Mr. Bloomberg, the former mayor of New York City, exited the race as the Democratic establishment began to converge around Mr. Biden — the very scenario he had judged unlikely when he declared his candidacy in late November. As some of Mr. Biden's onetime opponents, including Pete Buttigieg, the former mayor of South Bend, Ind., and Senator Amy Klobuchar of Minnesota, endorsed him this week, Mr. Bloomberg's hopes of capturing the support he needed quickly evaporated.

He was not helped by two deeply unimpressive debate performances, during which Senator Elizabeth Warren of Massachusetts led an onslaught of attacks on his record and past statements. Mr. Bloomberg had difficulty countering criticism that could threaten him in a Democratic primary, on issues including his support for the discriminatory stop-and-frisk policing tactic and his treatment of women in the workplace.

While Mr. Bloomberg's departure from the race was meant to help unite the Democratic Party — and avoid splintering moderate or independent voters by drawing them away from Mr. Biden — Senator Bernie Sanders of Vermont remained a strong contender in the race and was on track to capture a sizable number of delegates in Tuesday's contests.
The bottom line is that he entered the race as the sane alternative to Biden and South Carolina demonstrated that we didn't need an alternative to Biden.
That Biden, unlike Sanders, is going to be more than happy to utilize Bloomberg's vast resources and infrastructure is a strong sign that Biden will be and should be the nominee.