Boehner, Cantor Turned Down Invitation To Speak At MLK Anniversary
And Republicans wonder why they have problems with minority voters.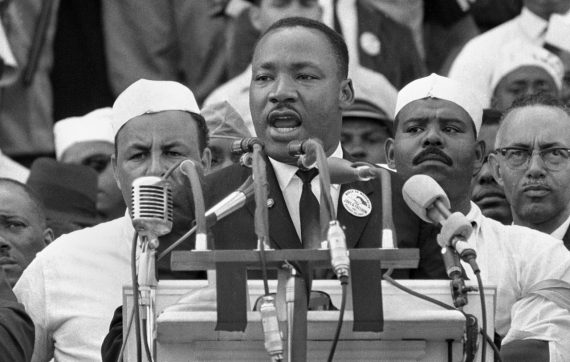 Two of the nation's highest ranked political leaders, both Republicans, were invited to speak at yesterday's 50th anniversary of Martin Luther King Jr.'s "I Have A Dream" speech, but turned the invitations down:
Speaker John A. Boehner and Majority Leader Eric Cantor, the House's two most senior Republicans, were invited to speak at the 50th anniversary of the historic March on Washington — but declined.

That wasn't a wise choice, said Julian Bond, a renowned civil rights activist, in an interview with MSNBC on Wednesday afternoon.

"What's really telling, I think, is the podium behind me, just count at the end of the day how many Republicans will be there," Bond told news anchor Alex Wagner. "They asked senior President Bush to come, he was ill. They asked junior Bush, he said he had to stay with his father.

"They asked a long list of Republicans to come," Bond continued, "and to a man and woman they said 'no.' And that they would turn their backs on this event was telling of them, and the fact that they seem to want to get black votes, they're not gonna get 'em this way."

According to Boehner's spokesman Michael Steel, the Ohio Republican "was invited, but spoke at the Congressional ceremony instead, as did Sens. Reid and McConnell, and Rep. Pelosi."

Cantor, meanwhile, was asked 12 days ago to participate in Wednesday's event commemorating Martin Luther King Jr.'s delivery of the famous "I Have a Dream" speech, according to an aide. The Virginia Republican, however, is currently traveling in North Dakota and Ohio, touring energy sites with Rep. Kevin Cramer, R-N.D., and participating in "nonofficial events," according to an aide.

Cantor's decision to turn down the invitation to speak is especially striking given his stated commitment to passing a rewrite of the Voting Rights Act in the 113th Congress, and the many opportunities he has taken over the past several weeks to publicly reflect on the experience of traveling with Rep. John Lewis, D-Ga., to Selma, Ala.

"The Leader hopes it's an outstanding event fitting of the incredible legacy of Dr. King and is honored to have had the ability to honor that legacy earlier this year" with Lewis, said Cantor spokesman Rory Cooper.
In the days leading up to yesterday's event, I saw many conservatives online pointing out that conservatives such as South Carolina Senator Tim Scott and Supreme Court Justice Clarence Thomas were apparently not invited to speak at yesterday's event, but here we have two of the top elected Republicans in the country both of whom apparently decided they had better things to do than appear at this event. Given that both living former Republican Presidents were apparently unable to attend for health reasons — Bush 41 for rather obvious reasons at this point, and Bush 43 because he is still recovering from surgery to repair an arterial blockage — it seems that it would've been wise to have at least one Republican there. It does seem to send a message about just how important minority voters are to the GOP these days, doesn't it?
In any case, complaining that a first-term Senator and a Supreme Court Justice who rarely speaks at public events weren't invited seems somewhat hypocritical when other top Republicans were invited and turned the invitation down.