Boehner To Obama: Fire Your Economic Advisers
House Minority John Boehner is getting a lot of attention for calling for mass firings at the White House. The real news, though, is that his speech is shifting the focus of the political conversation back to the economy. Which is just what the GOP needs.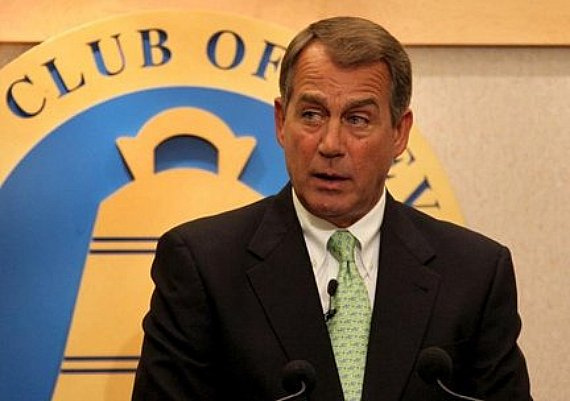 House Minority Leader John Boehner took a shot at the Obama Administration's economic policies today:
CLEVELAND — House Minority Leader John Boehner (R-Ohio) called Tuesday for the mass firing of the Obama administration's economic team, including Treasury Secretary Timothy F. Geithner and White House adviser Larry Summers, arguing that November's midterm elections are shaping up as a referendum on sustained unemployment across the nation and saying the "writing is on the wall."

Boehner said President Obama's team lacks "real-world, hands-on experience" in creating jobs that are needed for a full economic recovery. The Republican lawmaker cited reports that some senior aides complained of "exhaustion," including the recently departed budget chief Peter Orszag.

"President Obama should ask for – and accept – the resignations of the remaining members of his economic team, starting with Secretary Geithner and Larry Summers, the head of the National Economic Council," Boehner said in the morning speech to business leaders at the City Club of Cleveland. The mass dismissal, he added, would be "no substitute for a referendum on the president's job-killing agenda. That question will be put before the American people in due time. But we do not have the luxury of waiting months for the president to pick scapegoats for his failing 'stimulus' policies."

Vice President Biden lashed back at Boehner, called his "so-called" economic plan nothing but a list of what Republicans are against and devoid of innovative new ideas that can help move the country forward.

In a sarcastic tone, Biden thanked Boehner for the suggestion that the president fire his top economic advisers.

"Very constructive advice and we thank the leader for that," Biden said.
Boehner's call for mass firings makes for good sound bite material, but it surely doesn't accomplish anything substantive. After all, Boehner knows that even if Obama fired his entire economic staff today, they'd be replaced by people who largely agree with the Geithner/Summers ideas. Certainly, Obama isn't going to be appointing free-market conservatives to run his economic policy.
Moreover, Boehner's demand inevitably brings up the question of who you bring in to replace them and, as Slate's David Weigel noted this morning on Twitter the traditional GOP practice of looking to the business and financial community for such people hasn't exactly worked out well in the past:
I like the suggestion of putting a "business leader" in charge. Like, err, Paul O'Neill, John Snow, or Hank Paulsen!
All of whom, of course, didn't see the 2008 economic crisis coming, or at least didn't do anything to try to stop it if they did.
While it's certainly drawing attention this afternoon,  Boehner's call for resignations isn't really about who sits in what office in the West Wing. As Ed Morrissey and Andrew Malcom both point out, it's gotten the focus of the political debate back to the economy, as has today's depressing news about housing sales. That's exactly where it needs to be for the Republicans, not on a mosque in Manhattan or questions surrounding the President's mission.
From now until Election Day, Republican candidates should only be talking about two issues — jobs and the economy. Any time they spend talking about anything else is a waste. For their own sake, one hopes that Boehner's speech will shift the focus back to where it should be.