White House Pressuring Geithner To Stay At Treasury
Rumors of Timothy Geithner's departure from the Treasury Department may have been exaggerated.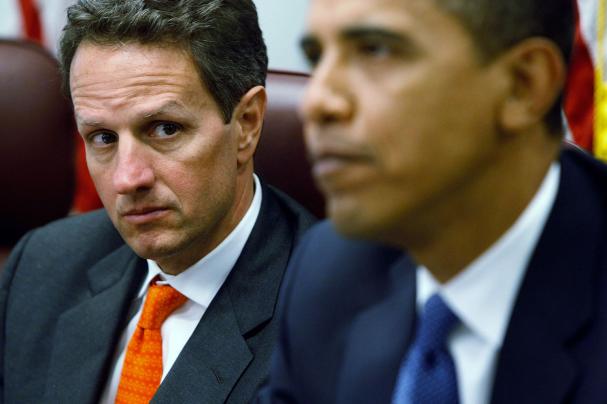 Just about a month ago when the debt ceiling negotiations where starting to heat up, rumors started to circulate that Treasury Secretary Timothy Geithner would be leaving shortly after the debt ceiling issue were resolved. While Geithner quickly denied those rumors, they continued to persist and, as recently as yesterday, there were rumors that Obama was considering naming former New Jersey Governor and Goldman Sachs executive Jon Corzine to replace Geithner.
Now, though, it looks like the White House is doing everything it can to convince Geithner to stay:
WASHINGTON — Timothy F. Geithner, the Treasury secretary and dean of President Obama's economic team, is expected to stay through the president's term after intense White House pressure, according to officials familiar with the discussions.

But Mr. Geithner has not yet notified the White House of his intentions, and family considerations could still win out, advisers say.

Speculation from Washington to Wall Street has intensified because Mr. Geithner, the only holdover at the center of Mr. Obama's original economic circle, said a month ago that he would decide on his future after the White House and Congress reached a deal to increase the nation's debt ceiling. Mr. Obama signed that deal into law on Tuesday.

Mr. Obama and his chief of staff, William M. Daley, have been urging Mr. Geithner to stay, administration officials say, not only for continuity when the economy has weakened and to avoid an all-but-certain confirmation fight in the Senate over a successor, but also because Mr. Obama has developed a close rapport with Mr. Geithner.

Whether the president persuades Mr. Geithner to stay will be a central development for the White House as it girds for a re-election race expected to turn on the economy and the continuing battle of the budget with Republicans.

Mr. Geithner has been considering an exit since early this year, administration officials say. None would speak directly on what Mr. Obama has said to his Treasury secretary because the two men have private meetings alone once a week.

On Monday, after the previous night's announcement of the debt accord, Mr. Geithner convened advisers to talk about his future agenda, including dealing with the European debt crisis, housing and overhauling the corporate tax code. Aides say they took that as a clue he was staying, only to wonder on Tuesday, when a photographer came in to capture Mr. Geithner watching the final vote for the debt deal, if the photos were intended as a record of Mr. Geithner's final days.

Especially in recent weeks, the issue has become a running joke, officials say: Mr. Geithner and Mr. Daley tease about the ankle bracelet that the White House makes him wear, or Mr. Geithner asks if Mr. Daley has yet read his resignation letter, to which Mr. Daley answers in unprintable language.

But the pressure from the top on Mr. Geithner was more serious one day about two weeks ago, officials say. Mr. Daley has also told Mr. Geithner's top lieutenants — Deputy Secretary Neal S. Wolin and Mark A. Patterson, the chief of staff — that he wants them to remain, though Jake Siewert, Mr. Geithner's counselor, is returning to New York as soon as this week.

Neither Mr. Geithner nor Mr. Daley would comment. "I haven't made that decision yet," Mr. Geithner said Tuesday in an interview with ABC. He added, "We've got a lot of challenges, president's got a lot of challenges, and, you know, I got other pressures on me, too."
The New York Times gives this story the headline "Pressured by White House, Treasury Secretary Is Expected to Stay at Post," but from the tone of the article it's pretty clear that this is what the White House officials quoted in the story hope is the case. Indeed, the story itself may be an effort to turn the lobbying of Geithner up a notch. Geithner himself seems not to have decided what he's going to do, at least not according to an interview earlier this week with ABC News where he refused to answer questions about his future plans.
It's easy to see why the White House might want Geithner to stay in place. He seems to have a good relationship with both the President and Wall Street, and there's something to be said for institutional memory as we continue to deal with the after effects of the 2007-2008 financial crisis. More importantly, though, the Administration may simply want to avoid another confrontation with Congress. Even though the Senate is in Democratic hands, a confirmation for the Treasury Secretary would likely be heated, especially if Obama were to pick someone like Corzine.
In the end, the decision is Geithner's but if your President tells you he needs you to stay, it's very, very hard for anyone to say no.