Geithner Denies Departure Rumors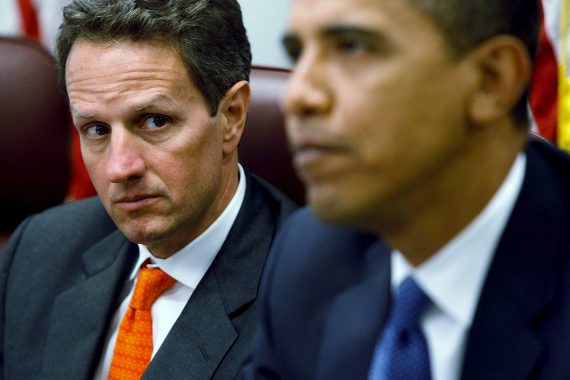 Washington was buzzing late yesterday with the news that Treasury Secretary Timothy Geithner may be leaving the Administration after a debt deal is completed, but Geithner moved fairly quickly to stop that speculation:
WASHINGTON — Treasury Secretary Timothy F. Geithner said Thursday that he planned to stay in his job "for the foreseeable future."

Normally, that would not qualify as news. But Mr. Geithner's comments came in a frenzied afternoon of speculation after news reports that he was considering leaving the Obama administration in the coming months, after a deal is reached with Congress to reduce the budget deficit.

Mr. Geithner's comments, made at a conference in Chicago organized by former President Bill Clinton, were clearly intended to douse that speculation, underscoring how worried the White House is about the potentially destabilizing effect of his departure as it struggles with a fragile recovery and holds tough negotiations with Congress to avert a debt crisis.

"I live for this work, it's the only work I've done, and I believe in it," Mr. Geithner said in reply to a question from Mr. Clinton about his career plans. "I'm going to be doing it for the foreseeable future."
Of course it would make sense for Geithner to squash these rumors even if he does intend to leave at some point soon because the news would likely impact his ability to negotiate in the ongoing debt ceiling crisis.