'Bomb Cyclone' Possible with Life-Threatening East Coast Storms
This isn't your ordinary windy day.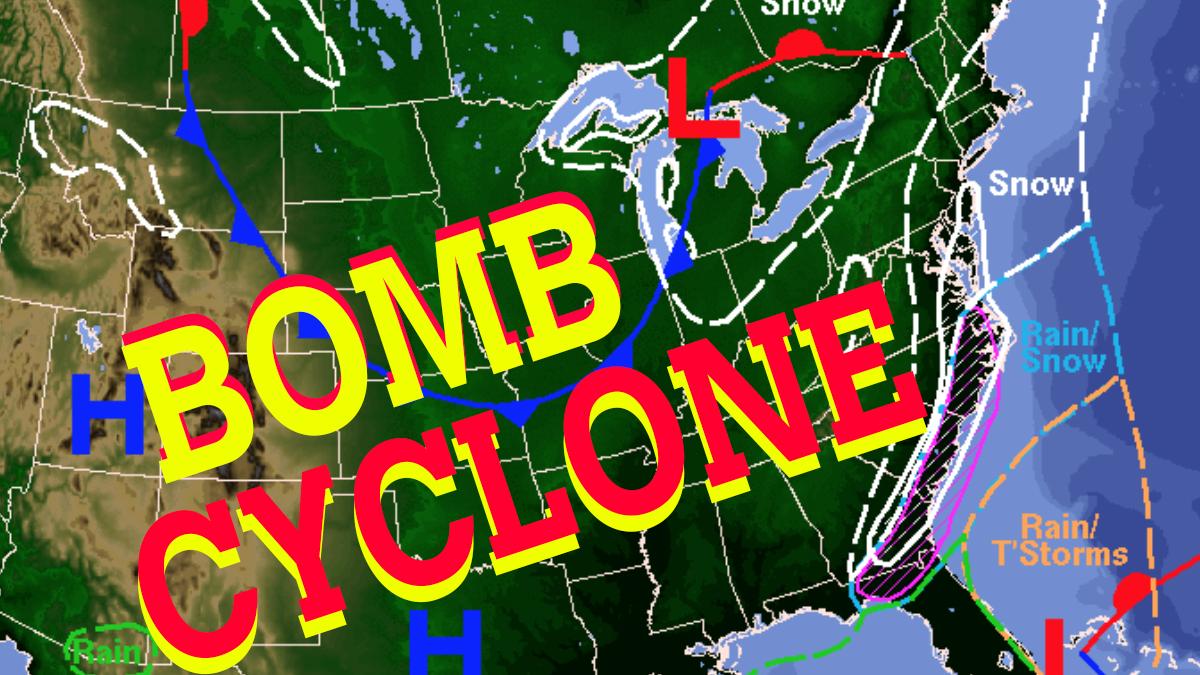 So, I woke up this morning to news that my kids' school here in Fairfax County and Marine Corps Base Quantico, where I work, are both closed. On account of it being windy. While things aren't all that bad here, at least yet, the closures are perfectly reasonable given the forecasts.
CNN ("The nor'easter hammering the East Coast could become a 'bomb cyclone'"):
A nor'easter has begun hammering the East Coast with a ferocious mix of howling winds, drenching rain, some snow and surging waves.

The storm, with about 80 million people in its path, could knock out power and flood some neighborhoods along the Atlantic coast Friday and Saturday.
As the high tide advances, authorities are warning coastal residents to be ready to evacuate.

"Take this storm seriously! This is a LIFE & DEATH situation for those living along the coast, especially those ocean-exposed shorelines," the National Weather Service in Boston tweeted.

Like the nor'easter in January, this storm could undergo bombogenesis — or become a "bomb cyclone" — by dropping at least 24 millibars of atmospheric pressure in 24 hours. Some forecasters predict a sudden pressure plummet Friday evening off the Atlantic coast.
While I'm not a fan of the cutesy naming of potentially deadly weather phenomena, it's attention-grabbing.
Among the follow-on effects discussed in the CNN report are coastal flooding, flight cancellations, heavy snow, and local evacuations–with plenty of warnings from officials, including the governor of Massachusetts, not to try and ride out the storm if ordered to relocate. Locally, things are expected to be less severe:
In Washington and Baltimore, wind gusts of 60 to 70 mph are expected. Officials in the nation's capital activated a hypothermia alert and urged homeless residents to take shelter. Federal offices around Washington didn't open Friday and trash collection was suspended.
WaPo ("High winds hit D.C. region, closing federal government and some area schools") has more details:
The Washington region awoke Friday morning to high winds reaching gusts of nearly 70 mph as a powerful storm rumbled up the Northeast with snow, dangerous gales and coastal flooding in parts.

The federal government closed for the day, along with several area school districts, including Fairfax, Montgomery and Loudoun counties. District of Columbia Public Schools announced before 8:30 a.m. that parent-teacher conferences would be rescheduled.

[…]

Hundreds of thousands of people were without power. Widespread power outages were reported across Northern Virginia, Maryland and the District.

At one point early Friday, nearly 170,000 customers were without power — mostly in Northern Virginia, where 100,000 customers were hit. In Maryland, 44,000 customers were without power and another 17,000 in the District.

The storm is expected to last through at least two to three tide cycles and coincides with a full moon. The worst winds were expected to hit the D.C. region between 5 a.m. and noon Friday, according to the Post's Capital Weather Gang. High winds are expected to last until 6 p.m. Saturday.

On Friday morning, Metro was running its trains slower above ground because of the high winds. And at one point, there were delays on three rail lines after a downed tree on the Green Line and troubles with power that impacted the Yellow and Blue lines.

Commuter rail services — MARC and Virginia Railway Express — shut down their trains for the day.

On area roadways, there were downed wires and trees, plus traffic signals were out in some areas.

On the inner loop of the Capital Beltway near Old Georgetown Road in Bethesda, Md., some lanes were closed after a crash involving a tractor trailer, a tree and several vehicles. It was not immediately known if anyone was seriously hurt. And in Prince George's County, there were traffic delays due to a downed tree on the Suitland Parkway.

There were also other incidents that were said to be weather-related, including a blown transformer in Rockville and a large tree that fell on the home of a 100-year-old resident in Kensington, Md. The person's condition wasn't immediately known.
I guess I'll be hunkering down here for the day. In the event we don't lose power, I'll be reviewing a stack of master's papers and doing a bit more blogging.