Bring Congress Back? Only If There's Something Constructive To Do
Should President Obama call Congress back into session? Not if there's nothing to do he shouldn't.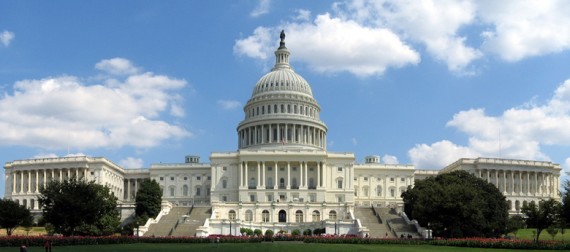 Ever since the debt downgrade, there have been pundits saying that the President should exercise his power under Article II, Section 3 of the Constitution and recall Congress to deal with the economic situation. Today, those calls were echoed by Congressman Charlie Rangel and Congresswoman Michele Bachmann:
A prominent liberal House Democrat is calling on President Barack Obama to bring Congress back from its August recess, joining a growing list asking the president to put lawmakers to work now to fix the economy.

"There's no question in my mind" that lawmakers need to return to Washington, Rep. Charles Rangel (D-N.Y.) said on MSNBC on Tuesday.

"The president should call us back and to recognize that as important as reelections are in the House and the Senate, the integrity of our country is far more important," he said. "Just him bringing us together, saying that we are going to work to get jobs for the people and training for people."

While skeptics are arguing that Congress won't get anything done if it comes back from its vacation, Rangel said that the very fact that there's skepticism underscores why his colleagues need to return to Washington before the end of the summer.

"If there's no hope that we can do it, we've got to change our way of thinking about our country. Our country is not Obama, is not Pelosi, is not Boehner. It is a country with hope and vision," Rangel said.

"We are the actors, the tools, that are supposed to present us as to what people are proud of, and when you lose confidence, you can't buy it, you can't elect it. Confidence is something that you feel."

Making progress on efforts to cut costs and revenues would "give so much hope to people who have been without work for months and for some years," he said.

Rangel joins a growing chorus that wants to see Congress return, including presidential candidate Rep. Michele Bachmann (R-Minn.), former Gov. Jon Corzine (D-N.J.) and former Democratic National Committee Chairman Terry McAuliffe.
MSNBC's First Read takes a look at the options facing the Administration:
On the one hand, the White House doesn't want to look like it's panicking (a la John McCain's call to suspend his campaign after Lehman's crash in the fall of '08). And Team Obama's first instinct is to always under-react; in fact, you saw that in his speech yesterday afternoon. On the other hand, the Obama White House needs to look like it's in charge of the situation, even if world markets are reacting more to the debt crisis in Europe rather than the political situation in Washington.

The Obama White House's pattern in the past has been to tune out the Washington chatter and then react to it on its own timetable. Perhaps they'll be proven right in the long run, but it looks riskier today than it has before when they've chosen caution over a high-profile political/policy gamble.
It's gamble either way, really. If the Administration does nothing between now and Labor Day, and the world financial markets continue to be in turmoil while the President vacations on Martha's Vineyard, then they're going to be accused of dithering while Rome burns. If they call Congress back without some plan about what's going to happen next, then it will be a complete waste of time. More importantly, if they call Congress back without having some understanding with the GOP leadership over what's going to be done then the entire thing is only serves to reinforce the negative (and correct) observations that S&P made in its report about the manner in which the political process in the U.S makes real progress on our long term debt problems.
So there might be a good reason to recall Congress, but there's no point in actually doing so until you know what that reason is. This is not a time of national crisis, we don't need Congress back in town to declare war. All we really need Congress to do is their jobs, something that they've been failing at for at least a generation (or more) now. Bringing them back into Washington during the August heat, which also means that all the staffers who work on Capitol Hill will have to cut their vacations short, is utterly pointless if all we're going to get is a replay of the last six weeks.