Chances Of Long Term Debt Deal Collapse Amid Mutual Recrimination
It's still politics as usual in Washington.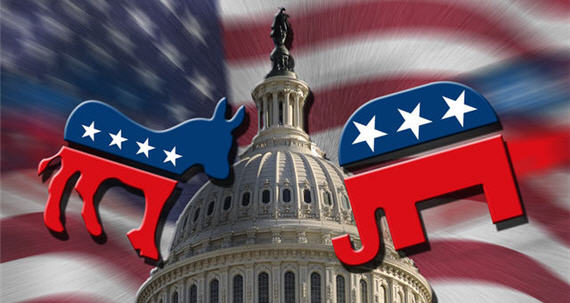 Late yesterday, the chances that whatever deal Republicans and Democrats reach over the debt ceiling would be the kind of long-term deal being talked about only a few days ago died as Speaker Boehner announced he could not back any such deal that included tax increases:
WASHINGTON — Citing differences over tax revenues, House Speaker John A. Boehner said on Saturday night that he would pull back from joint efforts with President Obama to reach a sweeping $4 trillion deficit-reduction plan tied to a proposal to increase the federal debt limit.

On the eve of a second round of high-level bipartisan talks set for Sunday, Mr. Boehner issued a statement saying he would now urge negotiators to instead focus on crafting a smaller package more in line with the $2 trillion to $3 trillion in spending cuts and revenue increases negotiated earlier by Vice President Joseph R. Biden Jr.

"Despite good-faith efforts to find common ground, the White House will not pursue a bigger debt reduction agreement without tax hikes," Mr. Boehner said. "I believe the best approach may be to focus on producing a smaller measure, based on the cuts identified in the Biden-led negotiations, that still meets our call for spending reforms and cuts greater than the amount of any debt limit increase."

The decision was a major reversal for Mr. Boehner, a veteran Congressional deal-maker who along with Mr. Obama had been the major advocate for seeking a far-reaching deal that would have combined a debt limit increase with substantial spending cuts, significant changes in social programs like Medicare, Medicaid and perhaps Social Security, and as much as $1 trillion in new revenues. Following a secret meeting between the two last weekend, Mr. Obama went public with his own call for a broad package.
Almost immediately, the spin game began with the White House quickly claiming that Boehner backed out of a long term deal over tax increases on "the richest Ameriid cans":
Boehner "couldn't do revenues from wealthiest Americans," a White House official said.

House Speaker John Boehner (R-Ohio) all but extinguished hopes for a big deficit reduction deal because he refused to support any tax increases for the wealthiest Americans, a senior administration official said Saturday night.

The White House official also disputed the charge that President Obama was not willing to give ground on entitlement programs, saying that is "not true."

"[Boehner] couldn't do revenues from wealthiest Americans, he walked away over that," the official said. "They are telling people we couldn't do entitlements, not true."
New York Senator Charles Schumer drew the battle lines starkly:
The President has called the Republicans' bluff by offering them exactly the type of grand bargain they said they wanted, only to have it rejected. Speaker Boehner had shown in the last week that, if it were up to him alone to decide, the nation would not be risking default to protect the wealthiest two percent of Americans. But in the end, neither the olive branch extended by the President nor the pragmatic streak shown by Speaker Boehner was enough to overcome the far right's obsession with defending tax breaks for millionaires and other special-interest tax loopholes. Some on the Republican side would like to confuse the issue by pretending it was tax hikes on the middle class that they were trying to prevent, but none were ever on the table. This decision to reject the President's offer means as much as a trillion-dollar gulf remains between the two sides on a debt limit deal, and Republicans should be put on notice that no matter how hard they try, their plan to end Medicare as we know it will never fill in that gap.
On the right, meanwhile, James Pethokoukis compared Boehner walking away from this long-term deal to Reagan walking away from a "bad deal" during the 1986 summer with Mikhail Gorbachev in Reykjavik, Iceland:
In the end, it was bit of a Ronald Reagan moment for John Boehner on Saturday. Just as the U.S. president walked away from a bad arms control agreement with Soviet leader Mikhail Gorbachev at Reykjavik, Iceland in 1986, the House speaker passed on President Barack Obama's mega-debt reduction deal in Washington.

In both case, the asking price was just too high. For Reagan, it was lethal limitations on his Strategic Defense Initiative. For Boehner, it was a trillion-dollar tax distraction from America's true fiscal threat: spending run amok: "Despite good-faith efforts to find common ground, the White House will not pursue a bigger debt reduction agreement without tax hikes."

(…)

Maybe Boehner also realized he was becoming a role player in an Obama-directed drama whose dramatic focus was securing a second-term for Obama. Either Obama got his big tax-hike deal and a) created a tea party revolt in the GOP, b) looked like a statesmen and c) partially deprived Republicans of a valuable line of attack in 2012 … or there was no deal, and Obama could hammer the GOP until Election Day for caring more about tax cuts for the rich than fiscal responsibility.

Boehner apparently will take his chances with door #2 and push for a roughly $2.4 trillion deal (with a debt ceiling hike, too) based on spending cuts already agreed to and some non-tax revenue raisers. Deeper spending cuts and structural entitlement reform would be better, but that is going to have to be a 2013 thing. Indeed, what entitlement reforms Obama was agreeing to were insufficient to Republicans.
The Reyjavik analogy that Pethkoukis uses is interesting because it is now generally understood that the 1986 summit, while seemingly having ended in disaster as Reagan got on a plane and flew back to Washington over what was reported as his refusal to give in on the Strategic Defense Initiative, was actually the beginning of a process that eventually led to the ground breaking arms control treaties of the last years of the Reagan Administration. Somehow, I don't think that's what we'll see out of last night's events. Today on CNN's State Of The Union, House GOP Whip Kevin McCarthy said that the Republican caucus will not support any deal that included tax increases, more troubling though were the comments made by a Democratic Representative on the same show:
Democratic Rep. Chris Van Hollen, appearing on the same show after McCarthy, said Vice President Joe Biden's negotiations only pinpointed about $1 trillion in cuts.

"Our Republicans colleagues are dreaming if they think we had $2.4 trillion in cuts," Van Hollen said. "We were nowhere close to that. And again, they walked out, because they did not want to take away the tax breaks for corporate jets for the purpose of deficit reduction, oil and gas companies, and folks at the very top."
You'll recall, of course, that the Biden talks are the ones that Eric Cantor and Jon Kyl walked out of a few weeks back. That led to Speaker Boehner and President Obama talking directly, which led to the discussions that Boehner backed out of last night. So, it's unclear exactly where we are right now. Treaury Secretary Geithner said this morning that a deal absoultely has to be made as soon as possible, and Republicans at least seem to recognize that. In fact, the parties will be meeting again this evening at the White House and its entirely possible we'll have a deal by tomorrow morning. It's not very likely though.
So far, it seems like the international equity markets are assuming that a deal will eventually be made and the debt ceiling will increase. The closer we get to the drop dead date without a deal, though, the more likely it becomes that the markets will start to reflect trader concern that there won't be a deal at all. And that could lead to a market panic not unlike the one we saw in September and October 2008 while Congress was debating TARP. Perhaps that's what it will take to get our political leaders to do what needs to be done here, but it would be so much easier if they'd ignore the radicals in their midst and just do what needs to be done.