Chotiner Eviscerates Koppel on Kissinger
After giving a softball interview, he apparently expected one in return.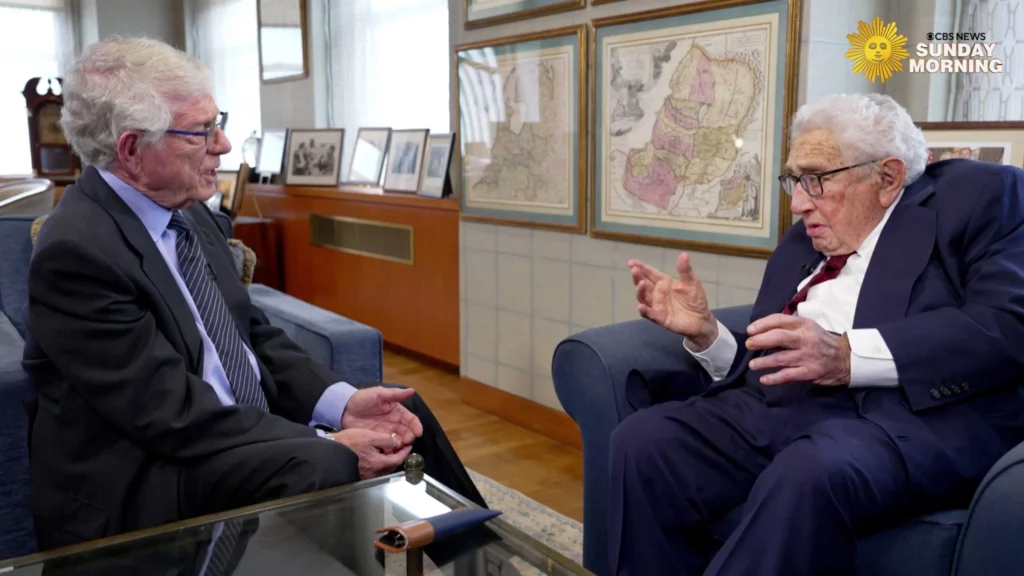 A few months back, Dan Drezner wondered, "Why Do People Talk to Isaac Chotiner?" The basis on the question—and resulting speculation as to the answer—was that Chotiner is a brutally effective interviewer who tends to make his subjects look very, very bad.
I was reminded of Drezner's essay this morning reading Chotiner's "Ted Koppel on Covering—and Befriending—Henry Kissinger." While I'm more sympathetic to Kissinger than Chotiner or Drezner—and am even sympathetic to Koppel going easy on a controversial figure on the occasion of his 100th birthday—Koppel, to say the least, does not come off well in the interview.
What do you think he's meant to the country? What do you think his legacy is?

Let me come at that in a slightly different fashion. I was particularly disappointed the other day with the Washington Post. It's my home-town newspaper, and when Kissinger turned a hundred, I thought, "Well, maybe they'll feel the need to do something special." What they did to at least give him some kind of halfway-favorable coverage was to let his son write an op-ed. And then the next day they had a piece in which they sort of highlighted how despised he is on the Internet.

There is no question that Kissinger has done things that are worthy of opprobrium. There is no doubt about that. However, if you look back at a career, a public career, that began in effect when he was a young professor at Harvard, he was the first to point out that in the event of a major threat to the interests of the United States, the only available option to us was something that would effectively lead to the destruction of mankind. And it wasn't until he raised that issue that policy with regard to the use of nuclear weapons changed.

So, you have a career that has included the opening to China, a peace treaty between Egypt and Israel, a normalizing of relations between Israel and Syria, a career that has included the strategic-arms-limitation talks and treaties that the United States reached with the Soviet Union. It has been an extraordinary career. And, yes, it has been marked by not just these episodes but actions that have led to untold human suffering. Were those justified by the responsibilities that he had at that time? I'll leave it to others to judge that.

That reminds me of an interview where you once said that from an ethical point of view he had something to answer for, but that "that's between him and his Maker." Isn't that for journalists like you or me to look into rather than for God?

Well, obviously we—

You said you'd "leave it to others" just now.

Obviously we can and we do, and that's one of the things you're doing right now. But, if I may, let me offer a historical perspective. Imagine that a hundred years from now, historians are looking back at the careers of Henry Kissinger, George W. Bush, and Donald Trump. Trump will be perceived by historians as a thoroughly despicable human being who accomplished effectively nothing while he was in office. I think George W. Bush is a very pleasant person to be around, but the invasion of Iraq never needed to take place and resulted in the deaths of tens of thousands, if not hundreds of thousands, of Iraqis—thousands of young Americans. What do you think history will have to say a hundred years from now as you compare Henry Kissinger to two of his contemporaries who also held great power?

Why not include Attila the Hun, too?

Those are examples, I think, of careers and actions that were uniformly unfortunate at the very least. In Kissinger's case, I think he deserved to be seen through a larger lens.

In your recent interview with Kissinger, you said, "There are people at our broadcast who are questioning the legitimacy of even doing an interview with you. They feel that strongly about what they consider—I'll put it in language they would use—your criminality." Why did you phrase it this way?

Because that's exactly the way it was presented to me. I got the word that some of my colleagues on the program felt that because they consider him to be a war criminal, he should not have been interviewed.

And you don't consider him that?

No, I not only don't think that, but the question was once raised, "If you had a chance to interview Osama bin Laden, would you do so?" And I said, "Absolutely, without any hesitation."

What's the connection between this and whether Kissinger's a war criminal? Sorry, I was just a little confused.

I thought the thrust of your question was, Let's say for the sake of argument that there are actions that he has taken over the years which meet that standard. Would it be appropriate to interview him? I put it in the context of some of my colleagues at "Sunday Morning" taking the position that you shouldn't even interview this guy.

I actually meant it somewhat differently. I absolutely agree that Henry Kissinger should be interviewed. I was more wondering about the tone of the interview. For example, the way you phrased that question by putting it in other people's language.

Here's another example. You play a clip in which Kissinger, back when he was Secretary of State, said that he would resign if foreign-policy decisions were being made for political reasons. You are the interview expert here, but I might say, "Mr. Kissinger, is it true that you played some part in sabotaging the Paris peace talks, which led to South Vietnam pulling out of them right before the 1968 election, which led to the Vietnam War going on for five more years?" [This was orchestrated by the Nixon campaign, with Kissinger's help, to prevent then President Lyndon B. Johnson from striking a deal that would have presumably helped Nixon's opponent, Hubert Humphrey.] I might say, "Oh, that's a good opportunity to ask him a question like that."

Yes. Look, first of all, I don't know that to be the case, and I'm not sure you do, either. Do you?

Well, it's been extensively reported by multiple biographers of Nixon and Kissinger.

Yeah, I understand. But I'm not sure that that is the case. Can we at least acknowledge that the whole point of that interview was to look back on the life of a man who was just about to turn a hundred? There are occasions when I agree with you, Isaac, that that kind of hard-edged interviewing is called for. And there are other times when I think you have to ease up just a little bit, don't you?

No, not really with public, political figures.

Really?

No.

You're a tougher guy than I am. Not even for a hundredth birthday?

No, especially if you've been involved in bombing Cambodia and overthrowing democratically elected governments. He's a figure who has made an impact in the world, and he should be interviewed about that, and asked serious questions, regardless of his age.
It doesn't get better after that.
Again, my assessment of Kissinger's legacy is more charitable than many. He was National Security Advisor and/or Secretary of State from January 1969 to January 1977, a time with considerably different sentiments to the use of military force and what was then called the Third World than we have today. That he advocated policies (that, ultimately, were ordered by President Nixon, not Kissinger—who had no such authority) that we look askance at today in service of advancing American Cold War aims bothers me less than it does others. (I do agree with Drezner that Kissinger pioneered cashing in on government services with boutique "consulting" services for the rich. I don't blame him in the least for doing so but think the world would be a better place if former government officials still retired to sinecures in academia.)
But, have mercy, Koppel seems to have been completely blindsided by rather obvious questions. Chotiner is masterful at probing but the basic critiques of Kissinger are hardly new. 1977 was a while ago. That Koppel, no stranger to interviewing techniques, wasn't better prepared to defend himself is remarkable. Granted, he's 83 years old but there's no evidence of cognitive decline.