Chris Christie Slams House Republicans Over Sandy Relief Failure
Hell hath no fury like a Christie scorned.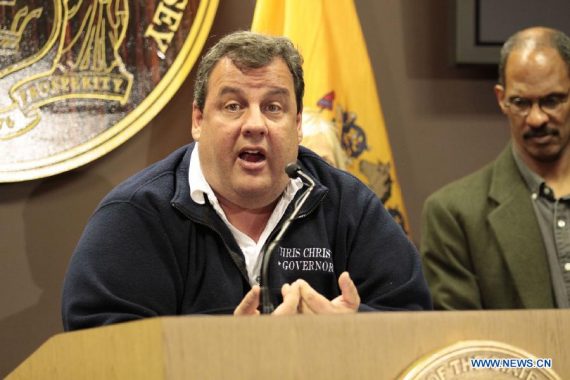 Chris Christie has never been once to mince words, so it's not surprising that his reaction to the failure of the House of Representatives to even take a vote on Hurricane Sandy relies culminated in what can only be described as an extraordinary press conference:
 Gov. Chris Christie ripped into House Speaker John Boehner (R-Ohio) today for delaying a vote on billions in federal aid for recovery from Hurricane Sandy.

"There's only one group to blame for the continued suffering of these innocent victims: The House majority and their speaker, John Boehner," said Christie at a press conference this afternoon.

Christie, who gave the keynote address at the Republican National Convention last summer, said Congress traditionally puts politics aside for disaster relief but that House Republican leadership had put politics "before our oaths to serve our citizens."

"For me it was disappointing and disgusting to watch," said Christie, who praised New Jersey's own House delegation. "Last night the House of Representatives failed that most basic test of public service and they did so with callous indifference to the suffering of the people of my state."

By contrast, Christie said President Obama called him today to "assure me of his continued support."

Christie said he had assurances from House Republicans that they would vote on the bill last night. He said he spoke with Boehner today but would not discuss the specifics of the conversation.

"We got continued assurances as late as last night at 9:00 that as soon as the fiscal cliff vote was over that the rule would be discussed for voting today on the aid package," he said.

He said New York and New Jersey have always been "generous" with relief for other states, and noted that both states are "donor states' to the federal government, paying far more in taxes than they get back in funding. He said at 66 days, New Jersey has already had to wait more than twice as long as other regions hit by hurricanes.

"31 days for Andrew victims. 17 days victims of Gustav and Ike," he said. "10 days for victims of Katrina. For the victims of Sandy in New Jersey, New York and Connecticut it's been 66 days and the wait continues."
Buzzfeed has more:
Christie revealed that he learned the bill would be delayed late Tuesday night at 11:20 p.m., in a call not from Boehner, but House Leader Eric Cantor.

"I was given no explanation," said Christie, adding that he made a total of four calls to Boehner Tuesday night, none of which were returned. "All I can tell you was this was the Speaker's decision — his alone."

Christie said he spoke with Boehner Wednesday morning, but refused to discuss specifics of the conversation.

In one of his most impassioned moments at the press conference, Christie issued a sharp attack on Congress.

"Shame on you, shame on Congress," he said, adding later that lawmakers in D.C. are "so consumed with their own internal politics, that they forgot that they have a job to do."

"This is not a Republican or Democratic issue," he said. "We respond to innocent victims of natural disasters not as Republicans or Democrats, but as Americans — or at least we did until last night."
It's true that there is some "pork" in the bill that the Senate passed. Depending on how you add it up, which depends on what you consider "pork," it comes to something as low as $400 million or something just under $1 billion dollars. The entire Sandy Relief Bill adds up to just about $60 Billion, so we're talking about a relatively infinitessimal amount of money in the grand scheme of things. Governor Christie made the point that he didn't think that such as small amount of extraneous spending should hold up a bill that he believes is desperately needed in his state to recover from the worst natural disaster the state had ever experienced. Supposedly to address these concerns about "pork," the House had drafted its own version of a Sandy Relief Bill that didn't include the extraneous spending that many on the right were complaining about. Boehner not only didn't bring up the bill that had passed the Senate for a vote, he refused to even bring the House's own bill up for a vote. That's what provoked bipartisan outrage from the New York and New Jersey Congressional Districts.  Add into that the fact that Congressional leaders had spent the weekend assuring Christie that the bill would indeed come up for a vote before the 112th Congress adjourned, and it's easy to see why Christie is so pissed off.
No doubt Christie will get attacked from the right due to this press conference and his blunt talk about the House GOP, but it seems to me that his anger is pretty much justified. Not only had the leadership assured him that there would be a vote, but that very vote was being worked on by Majority Leader Cantor. The decision to pull the bill was, apparently, entirely Speaker Boehner's and there doesn't seem to be any rational reason for it other, perhaps, then the fact that he was just fed up after the Fiscal Cliff vote and wanted to go home. In either case, it has turned quickly into an utter public relations disaster for the House GOP that has Boehner being attacked not just by Democrats, but by Republicans like Rep. Peter King, Rep. Michael Grimm, and, of course, Governor Christie.
There are now reports that we may see a vote on Sandy Relief as early as the end of this week, but that's going to require both the House and the Senate to go through the process of reintroducing a bill and passing it. More importantly, it's unlikely to heal the scorn directed, deservedly, at Boehner over this.
Here's the video of Christie's press conference, it's really quite excellent: