Christine O'Donnell Under Criminal Probe For Campaign Spending
Three months after the allegations were first made. the FEC has opened a criminal investigation of Tea Party Senate candidate Christine O'Donnell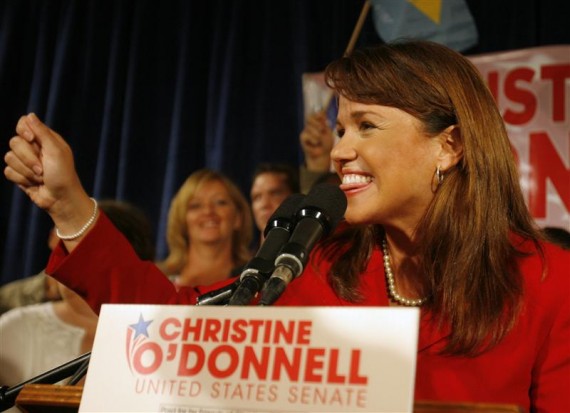 Three months after the Delaware GOP and and independent group filed separate complaints, the Federal Election Commission has apparently opened a criminal investigation into Christine O'Donnell's campaign spending in previous campaigns for U.S. Senate:
A person with knowledge of the investigation says federal authorities have opened a criminal probe of Delaware Republican Christine O'Donnell to determine if the former Senate candidate broke the law by using campaign money to pay personal expenses.

The person spoke on condition of anonymity to protect the identity of a client who has been questioned in the probe. The case, which has been assigned to two federal prosecutors and two FBI agents in Delaware, has not been sent to a grand jury.
I first took note of the allegations against O'Donnell before the September 14th Delaware primary when it became apparent that neither the Tea Party Express nor Sarah Palin had bother to vet O'Donnell on the issue prior to endorsing her. It wasn't until after she defeated Mike Castle, though, that the details of just how fishy her campaign spending in 2006 and 2008 had been came out:
You can read both the letter to the U.S. Attorney, and the Federal Election Commission, but the most serious allegations seem to be two-fold. First, O'Donnell may have been using campaign dollars to pay for personal expenses like rent at her home, a clear violation of campaign finance laws. Second, as these exhibits from an FEC report filed in April 2009 show, O'Donnell was apparently still spending campaign dollars credited to her 2008 Senatorial campaign five months after the 2008 campaign ended. Some of these expenses were for things like gas and office expenses, others were for things like trips to a bowling alley and rent on O'Donnell's home.

O'Donnell also appears to have violated FEC regulations by not having an independent treasurer for her campaign and appears to have placed her mother on the campaign payroll earlier this year.
Instead of answering questions, O'Donnell dodged them and generally adopted the Sarah Palin/Sharron Angle/Joe Miller strategy of dodging hard questions and only appearing on "friendly" media outlets like Fox News Channel. And her supporters accepted it without question.
O'Donnell is, of course, innocent until found guilty in a court of law and I am not going to presume to pronounce her a crook at this point. However, as I said three months ago:
These are not ridiculous questions about masturbation, or cloning, or witchcraft. These are serious allegations of violations of  campaign finance laws. You're not supposed to use campaign funds for personal expenses, and I doubt that anyone who contributed to Christine O'Donnell in 2008 did so thinking they'd be helping her pay her rent, or covering her expenses long after the campaign was over.O'Donnell needs to answer these questions now, or she does not deserve to be taken seriously.
The only good thing is that O'Donnell lost the election, otherwise we'd have a newly seated Senator under criminal investigation.