Citizens United And The SOPA/PIPA Blackout: Why The First Amendment Matters
Some questions for opponents of the Supreme Court's decision in Citizens United.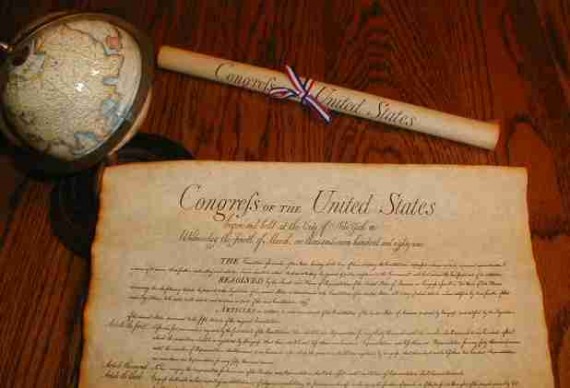 In the wake of yesterday's decision by several major websites to either shutdown or otherwise engage in some form of protest over the Stop Internet Piracy Act and Protect IP Acts, Ken at Popehat has an interesting question for people who have spent the last two years or so criticizing the Supreme Court's decision in Citizens United v. FEC:
The widespread protest seemed to succeed at its aim of raising awareness and led to defections from the ranks of SOPA/PIPA supporters.

All of that seemingly effective advocacy raises a question: did its participants have a First Amendment right to protest that way?

For folks like us at Popehat — mere individuals, not corporations or partnerships (we're more like an unincorporated mystical brotherhood) — the answer is rather clearly yes. Few would dispute it.

But for entities like Google, or Mozilla, or the Wikimedia Foundation, the answer is apparently unsettled in the minds of some of you.

(…)

So, to critics of Citizens United, I have a question: should those business entities have had a right to engage in SOPA/PIPA protests like they did? If so, what is the source of that right, and by what mechanism is it vindicated?
It's a good question, actually. There really isn't any functional difference between what Wikimedia, Mozilla, Google, and Conde Nast (the owners of Reddit, which was blacked out for 12 hours yesterday) did yesterday and what Citizens United was seeking to do in the dispute with the Federal Election Commission that ultimately ended up in front of the United States Supreme Court. In both cases, a corporate entity (in the case of the SOPA protests many of them for-profit entities) were taking a position on a matter of public controversy and advertising their position publicly.  What's the difference, then, between the film that Citizens United wanted to distribute and the actions that took place yesterday? Personally, I don't see one.
Let's take it a step further. Let's say these four corporations wanted to get together and form a political action committee that would broadcast ads and otherwise advocate against SOPA/PIPA and the candidates for office that support it? Should they be permitted to do that or not? And if not, why not?
Ken continues his questions for the "corporations don't have First Amendment rights" crowd later in the post:
1. If corporations have no First Amendment rights, why can't federal or state or local governments single out, say, Wikimedia Foundation for its SOPA/PIPA blackout? Why can't they penalize or fine or even dissolve it? Why can't they single Wikimedia Foundation out for disproportionate enforcement of unrelated laws in retaliation for disfavored speech?

2. If your answer is "the political process — the voice of the people — will stop them from suppressing expression in this way," what is the historical basis in America for the assertion that the political process, standing alone, without judicial review based upon application of constitutional rights, is sufficient to stop governmental overreach?

(…)

3. If courts adopt your view — if the Supreme Court says "corporations have no First Amendment rights" — is it really your view that government restrictions on corporate speech will be imposed in a neutral and even-handed manner? Really?

4. You say that people, not corporations, have First Amendment rights. Fine. Tell me: as a person, how do you plan to exercise your freedom of speech if corporate venues for doing so may be restricted by the government?
Again, all good questions that I would love to see a true opponent of Citizens United address at length. To start with, they would need to address the point that Justice Scalia made in his concurrence in the case, where he noted absurdity of trying to decide when a corporation has First Amendment rights based on the kind of business they engage in:
It is passing strange to interpret the phrase "the freedom of speech, or of the press" to mean, not everyone's right to speak or publish, but rather everyone's right to speak or the institutional press's right to publish. No one thought that is what it meant. Patriot Noah Webster's 1828 dictionary contains, under the word "press," the following entry: "Liberty of the press, in civil policy, is the free right of publishing books, pamphlets, or papers without previous restraint; or the unrestrained right which every citizen enjoys of publishing his thoughts and opinions, subject only to punishment for publishing what is pernicious to morals or to the peace of the state." 2 American Dictionary of the English Language (1828) (reprinted 1970). As the Court's opinion describes, ante, at 36, our jurisprudence agrees with Noah Webster and contradicts the dissent. "The liberty of the press is not confined to newspapers and periodicals. It necessarily embraces pamphlets and leaflets. . . . The press in its historical connotation comprehends every sort of publication which affords a vehicle of information and opinion." Lovell v. City of Griffin, 303 U. S. 444, 452 (1938) .
In other words, the fact that, say, Google, is principally a search engine doesn't per se grant it any greater First Amendment rights than any other business entity. If corporations don't have First Amendment rights, then none of them do and that includes the ones who engage in speech that you agree with.  From there, the Citizens United opponent would need to deal with the central issue of  Citizens United, the issue of "corporate rights," an issue that The Cato Institute's Ilya Shapiro addressed shortly after the decision came out:
[The argument that corporations lack Constitutional rights] demonstrates a fundamental misunderstanding of both the nature of corporations and the freedoms protected by the Constitution, which is exemplified by the facile charge that "corporations aren't human beings."

Well of course they aren't — but that's constitutionally irrelevant:  Corporations aren't "real people" in the sense that the Constitution's protection of sexual privacy or prohibition on slavery make no sense in this context, but that doesn't mean that corporate entities also lack, say, Fourth Amendment rights.  Or would the "no rights for corporations" crowd be okay with the police storming their employers' offices and carting off their (employer-owned) computers for no particular reason? — or to chill criticism of some government policy.

Or how about Fifth Amendment rights?  Can the mayor of New York exercise eminent domain over Rockefeller Center by fiat and without compensation if he decides he'd like to move his office there?

So corporations have to have some constitutional rights or nobody would form them in the first place.  The reason they have these rights isn't because they're "legal" persons, however — though much of the doctrine builds on that technical point — but instead because corporations are merely one of the ways in which rights-bearing individuals associate to better engage in a whole host of constitutionally protected activity.

That is, the Constitution protects these groups of rights-bearing individuals. The proposition that only human beings, standing alone, with no group affiliation whatsoever, are entitled to First Amendment protection — that "real people" lose some of their rights when they join together in groups of two or ten or fifty or 100,000 — is legally baseless and has no grounding in the Constitution. George Mason law professor Ilya Somin, also a Cato adjunct scholar, discusses this point here.
Corporations don't have rights because they are corporations. They have rights because they are entities made up of individuals who have Constitutional, and natural, rights. To accept the "no corporate rights" argument, one would also have to accept that individuals lose their rights any time they act as a group toward a common purpose.  If you reject the idea that corporations have rights, then it means that you don't believe that Wikimedia, Mozilla, Google, or Conde Nast had the right to utilize their corporate resources to speak out on an issue of public concern. There are no exceptions to the First Amendment, and there are no exceptions to an argument that a particular entity doesn't have First Amendment rights.  The same people who reject the Court's decision in Citizens United would no doubt be outraged if the government sought to prevent the SEIU from taking a position on upcoming recall elections in Wisconsin, for example, but if corporations don't have rights, then the union doesn't have a right to speak out about the election. Before you start restricting rights, then, it's a good idea to think through the consequences of what you're saying.