Citizens United Not The Problem
Billionaires have been free to donate as much money as they want to activist groups since the dawn of the Republic.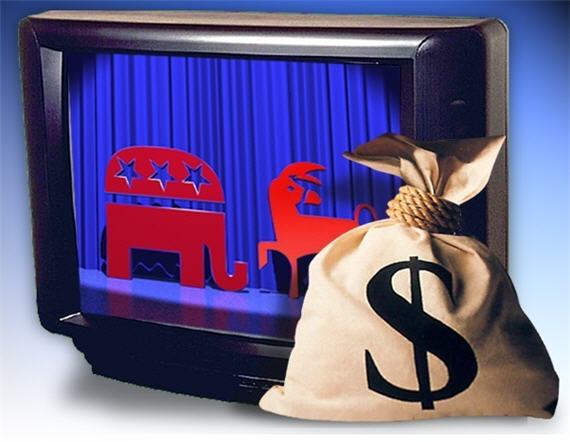 In "Super-PAC Tuesday And The American Bribery Trap," Equire's Charles Pierce echoes a familiar lament about the amount of money in American politics.
Almost four million bucks already? In one state? Why, it seems like only yesterday that you were celebrating your twin victories in Michigan and Arizona by publicly grubbing for small donations, which was pathetic and grasping and low even for a campaign that at this point could play limbo with a salamander. The fact that Rick Santorum and his PAC — which I believe is called ColossalDickPAC 2012, but I could be wrong about that; have I mentioned recently what a colossal dick he is? — have already poured $527,000 into the state, and the fact that N. Leroy Gingrich, Undead Definer Of Civilization's Rules and Leader (Perhaps) of the Civilizing Forces, has been able to pony up nearly as much, would be startling in any other year. But their efforts are dwarfed by the sheer magnitude of the fact that Willard has already been able to spend four times as much as both of them combined. A lot of local-TV ad salesmen are going to be sending their kids to college on John Roberts Fellowships when this exercise in political trollopy is finally over.

It was as though a gentleman's agreement was struck after Florida, which was the last time Romney decided just to money-whip openly the rest of the field, that the discussion of howCitizens United has deformed and perverted our democracy was now over, and this is just the way it is, and get used to it. If money came up at all in the last few weeks, it was in a discussion of what the candidates were doing with it. We heard a lot about what one candidate's attack ads said about another candidate. We heard some whinging from the other candidate, which was followed by an attack ad of his own. What fell out of polite discussion was the deadly serious question of what kind of democracy comes out the other side if the only real measure of a candidate is how much money he can raise, and how much money he can spend.

The example of this presidential election is not promising. Not only is Romney capable of buying himself a lead every time a race gets tight, but the cold, hard reality is that, without their personal sugar daddies, both Santorum and Gingrich would long ago have been left by the side of the highway, drinking sad beers in a cafe with Rick Perry, Michele Bachmann, Herman Cain, who keeps pinching the waitresses, and Jon Huntsman. This is the way we do politics today.
Despite the sheer amount of money floating around–which does in fact concern me philosophically, even though I think it should absolutely be legal–it's hard to make a case that Romney's somehow "buying" this election. After all, he's had a huge money advantage from the outset and there have been a spate of temporary Not Romneys who rose to the top with little money at all. And none of them fell because they were outspent. Rather, exposed to the light of day, they all came across as clowns, cretins, or crazies.
That debate, however, has been going on since at least 1974 and there's not much new to say about it. What annoys me about Pearce's post, aside from his usual flare for melodrama, is that he repeats the absurdity that all of this is somehow connected to Citizens United. It just ain't.
The widely controversial decision, released January 21, 2010, was actually quite narrow:
Political spending is a form of protected speech under the First Amendment, and the government may not keep corporations or unions from spending money to support or denounce individual candidates in elections. While corporations or unions may not give money directly to campaigns, they may seek to persuade the voting public through other means, including ads, especially where these ads were not broadcast.
Most of the big money in this race has been coming from individual fat cats, not corporations and unions. Billionaires have been free to donate as much money as they want to activist groups since the dawn of the Republic.
The difference this cycle–and it actually applied to the 2010 midterms as well–is the existence of so-called Super PACs, technically known as "independent-expenditure only committees." They're an FEC creation responding to a March 2010 DC Court of Appeals ruling in a case called SpeechNOW.org v FEC (to which SCOTUS denied cert in November 2010). It did something that, in my judgment, is far more sinister than allowing unlimited money in politics: it allowed money to flow in without the burden of disclosure.
The court of appeals held that when the government attempts to regulate the financing of political campaigns and express advocacy through contribution limits, it must have a countervailing interest that outweighs the limit's burden on the exercise of First Amendment rights. In light of the Supreme Court's recent decision in Citizens United v. FEC, in which the Supreme Court held that the government has no anti-corruption interest in limiting independent expenditures, the appeals court ruled that "contributions to groups that make only independent expenditures cannot corrupt or create the appearance of corruption." As a result, the court of appeals held that the government has no anti-corruption interest in limiting contributions to an independent group such as SpeechNow. Contribution limits as applied to SpeechNow "violate the First Amendment by preventing [individuals] from donating to SpeechNow in excess of the limits and by prohibiting SpeechNow from accepting donations in excess of the limits." The court noted that its holding does not affect direct contributions to candidates, but rather contributions to a group that makes only independent expenditures.

The appeals court held that, while disclosure and reporting requirements do impose a burden on First Amendment interests, they "'impose no ceiling on campaign related activities'" and "'do not prevent anyone from speaking.'" Furthermore, the court held that the additional reporting requirements that the Commission would impose on SpeechNow if it were organized as a political committee are minimal, "given the relative simplicity with which SpeechNow intends to operate." Since SpeechNow already has a number of "planned contributions" from individuals, the court ruled that SpeechNow could not compare itself to "ad hoc groups that want to create themselves on the spur of the moment." Since the public has an interest in knowing who is speaking about a candidate and who is funding that speech, the court held that requiring such disclosure and organization as a political committee are sufficiently important governmental interests to justify the additional reporting and registration burdens on SpeechNow.
Thus far at least, we haven't seen any massive influx of corporate and union money beyond what we saw in previous elections. So, don't blame Citizens United if you don't like what's going on. Blame SpeechNOW.