Term Limits Only A Partial Solution To The Problems Plaguing Congress
Congressional term limits are a good idea, but they are only a partial solution at best and may not be the best solution to the problems facing our political system.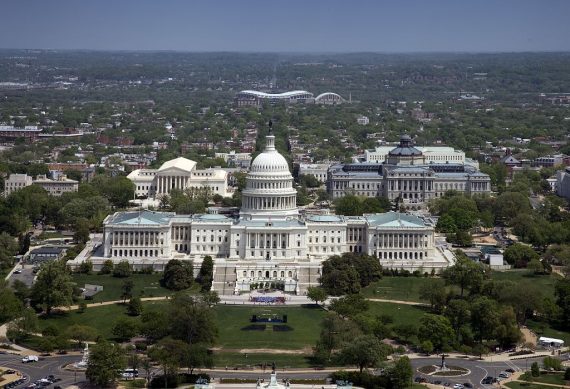 Texas Senator Ted Cruz and Florida Congressman Ron DeSantis announced late last week that they would be introducing parallel bills in the House and Senate to impose term limits on members of the House and Senate:
Sen. Ted Cruz (R-Texas) and Rep. Ron DeSantis (R-Fla.) say they want to help President-elect Donald Trump "drain the swamp" by imposing congressional term limits.

The two conservative lawmakers said in a Washington Post op-ed Friday they plan to introduce a constitutional amendment next month to limit members of Congress to three terms in the House and two in the Senate.

The legislative proposal from Cruz, Trump's former rival for the presidential nomination, and DeSantis, a former Senate candidate and member of the House Freedom Caucus, reflects a call from Trump late in the campaign to impose term limits.

"We believe that the rise of political careerism in modern Washington is a drastic departure from what the founders intended of our federal governing bodies. To effectively 'drain the swamp,' we believe it is past time to enact term limits for Congress," Cruz and DeSantis wrote. The pair argues that imposing term limits would help prevent stagnation on Capitol Hill.

"Without term limits, the incentive for a typical member is to stay as long as possible to accumulate seniority on the way to a leadership post or committee chair. Going along to get along is a much surer path for career advancement than is challenging the way Washington does business," Cruz and DeSantis wrote.

"With term limits, we will have more frequent changes in leadership and within congressional committees, giving reformers a better chance at overcoming the Beltway inertia that resists attempts to reduce the power of Washington."

But the push to impose term limits is unlikely to go anywhere. Senate Majority Leader Mitch McConnell (R-Ky.) said shortly after the election that Trump's term limit proposal won't be on the chamber's agenda.

Speaker Paul Ryan (R-Wis.) said he supports term limits, but wouldn't commit to bringing up the proposal for a vote.

Under the measure outlined by Trump, as well as Cruz and DeSantis, both Ryan and McConnell would be forced out of their posts. McConnell has served in the Senate since 1985, while Ryan has been in the House for nearly 18 years.
Here's how Cruz and DeSantis put it in their Op-Ed:
Passing term limits will demonstrate that Congress has actually heard the voice of the people.

In an age in which partisan divisions seem intractable, it is remarkable that public support for congressional term limits is strong regardless of political affiliation — huge majorities of rank-and-file Republicans, Democrats and independents favor enacting this reform. Indeed, according to a Rasmussen survey conducted in October, 74 percent of likely voters support establishing term limits for all members of Congress. This is because the concept of a citizen legislature is integral to the model of our democratic republic.

Though our Founding Fathers declined to include term limits in the Constitution, they feared the creation of a permanent political class that existed parallel to, rather than enmeshed within, American society. As Benjamin Franklin said, "In free governments, the rulers are the servants, and the people their superiors. . . . For the former therefore to return among the latter was not to degrade but to promote them."

We believe that the rise of political careerism in modern Washington is a drastic departure from what the founders intended of our federal governing bodies. To effectively "drain the swamp," we believe it is past time to enact term limits for Congress.

The American people have lost confidence in Washington. Enmeshed in backroom deals and broken promises, our capital has become a political playground for the powerful and well-connected, for members of the permanent political class looking to accumulate more and more power at the expense of taxpayers. The Washington Cartel is hard at work picking winners and losers, with hard-working Americans typically winding up as the losers.

Term limits will change the calculus of those who serve in Congress.

Without term limits, the incentive for a typical member is to stay as long as possible to accumulate seniority on the way to a leadership post or committee chair. Going along to get along is a much surer path for career advancement than is challenging the way Washington does business.

The American people have offered Republicans an opportunity to enact meaningful change. They have rejected the status quo and put the Washington elites on notice that they will no longer accept the old way of doing business.

It is well past time to put an end to the cronyism that has transformed Washington into a graveyard of good intentions. Favors for the political elite have gone on for far too long. In Washington, where corruption and collusion abound, entrenched politicians live fat and happy cutting deals and breaking promises, while those who don't oblige are shunned. Congressional term limits are critical to stopping the ongoing abuse by D.C. insiders.

The time is now for Congress, with the overwhelming support of the American people, to pass a constitutional amendment establishing congressional term limits and send it to the states for speedy ratification. With control of a decisive majority of the states, the executive branch, the House of Representatives and the Senate, the Republican Party has the responsibility to respond to the voters' call to action. We must, and we can, deliver.
In the past, see here and here for example, I've been generally supportive of the idea of Congressional Term Limits. In an era where Congressional seats have effectively become permanent job positions for legislators who have clearly lost touch with their constituents and where they are using their power and influence to increase their own wealth and that of their friends and family, it's difficult not to favor the idea of limiting how long a Congressman or Senator can serve in office, or at least prevent them from holding office for life, which has has effectively been the case with legislators such as the late West Virginia Senator Robert Byrd, Senator Orrin Hatch, and many other Federal legislators who held on to their seats for decades at a time, usually without facing any serious challenges. The classic example of this, of course, is Michigan Congressman John Dingell, the recently retired "Dean of the House," who served in his seat continuously from 1955 to 2017. Dingell effectively inherited his seat from his father, who had served in Congress from 1933 to 1955. Dingell was succeeded by his wife after the 2014  election, meaning that the same family has held what effectively amounts to the same Congressional seat for the past eighty-three years. At the same time, though, term limits are only part of the solution if the result of removing someone who has held office for an extended period of time ends up bringing into office someone who isn't much different, who is also there mainly to enrich themselves and their family and friends, and who spends more time catering to lobbyists than representing their constituents.
Additionally, there is a danger to term limits that the Cruz/DeSantis argument doesn't address, and which I've found somewhat persuasive. Specifically, it's been suggested by many opponents of term limits that placing term limits on members of the House and Senate would grant too much power to staff members who have experience working on Capitol Hill and are more familiar with how things work than their bosses. While that is true, however, this argument seems to ignore the fact that it is ultimately the Congressman or Senator who casts votes in committee and on the floor, not staff members. Additionally, if the term limits are made long enough, then this problem likely won't arise. In the past, I've suggested a limit of twenty-four years, which amounts to four terms for Senators and twelve for members of Congress. That seems like more than enough for any man or woman.
One argument against term limits that I've made myself at times is more persuasive, it's the case that we already have term limits and they're called elections. If the public wanted to get rid of a long-term incumbent, they have that opportunity every two to six years. The fact that they don't, arguably, is an indication that they are fine with the job this particular incumbent is doing. While this is persuasive on some theoretical level, it doesn't really work this way in the real world. For one thing, the value of long-term incumbency is well-known and well-documented. In election after election, the vast number of incumbents running for re-election are easily re-elected regardless of what kind of a job they are doing. In November's elections, for example, all but two of the Senators and all but a handful of Congressmen who were running for re-election held on to their office. If anything, this problem has only gotten worse in recent years. There are many reasons for this, including the fact that swing districts in the House and swing states in the Senate are far less common than they used to be. As long as this is the case, the electoral process alone simply isn't going to be sufficient to make Congressional races more competitive and, perhaps, make the drastic change that term limits would entail less necessary. Until then, the "elections are term limits" argument rings hollow.
Despite the arguments in favor of Congressional term limits, though, the odds that we'll actually get there anytime soon are fairly low.
Beyond the merits of the case, the odds that we'll actually see an amendment to the Constitution limiting Congressional terms is exceedingly small. Before the proposed amendment could be sent to the states, it would need to garner a two-thirds vote in both the House of Representatives and the Senate, which would be difficult in and of itself. Even assuming that the GOP Caucuses in both houses were united in favor of the idea, which is by no means certain, this would still require significant crossover voting from Democrats. In the House of Representatives, it would require 290 votes in favor of the amendment, meaning that 49 Democrats would need to join the 241 Republicans in supporting the amendment. In the Senate, it would mean that 15 Democrats would need to join 52 Republicans in support of the amendment. Any defections from Republican ranks in either House would mean that one additional Democrat would have to cross party lines to support the proposed amendment. This seems like something that's unlikely to happen anytime in the foreseeable future.
Even if the proposed amendment were to get through Congress successfully, it's success at the state level is by no means certain. Pursuant to Article V of the Constitution, 38 of the 50 states would need to ratify the Amendment within whatever time limit, if any, that Congress might set. Beginning in 2017, Republicans will control both houses of the state legislature in 32 of the 50 states, and control at least one chamber in an additional five. (Source) While this might seem like a number that would make ratification easy, it may not be as simple as it appears. First of all, it can't be guaranteed that every legislature that is Republican controlled will remain so by the time the amendment makes it to the states. Each loss would make the process more difficult. Second, it seems unlikely that every state where the GOP controls the legislature would be united on the issue of Congressional term limit limits, although one could argue that state legislators might support term limits on Congress simply because it would increase the chances that they would be able to advance to national office at the expiration of a national incumbent's time in office. Finally, even falling a handful of states short doesn't guarantee eventual ratification, as the advocates of the Equal Rights Amendment learned in the 1970's. If the proposed amendment has a time limit similar to the one the ERA had, it could spend years in limbo in the states before expiring only a handful of states short.
In response to all of this, advocates for term limits are likely to point to polling showing that Americans strongly back term limits for Congress in support of their argument. While this polling appears to be accurate in terms of the measurement of public support for the idea, though, it does not show that opposition to term limits is something that politicians would pay a significant political price for in a future election. First of all, voting against term limits hasn't proven fatal to politicians in the past notwithstanding public support for the idea. Second, it's not at all clear that this is an issue that the public considers highly important compared to issues such as national security and the economy. As long as that's the case, the level of public support for the idea isn't likely to change the likely outcome in either Congress or the states at any time in the near future.
Even if we could amend the Constitution easily and pass term limits, though, that won't completely solve the problems facing our political system.
There's no doubt that there is plenty that is presently wrong with how Washington, D.C. operates. Indeed, one would need to be willfully blind to argue that there are no problems there and that long-term incumbency, along with hyper-partisanship and other issues, is one of the reasons that this is the case. At the same time, though, it's going to take more than one change to fix those problems, and it's not at all clear that term limits are anywhere near being the cure-all that advocates for the idea claim they are. This is due to many factors, but two of the most fundamental are perhaps the most important. First of all, redistricting has devolved even in states where the process is supposed to be "nonpartisan" has devolved into a process where Congressional Districts are redrawn to protect incumbents to near scientific certainty. While recent Supreme Court decisions would seem to give states more power to take the redistricting process out of the hands of partisan forces, it will take some time, and perhaps more than one decennial cycle, to determine if these changes are even close to sufficient in making Congressional Districts more competitive. Second, I've become more and more persuaded by the argument made by OTB's Steven Taylor and others that the first-past-the-post voting system needs to be reconsidered in light of the lack of competitive elections in many parts of the country. Whether it's Instant Runoff Voting or one of the many other proposed alternatives, I'd like to see one or more of the states try alternative election methods to see how they work.  More importantly, it would arguably be easier to implement these and other potential solutions to the problem of non-competitive elections than it would be to pass term limits. The former require nothing more than legislative majorities in a handful of states willing to experiment with new ideas. The latter, as I noted, requires a Constitutional amendment that is unlikely to pass. If we can find ways short of term limits to make elections more representative and competitive, then it will benefit everyone, and term limits won't be necessary.