Congressional Gridlock And The Disappearing Swing District
There are very rational reasons behind the current gridlock on Capitol Hill.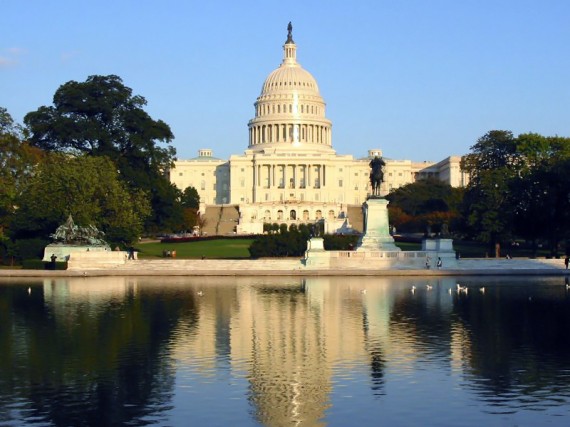 Gridlock has been an issue in Congress many times in America's past, but even to causal observers of politics it seems like it's become far more of an issue in recent years than it has in the past. Reflecting our political culture as a whole, Congress, and especially the House of Representatives, has become more politically polarized on both sides of the aisle than it has in recent memory. Both parties have largely purged themselves of the middle ground, "moderate" Republicans and "Blue Dog" Democrats, and become far more represented by the most heavily ideological wings of their respective parties. This is one of the reasons that compromise has become such a dirty word in Washington on both sides of the political aisle and, as Nate Silver notes, much of it has to do with the fact that the vast majority of Congressmen are in districts where they face no real threat to re-electi0n:
In 1992, there were 103 members of the House of Representatives elected from what might be called swing districts: those in which the margin in the presidential race was within five percentage points of the national result. But based on an analysis of this year's presidential returns, I estimate that there are only 35 such Congressional districts remaining, barely a third of the total 20 years ago.

Instead, the number of landslide districts — those in which the presidential vote margin deviated by at least 20 percentage points from the national result — has roughly doubled. In 1992, there were 123 such districts (65 of them strongly Democratic and 58 strongly Republican). Today, there are 242 of them (of these, 117 favor Democrats and 125 Republicans).

So why is compromise so hard in the House? Some commentators, especially liberals, attribute it to what they say is the irrationality of Republican members of Congress.

But the answer could be this instead: individual members of Congress are responding fairly rationally to their incentives. Most members of the House now come from hyperpartisan districts where they face essentially no threat of losing their seat to the other party. Instead, primary challenges, especially for Republicans, may be the more serious risk.
Silver's chart explains it all: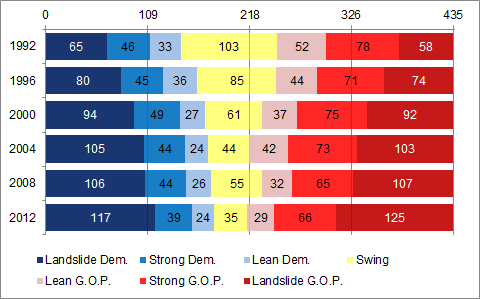 From 103 swing districts in 1992, we're down to just 35 in the last election. If you add the "lean" districts in, we went from 188 potentially competitive districts, comprising just over 43% of the membership of the House to 128 potentially competitive districts, comprising only 29% of the membership of the House. Meanwhile, the number of largely safe districts (which I'll count as Silver's "landslide" and "strong" categories) for both parties went from a total of 250 in 1992 to 347 in 2012, a total of 79% of the membership of the House. Given the fact that incumbent re-election rates for the House typically run in the 90% range, this portends entering an era where the political makeup of the House is likely to only change at the margins and in which both political parties are likely to become more polarized as time goes on.
As Silver notes, the impact of all of this is rather obvious:
One of the firmest conclusions of academic research into the behavior of Congress is that what motivates members first and foremost is winning elections. If individual members of Congress have little chance of losing their seats if they fail to compromise, there should be little reason to expect them to do so. Republican leaders like House Speaker John A. Boehner may conclude that there are risks to their party if they fail to reach a compromise, as during the current fiscal negotiations. But as David Frum points out, the individual members of his caucus may bear few of those costs directly.

Meanwhile, the differences between the parties have become so strong, and so sharply split across geographic lines, that voters may see their choice of where to live as partly reflecting a political decision. This type of voter self-sorting may contribute more to the increased polarization of Congressional districts than redistricting itself. Liberal voters may be attracted to major urban centers because of their liberal politics (more than because of the economic opportunities that they offer), while conservative ones may be repelled from them for the same reasons.

In this environment, members of Congress have little need to build coalitions across voters with different sets of political preferences or values. Few members of Congress today are truly liberal on social issues but conservative on fiscal issues or vice versa.
There are many factors that play into this. The most prominent, of course, is the political impact of redistricting after each census. Most states still have a redistricting process that gives primary control over the process to the state legislature and when, as is the case in many parts of the country, the legislature is dominated by one party or another the rather obvious incentive is to draw district lines that benefit the political party in power. Indeed, this is a phenomenon that's as old as the Republic. After all, the term "Gerrymandering" goes back to a Boston Gazette editorial denouncing new State Senate Districts proposed by Governor Elbridge Gerry's Democratic-Republican Party. Even in states with nominally bipartisan redistricting procedures, though, you often see districts that are drawn in ways that would seem to defy geographic sense but make perfect sense once you realize that the goal of the drafters was to protect incumbents regardless of party. Here in Virginia for example, the redrawn 5th Congressional Districts stretches for 200 miles from the Virginia-North Carolina border to just outside the Northern Virginia suburbs, a total of more than 200 miles. It was part of a map that, when finally approved, essentially guaranteed a safe district for each of Virginia's Members of Congress.
As Silver notes, though, the main problem that this high number of non-competitive districts creates is the fact that the Members in those districts have very different incentives from the ones that you might expect a politician to have. Instead of worrying about losing to a member of the opposing party in a General Election, their primary concern ends up being avoiding a primary challenge from the left or the right if they happen to stray from the party line. That's why calls for compromise fall so often on deaf ears. There is more political risk for these Members of Congress in compromising than there is in holding the line. As long as that's the case, then things are not likely to change on Capitol Hill.
For better or worse, there are very few solutions to this problem. Since the Constitution gives the states authority in the matter of redistricting, there's very little that Congress or the Federal Courts can do about district lines that are drawn for partisan reasons. The one area of authority they do have concerns minority representation, especially for those states still requiring "pre-clearance" under Section 5 of the Voting Rights Act. Ironically, though, the insistence on the creation of "majority minority" districts often ends up exacerbating the partisan nature of the district lines in a state rather than alleviating them. The only real solution would be for people at the state level to demand changes to the redistricting process. However, since the state legislatures also control redistricting for state legislative districts, the ability to influence those bodies to change the process seems limited to say the least.