Clinton, Sanders Neck And Neck In Wisconsin
Hillary Clinton and Bernie Sanders are close in Wisconsin, and that's bad news for Bernie Sanders.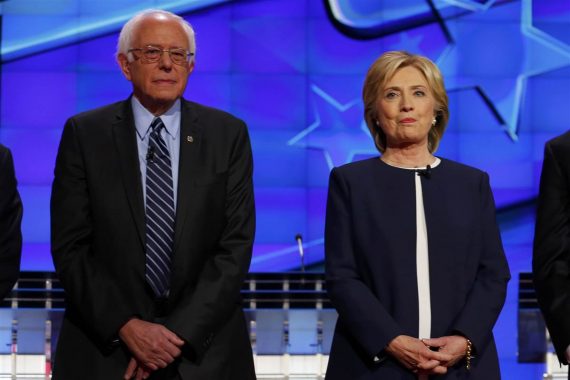 Hillary Clinton and Bernie Sanders are battling in a tight race in Wisconsin, with Clinton now openly questioning whether Sanders is really a Democrat:
Hillary Clinton wants voters in Wisconsin to know that she has been a Democrat for much of her adult life. Why? Bernie Sanders hasn't been.

Clinton said her near-lifelong membership to the Democratic Party was "important" in the nomination contest while campaigning here on Saturday, two days ahead of Wisconsin's Democratic primary.

"I am also a Democrat and have been a proud Democrat all my adult life," Clinton said. "And I think that is kind of important if we are selecting someone to be the Democratic nominee of the Democratic Party."

Clinton grew up in a Republican household and was briefly a Republican when she went to Wellesley College in 1965. Shortly after arriving on campus, however, Clinton grew more liberal and has been a member of the Democratic Party since her graduation in 1969.

Sanders, however, has never been a member of the Democratic Party and is one of two independents in the United States Senate.

Sanders has caucused with the Democratic Party ever since he came to Washington as a congressman in 1991. He unsuccessfully ran for the United States Senate in 1971 as a member of Liberty Union party and, in 1981, when he successfully ran for mayor of Burlington, Vermont, he did so as an independent. At times, the senator identifies as a democratic (small D) socialist.

Sanders, however, listed the Democratic Party as his party affiliation in his statement of candidacy for his presidential run. He also declared as a Democrat during the New Hampshire primary.

Sanders has also, at times, said he would never be a member of the Democratic Party.

"I am not a Democrat and have no intention of becoming one," Sanders wrote in a letter to an academic as mayor of Burlington in 1988.
While the candidates battle over a who a Democrat is, they are also battling for votes in Wisconsin, and it once again appears as though Bernie Sanders could end up losing ground in the delegate count even if he wins the primary itself. Recent polling has been all over the place, with one poll showing Clinton up by six points as of last week while more recent polling has Sanders up by as much as five points or as little as two points. As a result, the RealClearPolitics average gives Sanders (47.2%) a 2.2 point lead over Clinton (45.0%), with similar numbers in the Pollster average. Since there had not been much polling in Wisconsin prior to about three week ago, these averages reflect recent numbers rather than the impact of much historical polling, so it would appear that this is yet another state where Sanders is at least putting up a fight even if he doesn't ultimately end up winning.
The problem that Senator Sanders faces in Wisconsin is the same one he has faced in other states where he's managed to pull off wins. Thanks to the manner in which Democrats allocate delegates proportionally, even a win by Sanders has generally meant that Hillary Clinton has been able to pick up at least some delegates to add to her already seemingly insurmountable total delegate haul. If these numbers hold, for example, then Clinton will likely do fairly well in delegate allocation even if she loses the state as a whole, a fact which will dilute much of the momentum that Sanders might otherwise receive from a win in the Badger State. Given the fact that the race heads from Wisconsin into Pennsylvania, New York, and other Mid-Atlantic states, this does not bode well for Sanders, whose really has no realistic chance at winning the nomination as it is. Additionally, if Clinton manages to win in Wisconsin, then the damage to Sanders will be even more severe since he will be one step closer to being mathematically eliminated from getting the majority he'd need to win the nomination on the first ballot. At that point, one wonders why he would continue in the race to begin with.