Clinton's Lead Shrinking Ever So Slightly
Her numbers are steady; he's reclaiming Republican voters.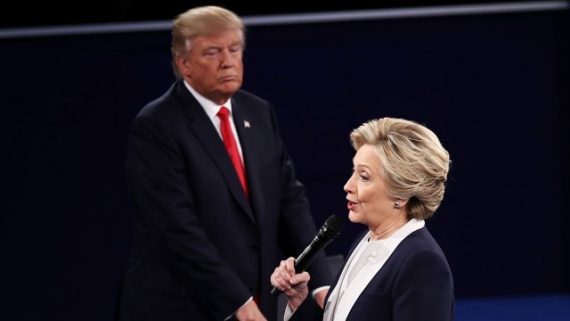 Several new polls are out which show Hillary Clinton's lead over Donald Trump diminishing. While all of the variation is within the margin of error on a per-poll basis, the fact that it's happening in most polls would indicate a minor trend.
The only "news" that has happened is an FBI announcement that it has found some emails in the Anthony Weiner investigation that could possibly have bearing on the closed investigation into the Clinton email controversy. But the trend started before that and there hasn't been much time for that to settle in, since the announcement hit Friday afternoon.
Additionally, looking closely at the numbers, Clinton is remaining quite steady while Trump is gaining a bit.  There are two, related, explanations for this.
First, from yesterday morning's ABC News tracking poll:
Changes in the poll's latest four nights compared with the previous four are not mainly about people shifting in their candidate preference, but about changes in who's intending to vote. Among those results in this poll, produced for ABC by Langer Research Associates:

As Trump's controversies last week and the week before move farther into the rearview mirror, Republicans are expressing greater likelihood to participate: Eighty-one percent of registered Republicans now are likely voters, up from 75 percent a week ago.
In one example, there are 6 points more Republicans and GOP-leaning independents showing up in the ranks of non-college white women. This group was broadly for Trump a few weeks ago, then less so; it's now back, favoring him by 59-29 percent.
Loosely affiliated or reluctant Clinton supporters look less likely to vote, perhaps given their sense she can win without them – a supposition that looks less reliable today.
Vote preferences also are part of the mix. At its lowest early this week, 82 percent of Republicans supported Trump. It's 86 percent now. And his share of Republicans and GOP-leaning independents has gained 6 points, from 78 to 84 percent.

Trump, further, has gone from a 6-point deficit to a 16-point advantage among independents, with more Republican leaners in their ranks.
This is, in other words, a type of regression to the mean. Republicans disgusted by Trump's antics but never went over to Clinton had dropped out of the likely voter mix. They've gradually filtered back, somehow rationalizing their candidate's bad behavior by recollecting their disdain for Clinton and her bad behavior.
Second, as Dan Roberts notes for The Guardian:
Hillary Clinton's dominant lead over Donald Trump in opinion polls is narrowing slightly as the final week before the US presidential election approaches, with independents and undecided voters appearing to gravitate toward the two main candidates.

[,,,]

A well-regarded rolling average of national opinion polls calculated by Real Clear Politics showed a 4.4 percentage point lead for Clinton over Trump on Friday, with libertarian Gary Johnson and Green candidate Jill Stein dropping to their lowest levels since polling for the 2016 election began.

Ten days ago, after struggling in the first two presidential debates and still fending off damaging allegations of sexual assault, Trump was 7.1 points behind in the same four-way rolling average of national polls, though much of his gain since appears to have been at the expense of Johnson rather than Clinton.
None of that should be surprising.  Partisan loyalty is amazingly hard to overcome. And, while fringe candidates that more accurately reflect one's preferences are exciting during the run-up to the election, it's really hard to muster up the enthusiasm to cast a protest vote when there are only two possible winners.
We spend so much of our energy focused on the candidates and campaigns that we forget that decades of political science research shows that elections are mostly about public perceptions about the economy and the sitting president. As Steven Taylor has been noting, while this has been an inordinately unusual campaign, it's a surprisingly normal election.
Further, while the trends are exciting in a horse-race sense, the fact of the matter remains that Clinton has a substantial lead and one that's reinforced by the Electoral College. As Taylor pointed out yesterday, her polling lead is closer to Obama's relative blowout in 2008 than the tighter races of 2004 and 2012.
Beyond that, to the extent that campaigns matter, the dynamics almost certainly favor Clinton. Not only is there little doubt that she's put more resources and expertise into a professional get-out-the-vote effort but there's a much higher likelihood of a late-breaking event damaging his turnout than hers. She's been extremely vetted for a quarter century now and new revelations are likely to be of the level of Friday's news: irritating but not damaging. Conversely, I would be shocked if there aren't more sexual abuse allegations against Trump and a well-timed release of unaired footage from "The Apprentice" or the Howard Stern show.