College Football Coaches Salaries Soar As College Budgets Fall
College football coaching salaries jumped 35 percent last year and 55 percent in the last six.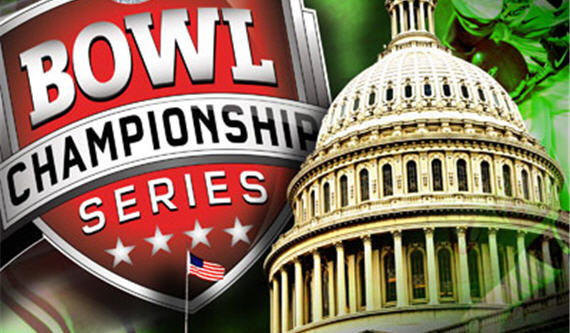 The Nation's Dave Zirin is outraged by seemingly conflicting trend lines in university spending: money for academics is tight but money for football coaches is at an all-time high.
Given the grey, budgetary realities that surround a typical state university, these numbers will boggle the mind. According to USA Today, salaries of new head football coaches at the 120 bowl-eligible schools increased by 35 percent in 2011. The average pay has now ballooned to $1.5 million annually. That's an increase from  $1.1 million. Over the last six seasons, football coach salaries have risen by an astonishing 55 percent. Think about that. In an era of stagnating and falling wages nationally, compensation for coaching a college football team traces a trend line that rises like a booster's adrenaline during bowl season. It doesn't matter how bad the tuition hikes, the furloughs or the layoffs might be: the dynamic of paying football coaches more continues unabated.
Presumably, the answer is that college football coaches and college professors are paid from different pots of money and operate in completely separate markets. Whereas professors and administrators at state schools are paid out of tax coffers and whatever money the university can generate from endowments, capital campaigns, and all the rest football coaches are paid out of athletic budgets raised by boosters and corporate sponsors. Whereas we PhDs are a dime a dozen, there are a relative handful of proven winners at head coach.
A little over five years ago, I explained Why Nick Saban Makes More Than Your Kid's Teacher. Two national championships later, I rest my case. But Zirin notes something I've noted many times in this space, too: Alabama is not representative of college football programs, even many of the major ones.
An NCAA report showed that just fourteen of the 120 Football Bowl Subdivision schools made money from campus athletics in the 2009 fiscal year, down from just twenty-five the year before. Public universities, particularly in an era of austerity, preach, with a catch in their throat, that the revenue just isn't there.
Then again, college football tends to make money at the elite level. But, along with men's basketball, it's asked to pay for all the rest of the university's sports programs, almost all of which are revenue drains.  A handful of schools make money from women's basketball and sports which have a huge tradition on that particular campus. Most, though, have a fan base comparable to a pee wee football league but with much higher overhead.
College presidents still treat football like a prize pig to be protected at all costs despite the fact that more than three-fourths of them don't "believe that big-time intercollegiate athletics are sustainable in their current form."
The proof, however, is in their actions. Ohio State University, one of the schools so touched by scandal, landed the biggest free-agent fish, hiring former Florida head coach Urban Meyer for $24 million over six years. At Penn State, after the hiring of New England Patriots assistant Bill O'Brien to replace Joe Paterno, O'Brien fired more than a half-dozen assistants and now the public state college will be paying $4.4 million in severance. This number doesn't include what will be paid to Paterno or to quarterbacks coach Mike McQueary, who is currently on "administrative leave" as a prosecutorial witness against former assistant/accused child predator Jerry Sandusky. But Ohio State and Penn State, for all the slathered scandal across their campuses, have football programs that propel athletic departments toward positive total revenue. For most schools, this isn't close to the case. Instead, you get the University of Maryland paying former Coach Ralph Friedgen $2 million to go home and not coach, while cutting numerous teams from the athletic department. But whether a school is generating revenue or taking an awful bath, the coaching arms race continues. Penn State emeritus professor John Nichols, chair of the Coalition on Intercollegiate Athletics, a faculty group advocating for athletics reform, said of the head coaching wage hikes, "This just shows…the difficulty of bringing (football) into the right proportion, the right balance with the academic mission."
I was on the faculty at Troy (then Troy State) when it was contemplating and ultimately making the move from highly competitive I-AA (now FCS) program to I-A (now FBS) patsy. Most of us objected but our chancellor, Jack Hawkins, argued, correctly it turns out, that anything between Division III and Division I-A was a no man's land. That is, once you start offering scholarships and traveling a long way to play games, college sports is simply a money drain unless you're at the big time level and benefiting from network television deals and all the rest.
The obvious retort is that most schools should either cancel competitive athletics altogether, or relegate themselves to intramurals or very low level regional sports to keep costs down. Essentially, the high school model. And, indeed, many schools do just that.
Many elite universities–the Ivies, NYU, and the University of Chicago, perhaps most notably–have managed to have national and international reputations without big time sports. Then again, those schools had the advantage of being among the first universities in the country. For that matter, they all had big time sports programs in the early days of college athletics before eventually deciding the arms race wasn't worth it. Even so, most of the great academic schools in the country–Stanford, Berkeley, UCLA, Michigan, Duke, North Carolina, etc.–coexist with big time sports.
The problem is that most college presidents want to maintain or increase the profiles of their schools. That's what drove Hawkins to move Troy to the big leagues: a hope that it would put his school on the map. In Troy's case, it likely worked: the school has a much higher national profile–which is to say, people outside Alabama are now aware that it exists–than it did as a I-AA football power. Similarly, who had heard of Boise State before its recent run of football success? Or Texas Christian?
Probably a better example is the NCAA men's basketball tournament, which grabs the nation's attention for two weeks every year. How many schools that nobody ever heard of suddenly gain national recognition each year by winning a game or two during March Madness? Even established schools with strong academic programs report huge boosts in applications after a successful tourney run.
The bottom line is that college presidents see sports, and football in particular, as the easiest way to market their schools. Asking why they're spending more to lure successful coaches while they're cutting core programs is like asking why corporations are spending more on advertising while they're laying off workers.
Hat tip: Margaret Soltan