Congress Heads Back To Work With Both The Budget Unresolved And A Shutdown Looming
After an extended break for the Republican retreat, Congress heads back to work today with just three days before a possible government shutdown.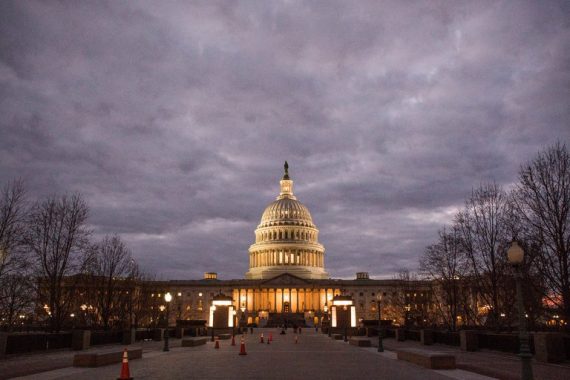 Congress heads back to work today after an extended weekend due to the Republican retreat over the weekend with both the Federal Budget and a resolution to the extension of the Deferred Action For Childhood Arrivals (DACA) program, and it's not clear yet how or if either one of them is going to be resolved:
If Congress doesn't act this week, the federal government will shut down for the second time this year.

Lawmakers are up against two key deadlines that were put in place as part of the negotiations to reopen the government last month, creating a short window to show substantial signs of progress on a deal to protect undocumented immigrants who came to this country as children and their families. Immigration negotiators say they've taken steps in the right direction, but no deal to address the contentious issue has thus far emerged.

The first deadline is Thursday, when government funding runs out. The second is to reach a long-stalled deal on immigration before Senate Majority Leader Mitch McConnell opens a promised freewheeling floor debate to try to settle the contentious issue.

Congressional leader from both parties have said they don't foresee a second shutdown, but as of Sunday evening, it's not clear if congressional leaders have the votes to pass such a measure through both the Senate and the House.

Will the government shut down? It's too early to know.

The House plans to vote on a short-term bill to keep the lights on through March 22, but Senate leaders have not committed to that bill, so negotiations will continue.

It is unclear whether House Republicans will even have the votes to pass the bill, as defense hawks and conservative House Freedom Caucus members are balking at approving another temporary solution. And since House Democrats are adamant they won't support a continuing resolution that does not include immigration reforms, it's possible GOP leaders will come up short of a majority when that vote takes place Tuesday.

If it does pass the House, 60 votes will be needed in the Senate, meaning at least nine Democrats must vote yes. It's too soon to know if they will back the House's six-week proposal, in part, because it blows past a March 5 deadline when the Deferred Action for Childhood Arrivals program expires.

Democrats may want to maintain some leverage to help keep DACA in place.

But Republicans feel confident Democrats won't threaten to shut down the government as they did two weeks ago.

"There's no education in the second kick of a mule," McConnell said about the short-lived shutdown.

And Senate Democrats' chief immigration negotiator, Dick Durbin of Illinois, told CNN anchor Jake Tapper on "State of the Union" Sunday morning that he does not anticipate another government shutdown.

"I don't see a government shutdown coming, but I do see a promise by Senator McConnell to finally bring this critical issue that affects the lives of hundreds of thousands of people in America, finally bringing it to a full debate in the Senate," said Durbin, who is Senate Democrats' minority whip. "That's what we were looking for when there was a shutdown. We have achieved that goal. We're moving forward."

On immigration, he said congressional negotiators are "making real progress" and saluted Republicans as well as his fellow Democrats for their work in the immigration talks, even if there has yet to be a deal.
As I said last week, the most likely outcome regarding the budget is that we get another Continuing Resolution, this time one that kicks the can down the road to March 22nd. With only three days left before the Continuing Resolution that was passed two weeks ago expires, though, that's by no means certain. While last time it was the Senate that proved to be the biggest hurdle to a deal, this time the trouble may come from the House. Specifically, there have been reports both before and over the weekend that at least two factions in the House Republican Caucus are reluctant to support what would be the fourth Continuing Resolution since Fiscal Year 2018 started on October 1st, specifically the House Freedom Caucus and the defense hawks. Both groups have largely the same objection, namely that governing by Continuing Resolution is no way to run a government. While both groups have a valid point in this regard, it seems unrealistic to press the point and withhold votes because of it when the prospect of a longer-term budget deal quite simply isn't on the table. Speaker of the House Paul Ryan and other members of the House GOP leadership have apparently been in contact with members of both groups, which do tend to overlap to some extent, during the Republican retreat in West Virginia so it's possible that they'll be able to reach a deal, but we won't know for sure until the House votes on an actual budget practice.
Assuming that a Continuing Resolution passes the House, it seems likely that it will sail through smoothly beyond that point. While Senate Democrats did use DACA as a reason to oppose a budget bill last month, it seems unlikely that they will do so this time. For one thing, shortly after the shutdown ended Senate Democrats said that they would not seek to withhold support from a Continuing Resolution just because a DACA deal had not been reached. Instead, they said, that they would not force a shutdown as long as there appears to be some good faith effort to reach a deal on DACA. Senate Minority Whip Dick Durbin said basically the same thing on CNN's State Of The Union yesterday, and also stated that he did not foresee a budget deal being a problem in the Senate. Since that appears to be the case in the Senate, one presumes that a Continuing Resolution would easily garner the sixty votes it needs to pass in the Senate. Additionally, there's every indication that President Trump will sign nearly any budget deal that Congress sends him. So, the main question over the next three days appears to be what will happen in the House of Representatives.
As they say, stay tuned.