Congress Heads Toward Another Budget Deadline With No Apparent Deal In Sight
The current budget deal expires in six days and Congress doesn't seem to know what it's going to do about it.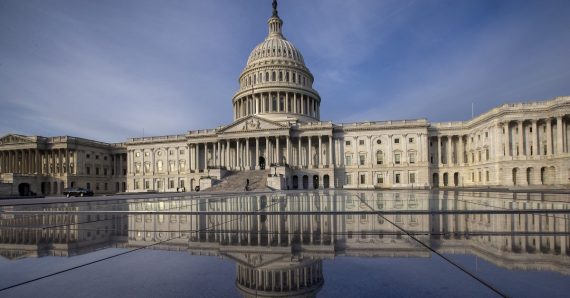 Six days from now, the government will run out of money again as the Continuing Resolution passed two weeks ago after a three-day government shutdown, and it's still not clear how or if Congress will be able to get something passed by then:
WHITE SULPHUR SPRINGS, W.Va. — With a shutdown deadline looming Feb. 8 and no long-term deal at hand, congressional Republican leaders said Thursday they will have to pass yet another short-term spending bill next week to keep the government open.

House GOP leaders are eyeing a spending bill through March 22, aides said, though that date could change. It would have to pass early next week, as government funding is set to expire at the end of next Thursday. Without a new funding agreement, the government would shut down, as it did for three days in January.

Yet attempts to reach a longer-term deal have faltered amid a larger dispute over immigration and disagreement between the two parties about spending levels, as well as reluctance among some conservatives to sign off on massive new government spending in an election year. The three-day partial shutdown late last month was precipitated by Senate Democrats' demands for protections for undocumented immigrants brought to the United States as children, called "dreamers," an issue that remains unresolved.

As Republicans gathered at the Greenbrier resort in West Virginia for their annual retreat, Senate Majority Leader Mitch McConnell (Ky.) insisted the government would stay open.

"I don't think we'll see a threatened government shutdown again over this subject," he said. "One of my favorite old Kentucky country sayings is 'There's no education in the second kick of a mule,' so I think there'll be a new level of seriousness here in trying to resolve these issues."

Even so, it seemed unlikely that House and Senate negotiators would be able to strike the bipartisan, two-year budget deal they are striving for ahead of Feb. 8. Even if they do, lawmakers would need weeks to turn agreed-upon figures into complete spending bills for all the agencies of government.

Next week's stopgap legislation would be the fifth short-term "continuing resolution" of this fiscal year, a situation that is causing frustration and finger-pointing on all sides. That includes within GOP ranks, which could jeopardize passage of the resolution as conservative lawmakers and defense hawks both threatened Thursday to withhold their votes.

Rep. Mark Meadows (R-N.C.), chairman of the conservative House Freedom Caucus, said his group might not support another short-term spending bill without promises of action on higher military spending levels and other issues.

"I don't see the probability of the Freedom Caucus supporting a fifth CR without substantial changes by Feb. 8 unless we see dramatic changes," Meadows told reporters. "We've had the land of promise for four times now on CRs. It's time to put some real commitment to the effort before a fifth CR."

Defense hawks in the House have grown increasingly frustrated with the multiple short-term spending bills, contending that they threaten military readiness and cost lives, since the Pentagon is not getting the money it needs.

Rep. Mac Thornberry (R-Tex.), chairman of the Armed Services Committee, told reporters after a closed-door session with Defense Secretary Jim Mattis and Secretary of State Rex Tillerson that both Cabinet members were insisting on an end to short-term spending bills.

"The secretaries were very clear, I think, in encouraging Congress to resolve the budget issues and end the continuing resolutions so that they can manage their departments," Thornberry said, "and more importantly, so the world knows that we are functioning and can do whatever needs to be done to protect the national security of the United States."

Thornberry refused to commit to voting for the continuing resolution expected on the floor next week.

"We're just going to have to see what the situation is when it arrives. Obviously there's a lot of conversation among members at this retreat about the way forward," he said. "Nobody wants a government shutdown, but we also cannot continue to inflict the damage that CRs inflict on the military. We can't keep doing that."

Overall discretionary spending levels — funding for education, housing, defense and much more — are capped under a 2011 law, and exceeding those limits requires bipartisan agreement under Senate filibuster rules. Republicans are trying to negotiate an enormous increase in military spending in the pending budget deal, which Democrats hope to match with domestic spending.

Budget deals passed under President Barack Obama in 2013 and 2015 proceeded along those lines. But now, with Republicans in the White House and in control of both houses of Congress, GOP lawmakers want to pursue a tougher posture.

Meadows and Sen. John Thune (S.D.), the No. 3 Senate Republican, suggested they might be willing to live with an increase in nondefense spending as long as the extra funding is devoted to infrastructure, a major congressional agenda item for the Trump administration. There is no indication that Democrats, who are pushing for new investments to combat the opioid crisis and beef up veterans' benefits, would agree to those terms.

"Obviously we're probably going to need a short-term CR," said Thune, while acknowledging little progress has been made since last month's shutdown.
All of this is taking place, of course, while Senators are still trying to pull together a bill that would protect the beneficiaries of the Deferred Action For Childhood Arrivals (DACA) program, who are set to lose their status as early as March 5th pending the status of a nationwide injunction issued by a Federal District Court Judge in California. As I've already noted, the prospects for that deal are not looking good given the wide differences between what can pass the Senate, what can pass the House, and what the White House has proposed. However, with Senate Democrats having already said that they will not withhold support for a budget deal based on whether or not a DACA bill has been voted on, or even on the Senate floor, by February 8th as long as good faith efforts are being made in that regard. Because of that, it seems likely that another Continuing Resolution would easily pass the Senate, although it would obviously be preferable to pass a full budget that will take that particular issue off the table until the end of the Fiscal Year in September. Given the short amount of time that Congress will have to get anything done, it's unlikely though that we'll get that outcome. Instead, we'll get another Continuing Resolution that kicks the can a little further down the road.
While the Senate appears unlikely to repeat the deadlock that created the last government shutdown, the fate of a Continuing Resolution in the House of Representatives remains unclear. As noted above, two groups that comprise a significant portion of a GOP Caucus in that body are expressing an unwillingness to support yet another short-term spending package, and their objections are not unwarranted. Both the Freedom Caucus and the defense hawks in the GOP, and in some cases there is an overlap between those two groups of Congressmen, are objecting to voting on another Continuing Resolution due in no small part to the uncertainties it creates in the budgeting process. This is especially true in the case of the defense hawks, who are echoing concerns that have been expressed by Pentagon officials going back to the Obama Administration regarding CRs, arguing that they place far too much uncertainty in their planning, in granting government contracts, and in the procurement process. They're right on all counts, of course, and their objections have been echoed by the authorities representing other parts of the Federal Government. The problem is that at this point we are unlikely to get a long-term spending bill done in time to avoid another shutdown, and that shutdown would be far more disruptive to operations than a Continuing Resolution would.
In the end, it seems likely that Congress will find a way to get the short-term extension to March 22nd that's mentioned above done. As I noted yesterday, Congress only has three working days on the calendar next week before the current CR runs out and before House and Senate Democrats go on their version of the annual retreat that Republicans are currently holding in West Virginia. While that's a short period of time, it would still be possible to get something passed if an agreement can be reached, although we're likely to go down the wire on the night of February 8th much like we did last time. This is no way for a supposedly sophisticated representative democracy like ours to be operating, of course, but it seems to be the only way things can work in the current state of affairs.