Conservatives Are On The Wrong Side Of The N.F.L. Anthem Debate
Conservatives claim to support freedom of speech and freedom of expression, but they've utterly failed that test when it comes to their reaction to players who peacefully and respectfully kneel during the National Anthem.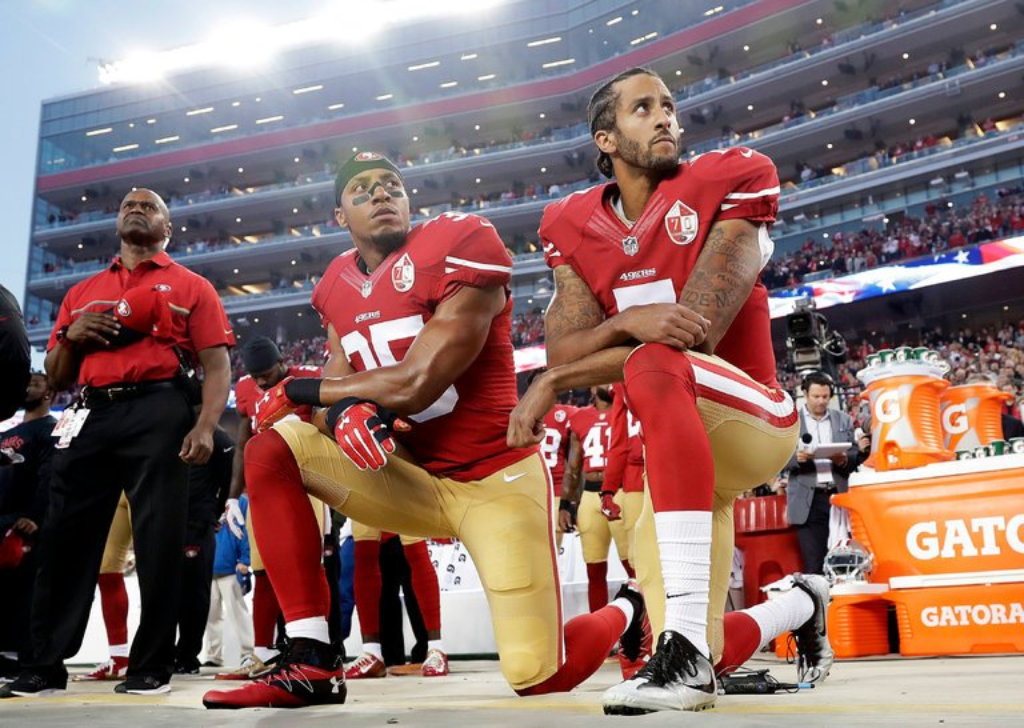 In an Op-Ed in The New York Times, David French argues that conservatives are putting themselves on the wrong side of the debate over the National Football League's new anthem policy:
The United States is in the grips of a free-speech paradox. At the same time that the law provides more protection to personal expression than at any time in the nation's history, large numbers of Americans feel less free to speak. The culprit isn't government censorship but instead corporate, community and peer intimidation.

Conservatives can recite the names of the publicly shamed from memory. There was Brendan Eich, hounded out of Mozilla for donating to a California ballot initiative that defined marriage as the union of a man and woman. There was James Damore, abruptly terminated from Google after he wrote an essay attributing the company's difficulty in attracting female software engineers more to biology and free choice than to systemic discrimination. On campus, the list is as long and grows longer every semester.

It is right to decry this culture of intolerance and advocate for civility and engagement instead of boycotts and reprisals. The cure for bad speech is better speech — not censorship. Take that message to the heartland, and conservatives cheer.

Until, that is, Colin Kaepernick chose to kneel. Until, that is, the president demanded that the N.F.L. fire the other players who picked up on his protest after he was essentially banished from the league.

That was when the conservative mob called for heads to roll. Conform or face the consequences.

On Wednesday, the mob won. The N.F.L. announced its anthem rules for 2018, and the message was clear: Respect the flag by standing for the national anthem or stay in the locker room. If you break the rules and kneel, your team can be fined for your behavior.

This isn't a "middle ground," as the N.F.L. claims. It's not a compromise. It's corporate censorship backed up with a promise of corporate punishment. It's every bit as oppressive as the campus or corporate attacks on expression that conservatives rightly decry.
French is absolutely correct, of course. For the better part of a decade, if not longer, conservatives have been decrying the efforts of some groups on the left to prevent conservatives from speaking on college campuses, attacking people who argue in favor of conservatives point of view, and calling for boycotts of companies that have either distanced themselves from conservative causes or provided public support to liberal causes. Most recently, this has taken the form of people who have called for boycotts of retailers such as Dick's Sporting Goods due to their decision to stop selling firearms to anyone under 21 years of age, and even calls for a boycott of Netflix for their decision to enter into a business relationship with former President Obama and former First Lady Michelle Obama under which the couple will produce content for the streaming service. Going back even further, one can point to the attacks that the right unleashed on the Dixie Chicks for their criticism of President Bush and the Iraq War or, as French notes in his tweet, the conservative reaction to the case of Brandon Eich, who was forced out as CEO of Mozilla when it was revealed that he had donated to the campaign in favor of Proposition 8, the California referendum that reinstated the Golden State's ban on same-sex marriage.
As French notes, in many of these cases voices on the right have loudly condemned what they see as the efforts of private companies and public universities to cave into the demands of liberal activists to shut down conservative speech such as when Rutgers University caved to students and rescinded the invitation it had granted to former Secretary of State Condoleeza Rice to deliver the Commencement Address in 2014, an action that even President Barack Obama criticized. That case, of course, was just one example of many instances in which a small group of student and outside activists have tried to stop conservative and libertarian voices from speaking on campus. Others who have been impacted by this activism have included Charles Murray, Ann Coulter, former writer for Breitbart Milo Yiannopoulos, Laura Ingraham, and others. In several of these cases, of course, most especially Coulter and Yannopoulos, the protests were motivated in no small part
As French notes, though, that commitment to freedom of expression disappeared entirely when Colin Kaepernick and other N.F.L. players began respectfully kneeling during the National Anthem. After President Trump inserted himself into the debate by calling the players who were kneeling sons of bitches and calling on team owners to fire players if they kneel, the right reflexively, and rather predictably, abandoned any pretext of standing for freedom of expression. Instead, when the protests spread as player and owners united to support the players who chose to kneel, many on the right called for boycotts of the entire National Football League until the protests stopped. As French correctly points out this is at best hypocritical and at worst yet another sign of the extent to which Trump is changing the Republican Party and conservatism for the worse.
In his Op-Ed, French points approvingly to the Supreme Court's decision in West Virginia State Board of Education v. Barnette. In that case, during the height of World War II when patriotism and national unity were seen as highly important, the Justices were asked to deal with a state law that required all public school students to salute the American flag and recite the Pledge of Allegiance. The case was originally brought by two sisters who were, along with the other members of their families, Jehovah's Witnesses who objected to being required to salute the flag. Writing for a 6-3 majority, Justice Robert Jackson said this:
If there is any fixed star in our constitutional constellation, it is that no official, high or petty, can prescribe what shall be orthodox in politics, nationalism, religion, or other matters of opinion or force citizens to confess by word or act their faith therein. If there are any circumstances which permit an exception, they do not now occur to us.
As French goes on to note, the National Football League isn't the government, and neither are Google, Dick's Sporting Goods, or private universities that have been the subject of conservative criticism for the instances of apparent censorship or punishment of people for expressing conservative points of view. Additionally, private citizens are free to criticize or shame whoever they wish because of what they say publicly. That being said, he's also correct when he points out when he says that the debate shouldn't end there:
But what should they do? Should they use their liberty to punish dissent? Or should a free people protect a culture of freedom?

In our polarized times, I've adopted a simple standard, a civil liberties corollary to the golden rule: Fight for the rights of others that you would like to exercise yourself. Do you want corporations obliterating speech the state can't touch? Do you want the price of participation in public debate to include the fear of lost livelihoods? Then, by all means, support the N.F.L. Cheer Silicon Valley's terminations. Join the boycotts and shame campaigns. Watch this country's culture of liberty wither in front of your eyes.

The vice president tweeted news of the N.F.L.'s new policy and called it "#Winning." He's dead wrong. It diminishes the marketplace of ideas. It mocks the convictions of his fellow citizens. And it divides in the name of a false, coerced uniformity. Writing in the Barnette decision, Justice Jackson wisely observed, "As governmental pressure toward unity becomes greater, so strife becomes more bitter as to whose unity it shall be."
As French goes on to say, the N.F.L. should let players kneel during the National Anthem if they choose to. They aren't doing anything disruptive and, as I've stated before, they are trying to bring attention to important issues that have largely been swept under the rug. The new policy is made even worse by the fact that it was implemented in the face of obvious pressure from the top official in the Federal Government who has shamelessly exploited the issue to rile up his base and stoke racial tensions. The league, and the owners have proven themselves to be spinless, and conservatives have once again proven that their rhetoric about individual rights and freedom of speech and expression is nothing but words. The hypocrisy is obvious, and it doesn't look good on them.