Counter-Point: The 'Popular Vote' is Relevant
The President-elect lost the popular vote. Legally, that is the way that is it. This is a disgrace for "the Greatest Democracy in the World."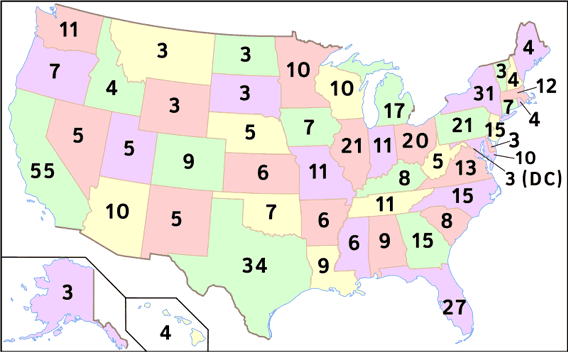 I was going to write something along these lines regardless, but since James Joyner already wrote a piece on the subject, I will use it as a jumping-off point.  I will start with the areas wherein James and I agree:
My longstanding preference is that we should in fact replace the Electoral College with a national popular vote. Given that we are no longer a collection of quasi-sovereign territories bound together for trade and national defense, it really makes no sense to vote for president as though we were. And it's not only manifestly unfair to have a voter in California have less say on who should be our next president than a voter in Montana, it's also demoralizing to Republican voters in California to have their vote rendered irrelevant by the winner-take-all process. Alas, it's inconceivable that we'll amend the Constitution to fix this.
That is:  we agree that the electoral college should be replaced with a popular vote.  My personal and professional preference would be for a two-round or instant run-off system that would require a majority winner (of the type used in the majority of other places which elect presidents).  This is the democratically superior option.  We also agree that it is fundamentally problematic (if not simply morally wrong–my words, not his) that a vote in Wyoming counts more than a vote in California. I will go so far as to state that this is repugnant from a democratic point of view.  We also agree that the system is not going to change any time soon as it is inconceivable to think that there is enough support to change the constitution on this point.  Indeed, as long as only one party is suffering the brunt of this particular institutional mess there will likely be not movement on this topic whatsoever.
I will state that James is utterly correct that the popular vote is irrelevant from a legal and constitutional perspective–there is no denying this at all.  I will depart from his assessment, however, to state that a) it is not philosophically irrelevant from a basic democratic point of view, and b) I am not okay with a  system that gives the minority vote-getter the win.  This is especially true now that this appears to be becoming more commonplace. I think that the fact that we have now had two elections in the span of five wherein the popular vote winner has lost the presidency that have moved out of the realm of once-in-a-century flukes to a serious problem.  If the point of a free and fair election is for the population to express their will then a system that produces the opposite outcome on a regular basis is a flawed system.  One of the saving graces of the electoral college was that as odd a system as it was it at least mirrored the popular vote.  We could pretend the inherently undemocratic nature of the electoral college didn't matter because it gave us the same outcome as the popular vote, so why bother thinking about it too much?
James also provides the following:
We judge baseball games by the number of runs scored, not the number of hits. We judge football games by the number of points scored, not yards gained or time of possession. While the stakes are obviously much higher in a presidential election, the same principles apply.
As far as this goes, he is correct.  Indeed, I am certain I have used similar examples in class to try and explain the EC, especially after 2000.  There is some explanatory power in the analogies.  However, they do breakdown in the since that it is pretty obvious that scoring a touchdown is the goal of the game, not time of possession.  Likewise, it is pretty obvious that getting the most votes is the goal of an election.
Of the grand ironies of 2016 is that one of the arguments I have heard for keeping the EC is that the Framers created the EC to prevent the emergence of a demagogue who could win by appealing to the raw passions of the population.  Well, so much for that theory.  Worse, we have a demagogue who will be president with minority backing.
Long time readers of OTB well know that this is not a new position for me. Indeed, here is a sample of previous writing on the subject (in no particular order):
And before anyone tries to tell me we have an electoral college because "we have a republic, not a democracy" Google my name and that topic and read up.  Or, at a minimum, tell what you think that actually means.  Note, too, contra a video I have seen in circulation, the electoral college is not a remedy against direct democracy.  Direct democracy is a system by which the citizens themselves directly govern.  By definition the election of president (indeed, any election of an office holder) is not direct democracy since it is act of selecting a representative of the people to govern.  It is nonsensical to suggest that representative democracy should favor the minority over the majority in the selection of a singular office (or that the minority should prevail in any democratic process).  It is true that any democratic system has to protect minorities from the majority through various mechanisms (that is a whole other conservation) but the denial of majority preferences in the context of selecting a singular office holder is the denial of democracy, and to cast it as a protection of some sort is a perversion of the very idea of democratic elections.  We need to come to grips with that fact (but I suspect that we will not).
The electoral college is not a system we would adopt if we were starting right now.  Part of the evidence of this is that no other presidential system currently selects their president via such a mechanism.  It is an archaic and arcane mechanism that was born not out of some grand wisdom, but out of pure political compromise.  And, as I like to stress: it does not even work like the Framers intended.  As such, please spare me such arguments.  The Framers did not think national candidates were possible beyond George Washington.  Therefore they created a system by which regional candidates could be filtered to the House.  As Alexander Hamilton wrote in Federalist 68:
It was equally desirable, that the immediate election should be made by men most capable of analyzing the qualities adapted to the station, and acting under circumstances favorable to deliberation, and to a judicious combination of all the reasons and inducements which were proper to govern their choice. A small number of persons, selected by their fellow-citizens from the general mass, will be most likely to possess the information and discernment requisite to such complicated investigations.
This describes a process wherein the members of the EC would deliberate upon the choices before them, not act as mere messengers of the popular vote.  This is a very different vision than what we have now (and, indeed, a very different vision than the way the process worked pretty much from the beginning).  It is worth noting, too, that the electors were not originally chosen by the popular vote.
Look, if we want to call ourselves the greatest democracy in the world, we have some self-introspection to do.  I can guarantee that this election will damage our international reputation on this count.  As a side note it is quite possible that we will find that more people voted Democratic in House races than voted Republican (as happened in 2012).  Understanding full well that we elect House members in districts and not in a national vote, it is problematic if, in fact, our major institutions are controlled by a party that actually lacks majority support.