CPAC Snubs Chris Christie
CPAC's organizers have decided not to invite the most popular Governor in the country.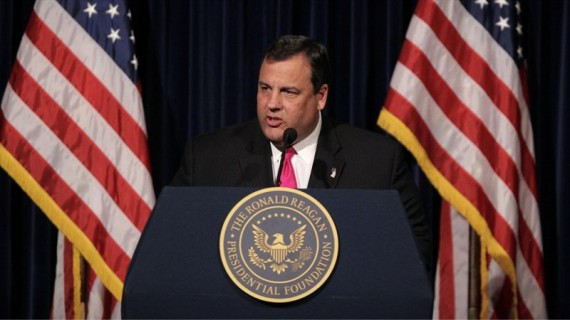 At least going back to 2010, the American Conservative Union, the group that runs and organizes the annual Conservative Political Action Conference, have invited New Jersey Governor Chris Christie to come speak at the conference. He had become, after all, a superstar on the right, and indeed nationwide, because of his blunt style of communicating and the success he'd had in beginning to turn New Jersey's budget process around after inheriting a multi-billion dollar deficit from Jon Corzine. Christie hasn't attended in the past, largely because the conference's traditional February date came right in the middle of his state's annual budget process, and, as he said, his job was to be back in Trenton getting that taken care of. This year, CPAC moved it's date to mid-March, but Christie still won't be there, because he's among the only potential 2016 Presidential Candidate not to be invited:
Just months after their losses in the 2012 election, Republicans and conservatives are setting a vibrant — and crowded — stage at next month's closely watched political cattle call.

The three-day gathering of the Conservative Political Action Committee, which begins March 14th just outside Washington, is expected to feature more than two dozen high-profile Republicans, including former Gov. Mitt Romney.

At least eight potential presidential contenders will be speaking at CPAC: Gov. Bobby Jindal of Louisiana, Sen. Marco Rubio of Florida, Sen. Rand Paul of Kentucky, Rep. Paul Ryan of Wisconsin, former Florida Gov. Jeb Bush, Gov. Scott Walker of Wisconsin, former Texas Gov. Rick Perry, and Sen. Rick Santorum of Pennsylvania.

(…)

One potential 2016 hopeful who won't be there, however — New Jersey Gov. Chris Christie. Despite being the keynote speaker at the Republican National Convention and having a sky-high approval rating in the Garden State, CPAC officials told First Read Christie was not invited.

Christie rankled some on the right with his public support for President Obama's handling of Hurricane Sandy in the weeks leading up to the 2012 election.
You'll also recall that Christie railed against House Republicans when, in the literal final hours of the 112th Congress, they failed to act on a Hurricane Sandy relief bill that had been pending in Congress since shortly after the storm hit. For both of these events, he was relentlessly attacked by hard-core conservatives, many of whom have essentially written him out of the movement for his perceived apostasies. In the meantime, of course, Christie is scoring job approval ratings in the 70s, has managed to scare off New Jersey's high profile Democrats from challenging him, and appears headed for an easy re-election. Moreover, as Allahpundit notes, the ACU has invited Mitt Romney and Jeb Bush to speak, both of whom are also not exactly beloved by the hard-core right. Indeed, this year they've even invited progressive MSNBC host Chris Hayes to be part of a debate. To his credit, Hayes responded to the invitation by saying that he'll attend if the ACU reverses his decision to bar gay conservative group GOProud 
In all honestly, I doubt Christie cares much about the lack of a CPAC invitation. Indeed, given his past responses to invitations it's by no means guaranteed that he'd accept an invitation this year to begin with. For one thing, he's most definitely not campaigning as a hard-right conservative in his re-election bid so it's unclear what an appearance at CPAC would do other than provide fodder for his political opponents. For another, the kind of speech that Christie would give isn't the kind of speech that would go over well among the CPAC crowd to begin with and, if he does run for president in 2016, he's not going to be the candidate of the right wing of the party to begin with.
Like banning GOProud, not inviting Christie to speak at CPAC says much about the state of the conservative movement. As with the Republican Party itself, the movement is becoming more close-minded an much more heavily ideological. Even the slightest deviation from orthodoxy is seen as anathema, and when confronted with someone like Christie who understands the difference between being a leader and being an ideologue, their reactions are incredibly predictable. It makes most conservatives gatherings rather boring, to be honest, which is why i spent the last two CPAC's socializing and hanging out the bar more often than actually listening to speakers. And it'w why I won't be going this year. I've heard all of this before, I don't need to hear it again, and I certainly don't need to hear from the likes of Ted Cruz again.