Cruz Likeliest Winner in Contested GOP Convention
The second place finisher in the Republican primaries is looking like the first loser.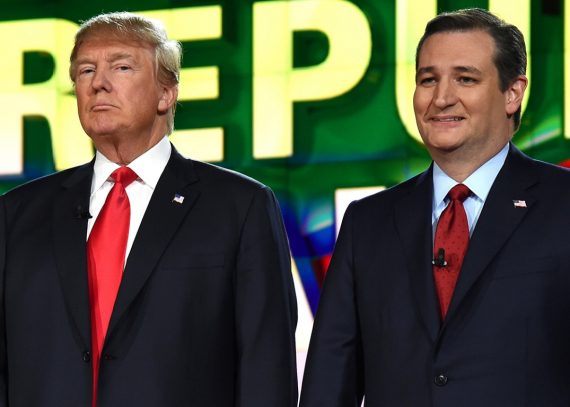 Despite having been the frontrunner in the polls since well before the first ballots were cast and having won the lion's share of the votes, Donald Trump looks exceedingly unlikely to amass enough delegates to win the Republican nomination. Jeremy Peters and Jonathan Martin:
The new approach is a tacit admission that Mr. Trump's campaign, which has been so reliant on national news coverage and mass communication via Twitter, has not been able to compete in the often intimate and personal game that is delegate courtship.

His effort to sow doubt about the system plays into the suspicions and anxieties that many of his most ardent backers have about a political process they believe has intentionally disenfranchised them. And it allows Mr. Trump to divert attention from his recent losses in delegate races that are occurring all over the country.

[…]

Mr. Trump's complaints also reflect the difficult math he seems likely to face at the convention. Each delegate denied pushes him further away from winning the nomination on the first ballot, after which most delegates would be free to vote for someone else. And after the most recent rounds of voting, Mr. Cruz is poised to have many loyal supporters who would stand with him on a second ballot or beyond.

By its own admission, the Trump campaign has fallen perilously behind in the delegate effort, narrowing Mr. Trump's road to the nomination with each contest.

The outlook in the coming weeks is not much more favorable. Even if Mr. Trump prevails in high-profile battles like next week's New York primary, there are growing signs that he is not well equipped to succeed in the lower-profile skirmishes for delegates.

There, Mr. Cruz has an advantage. His campaign recently hired Ken Cuccinelli, a conservative former attorney general of Virginia and a veteran of the state's internecine Republican battles, to oversee its effort to send pro-Cruz delegates to Cleveland.

The process for choosing delegates can be convoluted and arcane. Even if one candidate wins a state, the delegates who are supposed to vote for him at the convention might privately support one of his opponents, and could do so formally if the nomination goes beyond a first ballot. In some states, like Colorado, delegates selected at a district caucus then vote for separate delegates to the national convention. Because the approach varies by state, campaigns must be well versed in each set of rules.
Ed O'Keefe explains why Cruz is the favorite to win a contested convention:
Trump's path to amassing the 1,237 delegates he needs to win outright has only gotten narrower after losing to Cruz in Wisconsin and other recent contests, and would require him to perform better in the remaining states than he has to this point.

In addition, based on the delegate selections made by states and territories, Cruz is poised to pick up at least 130 more votes on a second ballot, according to a Washington Post analysis. That tally surpasses 170 delegates under less conservative assumptions — a number that could make it impossible for Trump to emerge victorious.

[…]

Cruz's chances rest on exploiting a wrinkle in the GOP rule book: that delegates assigned to vote for Trump at the convention do not actually have to be Trump supporters. Cruz is particularly focused on getting loyalists elected to delegate positions even in states that the senator from Texas lost.

On Wednesday in Indiana, for example, Republican leaders are finalizing a delegate slate that will include party activists unlikely to vote for Trump in the state's May primary. Cruz also is poised to sweep Wyoming's 26 delegates this weekend in a state where Trump's campaign did not seriously compete. In Arkansas, Cruz supporters are exploring ways to topple Trump when delegates are chosen next month. And Sen. Marco Rubio (R-Fla.) has refused to release 171 delegates he won when he was in the race, signaling that he may contribute to the anti-Trump push in Cleveland.

[…]

When the presidential nomination vote is held at the convention, 95 percent of the delegates will be bound to the results in their states for the first vote, giving Trump his best shot at securing a majority.

But if Trump falls short, the convention will cast a second ballot in which more than 1,800 delegates from 31 states — nearly 60 percent of the total — will be unbound and allowed to vote however they want. By the third round, 80 percent of the delegates would be free, sparking a potential free-for-all that could continue for several more rounds.

That is the crux of the state-by-state battle that is playing out over the next two months as Republicans gather at the precinct, county, congressional district and statewide level to choose convention delegates.

"If we go into a contested convention, we're gonna have a ton of delegates, Donald is gonna have a ton of delegates, and it's gonna be a battle in Cleveland to see who can earn a majority of the delegates that were elected by the people," Cruz told a meeting of the Republican Jewish Coalition in Las Vegas on Saturday.

He predicted that the first ballot "will be the highest vote total Donald Trump receives. And on a subsequent ballot, we're gonna win the nomination."

If Cruz prevails, it will be because of what supporters are doing for him nationwide with what they say is little direct input from his campaign headquarters.
While I share my co-blogger Doug Mataconis' view that Trump's claims of the system being "rigged" are over the top and that Cruz is merely playing the game by the rules that exist, Trump's underlining claim that this process is fundamentally undemocratic is certainly reasonable. And, unlike Doug, I think that's quite problematic.  If we're going to have a system where citizens are asked to vote for the nominees of the two parties, then the nominations should reasonably reflect the outcome of those contests.
To be sure, Barack Obama bested Hillary Clinton for the 2008 Democratic nomination exploiting similar disparities in the system. And, frankly, there are all manner of systemic inequities in our electoral process, whether from the winner-take-all system used by most states to allocate Electoral College votes to the fact that state legislatures are allowed to draw Congressional districts to maximize the likelihood of their party winning seats. And that's to say nothing about the plethora of caucuses held instead of primaries, seemingly for the purpose of driving down participation. But the allocation process in the primaries is even more flawed, with it being possible for a candidate who got next to no support in the primary or caucus to emerge with more delegates than the statewide winner.
If Trump falls short of coming to the convention with a majority of delegates, it'll be by a small margin.  And, quite probably, not even as a result of his having failed to win enough voters over. Rather, it'll be because Cruz, who is vastly less popular and less successful by any measure at attracting voters than Trump, was more skillful at navigating the arcane, behind-the-scenes process of wooing delegates. That's not only undemocratic but unseemly.
I say all this as someone who would be very pleased to see Trump lose. If he fell short of a majority legitimately–simply as a function of not winning enough states because the field was so large—I'd be happy with almost any subsequent process that denied him the nomination.  While I'd be hard pressed to vote for Cruz—indeed, I don't see myself doing so at this juncture—he's both more qualified and representative of the Republican platform than Trump.  He's even less likely, in my judgment, to be able to defeat Hillary Clinton than Trump.  But nominating him wouldn't permanently taint the GOP brand in the way Trump as standard bearer would.
Alas, it looks very much like the process that stops Trump will be illegitimate. And that's likely to not only to ensure his voters won't go to the nominee in November but perhaps to permanently split the party.