Debt Ceiling Kabuki Theater Update
It hasn't been a very productive weekend in Washington, D.C.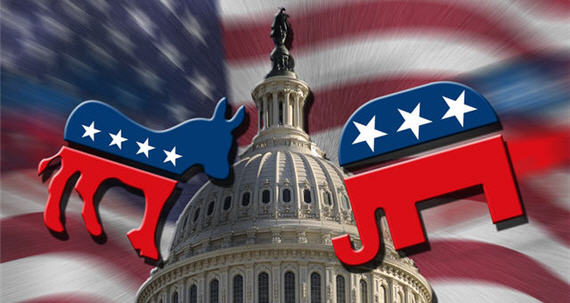 With the blowup of the talks between President Obama and Speaker Boehner, attention has now shifted to the Congress, but what kind of deal we might end up with, if any, is anything but clear:
First came the Biden talks. When those blew up, the Obama-Boehner talks took center stage. And when that failed, the McConnell-Reid talks looked promising. And after they faltered, the Obama-Boehner talks tried to find a new life.

Now it's all come down to the Boehner-Reid-Pelosi-McConnell talks to solve the debt crisis. Notably absent? The president.

That's not to say Saturday's congressional takeover went well.

In a frantic bid to avoid causing a worldwide economic disruption, debt negotiations have shifted wholly to Capitol Hill, as a frustrated President Barack Obama has taken a step back and allowed House and Senate leaders to try to find a way out of the debt-ceiling debacle. After congressional leaders told Obama at the White House Saturday morning they would attempt to stave off the crisis before Asian markets open Sunday evening, leadership aides raced to put together a framework that both parties could support.

With the president staying out of the picture, congressional leaders struggled to make progress on a temporary two-step solution that raises the debt limit with some offsetting cuts.

In an extraordinary Saturday evening session in the Capitol, House Speaker John Boehner (R-Ohio), Senate Majority Leader Harry Reid (D-Nev.), Senate Minority Leader Mitch McConnell (R-Ky.) and House Minority Leader Nancy Pelosi (D-Calif.) sat around negotiating, on their own turf, without White House aides present.

The four smiled for the TV cameras during a photo-op at the top of their 50-minute meeting, but no one would say a word about whether they had made any progress.

"Bye," Boehner told a reporter who asked about whether he could reassure the country a deal could be reached.
Byron York has the details of the plan that is allegedly being talked about behind closed doors:
House Republicans are finishing work on a new proposal to resolve the standoff over the debt ceiling.  The proposal, set to be finished and crafted into the form of a bill by Sunday, will be in two parts.  The first will combine a short-term increase in the debt ceiling with spending cuts.  The second will lay the groundwork for a longer-term increase in the debt ceiling coupled with far-reaching deficit reduction.
(…)

Work on the new proposal was underway before negotiations with the White House blew up on Friday.  Sources say the plan was being created last week, even as the House leadership devoted considerable time to passing the "Cut, Cap, and Balance" proposal.  Once the Senate Democratic leadership blocked "Cut, Cap, and Balance," House leaders stepped up work on the new proposal.  Right now, the new direction is believed to be the only way forward.  "McConnell-Reid is just not a viable option in the House," the aide says, referring to Senate Minority Leader Mitch McConnell's complicated proposal to allow the president to increase the debt ceiling.
President Obama has said in the past that he would not agree to any deal that doesn't raise the debt ceiling by a sufficient amount to carry the nation "well into" 2013. While there are probably electoral considerations behind his position on that issue, I tend to agree that this would be the best thing to do simply because of what we've seen unfold before us in the current debate. The initial request from the Treasury Department to raise the debt ceiling was sent to Congress in January. Since this is America, we ignored it for months until the credit rating agencies started warning us about it. Now, we've spent a month or so dancing this bizarre kabuki theater of off-and-on again negotiations, deals that never were deals, offers that were never really made and political grandstanding by all in the grand tradition of American politics. Now, here we are nine days before the August 2nd deadline and only a few hours before the Asian markets open (about which more below) and we have no deal. Does anyone really think that this process would go any smoother a year from now when everyone in Washington is worrying about the election? The answer, of course, is that it won't and a short term deal would just put us back where we are right now, with possibly worse results.
Nonetheless, this seems to be the idea that Boehner and the Republicans are going forward with, with Boehner apparently saying that he wants to be able to present a deal later today before the Asian stock markets open. Nobody really knows how the markets would react to the news that talks are irreparably broken, but the odds that they'll just shrug it off at this point seem pretty dim, which is why Boehner has this in mind (also, he doesn't want the GOP blamed if there's a market crash this week).  Even if there's a plan announced, though, that doesn't mean there will be a deal:
Perhaps taking the benefit for Obama off the table will be enough. I'm doubtful. It's more likely that what we're really doing now is wasting time until the markets plummet and Boehner's members decide that a deal is better than no deal. And there's a very good chance that the first major show of market concern could come tomorrow night, when the Asian markets open. Boehner is hoping to present a plan by then, but a plan is very different from a deal. A plan is something politicians can come up with. A deal, we're increasingly finding, is something that we need the markets to force.
That may be exactly what has to happen, because, right now there doesn't appear to be any agreement in Congress at all.  The Wall Street Journal says this morning that:
Congressional talks dissolved in recrimination again Saturday night, as the latest proposal for cutting the deficit and raising the government's debt limit hit a wall with 10 days left before the U.S. begins defaulting on its obligations.

"House Speaker John Boehner (R-OH), hosted the leaders of both parties in his conference room at 5:30 p.m. in an attempt to resolve the impasse. The leaders were expected to issue a joint statement following the meeting, in part to reassure the markets. But no such statement was issued…"
At this point, the disagreement seems to be over the second stage of the two-part plan discussed above:
The two sides were still fighting over how to force Congress to produce the second round of savings. Boehner wants to set another debt-limit vote early next year, while Democrats are insisting on a plan that would postpone another debt-limit showdown until after the 2012 presidential election.

Boehner, Reid, Senate Minority Leader Mitch McConnell (R-Ky.) and House Minority Leader Nancy Pelosi (D-Calif.) met briefly in Boehner's office Saturday evening to try to break the impasse. They emerged without a fresh approach to the problem, and aides made plans to try again Sunday morning.

After the meeting, Reid issued a statement saying he was "deeply disappointed in the status of negotiations" and urging Republicans "to reconsider their intransigence."

"Their unwillingness to compromise is pushing us to the brink of a default on the full faith and credit of the United States," Reid said. "We have run out of time for politics. Now is the time for cooperation."

Boehner spokesman Michael Steel fired back in a statement that Democrats have long been aware of "our principles to pass a bill that fulfills the President's request to increase the debt limit beyond the next election. . . . The Democrats who run Washington have refused to offer a plan. Now, as a result, a two-step process is inevitable."
Well no, it really isn't. There have been plenty of discussions over the past three weeks about plans that would raise the debt ceiling once, along with very generous packages of spending cuts, but they didn't go anywhere because Boehner didn't have the support in his caucus for them, thanks in part to people for whom compromise is a four-letter word and Tea Party debt kamikazes who prefer to stick their heads in the sand and pretend we have nothing to worry about if the debt ceiling isn't raised. Now, practically speaking it may no longer be possible for legislation that would accomplish that to be put in proper form and passed by both Houses, but whose fault is that? That deal could still be made, though, if the parties agreed to a short term debt ceiling increase to avert disaster, followed immediately(within a week or two) by a vote on the longer term package. Again, though, that requires compromise on both sides, something which, looking from the outside, no longer seems possible in Washington.
There is, of course, another problem with the plan that Boehner is working on. It may not be enough to calm the markets, and S&P and Moody's may decide that it isn't enough to assuage the concerns about American creditworthiness. By walking away from a Grand Bargain, our leaders in Washington may have led us into the worst of all possible worlds.