Debt Talks Break Down (Again) As Boehner Walks Away
It wasn't a good day for the debt ceiling negotiations.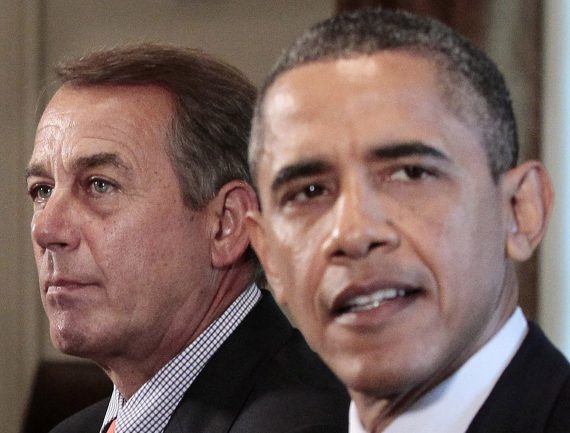 As I write this, President Obama is still speaking in the Brady Press Briefing Room giving his reaction to the news that the latest round of debt talks ended in inexplicable disaster:
House Speaker John Boehner, R-Ohio, on Friday said he ended negotiations with President Obama on a so-called grand bargain to achieve sizable deficit reduction in the context of raising the debt ceiling.

Boehner informed all House Republicans in a letter released at 6 p.m. EDT.

"A deal was never reached and was never really close," Boehner wrote. "I have decided to end discussions with the White House and begin conversations with the leaders of the Senate in an effort to find a path forward."

Boehner blamed Obama's demand for higher taxes and opposition to "fundamental changes" to entitlement programs such as Medicare, Medicaid and Social Security.

"In the end, we couldn't connect," Boehner wrote. "Not because of different personalities, but because of different visions for our country. The president is emphatic that taxes have to be raised. The president is adamant that we cannot make fundamental changes to our entitlement programs."

(…)

Senior House GOP aides said Boehner is not maneuvering and from now on the only focus of negotiations will be to produce a bill that raises the $14.3 trillion debt ceiling and meets Boehner's longstanding demand that spending cuts exceed the amount by which the debt ceiling is lifted and the package contain no tax increases.
President Obama said in his opening statement that he had offered a package that included $1 trillion in spending cuts and $650 billion in entitlement cuts that didn't reduce actual benefits and it's clear that he's rather annoyed that things have collapsed yet again.
Via CBS News here's the letter.
Update: President Obama and Speaker Boehner have both addressed the press:
Obama walked into the White House briefing room to declare that Boehner had walked away from "an extraordinary deal."

"Can they [Republicans] say yes to anything?" Obama said. "… I have been left at the altar a couple of times now."

"I just got a call a half hour ago from Speaker Boehner who indicated that he was going to be walking away from negotiations with the White House for a big deficit reduction package," Obama said. "I think we should have moved forward with a big deal. … It is hard to understand why Boehner would have walked away from this deal."

Boehner, speaking to reporters shortly after Obama spoke, countered that it was "the president who walked away from his agreement" and demanded more revenue at the last minute.
Not surprisingly, it all came down to taxes:
Indeed, despite Boehner's disclaimer, the outlines of a $3 trillion-plus deficit reduction package had been in place including what would have been substantial savings in Medicare and more than $1 trillion from appropriations over the next decade. Republican leadership aides, who briefed reporters on the talks, credited the administration with committing to structural changes to Medicare as well to try to bend the cost curve in a second 10 year period after 2021 as well.

Yet as in the past, revenues proved a major stumbling block even when the two sides initially thought they had the makings of a deal built around the shared goal of tax reform.

Obama insisted that the "goal posts" had not been moved, but from the Republican account, it appears the administration had agreed last Sunday to step back from its earlier demands to raise about $400 billion from tax reform. But this increase came back into play after the bipartisan Senate "Gang of Six" announced its proposal Tuesday which assumes substantially more new revenue for deficit reduction.

In both cases, the Obama-Boehner talks as well as the Senate group, the goal was to complete reform by the end of 2012, when the Bush era tax cuts are due to expire
Where things goes from here is anyone's guess. The Congressional leadership will be at the White House in the morning but I cannot see them reaching a real agreement of any kind with, at that point, only 9 days left until the August 2nd deadline. Everyone says that defaulting is not an option but the way things are playing out, it's hard to see how we get to any kind of a deal that would get through both Houses of Congress between now and then. I suppose that the only good thing is that this happened on a Friday evening and that we've got a good 48 hours before world financial markets open.