Democratic Race Tightens In New Iowa And New Hampshire Polling
The Democratic race in Iowa and New Hampshire is tightening, according to new polling, but this still seems to be Clinton's race.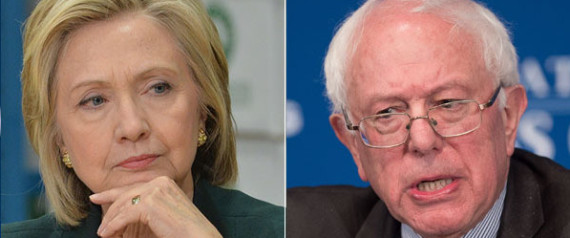 Two new polls from NBC News and The Wall Street Journal appear to show the Democratic races in Iowa and New Hampshire tightening in the month before voting begins:
Democrats Hillary Clinton and Bernie Sanders are deadlocked in both Iowa and New Hampshire three weeks before voting begins in the 2016 presidential race, while the Republican primary contest remains tight in Iowa, a new Wall Street Journal/NBC News/Marist poll finds.

Mrs. Clinton holds a slim, 48%-to-45% lead over the Vermont senator among likely Democratic caucusgoers in Iowa, the survey finds. Mr. Sanders edges the former secretary of state among likely primary voters in New Hampshire, 50% to 46%. Both leads are within the poll's margins of error.

The survey results underscore the challenge facing Mrs. Clinton in the first two nominating states, despite her commanding lead in most national polls.

On the Democratic side, Mr. Sanders has opened up big leads in Iowa and New Hampshire among independents who say they'll participate in the Democratic contests, while Mrs. Clinton notches big edges among Democrats. In both states, Mrs. Clinton posts big leads among likely participants age 45 and older, while Mr. Sanders posts even bigger leads among younger voters.

Though the Democratic races look like they will go down to the wire, 71% of likely caucusgoers in Iowa say they are strongly committed to their candidate of choice. In New Hampshire, that share is even higher, at 76%.

"The Democratic contests in Iowa and New Hampshire could still go either way," Mr. Miringoff said. "If your New Year's resolution was to have clarity in 2016, you better also have resolved to be patient."
The fact that the race in Iowa between in Clinton and Sanders is somewhat of a surprise given the fact that, as 2015 drew to a close, the former Secretary of State appeared to be pulling away from Sanders in the Hawkeye State.To a large degree this was a result of the fact that Clinton had put most of the problems her campaign had faced over the summer behind her and had a largely successful September and October, and seemed to do fairly well during the rest of the year as well. During that time, for example, Clinton clearly won the first Democratic debate, benefited greatly when Vice-President Biden decided not to run for the Democratic nomination, and largely seemed to put the issue of the Benghazi attack behind her thanks to an appearance before the House Select Committee investigating that attack that ended up clearly backfiring on Republicans. Ever since then, things seemed to be moving in clearly in Clinton's direction both nationally and at the state level, and the debates in November and December didn't really seem to imuch of anything. These first polls after Christmas seem to indicate otherwise, or at least to indicate that the race is tightening just a bit in the final month.
Nationally, Clinton's lead over Sanders is still quite substantial. The new Fox News poll, for example, gives her a 15 point lead and she has a nearly twenty point lead over Sanders in the RealClearPolitics average, with similar results in the Pollster average. Similarly, Clinton's average in Iowa is still in double digits according to both RealClearPolitics and Pollster, but that's largely thanks to the polling prior to Christmas that gave Clinton a double digit lead in the Hawkeye State. If this new poll is accurate in showing the race there tightening, then those averages will slip as we get new polling numbers in the coming weeks. In New Hampshire, the news from the new polling is somewhat more mixed for Clinton, and in some cases actually good news. A post-holiday Public Policy Polling survey, for example, actually showed Clinton leading in the Granite State, although its worth nothing that other recent PPP polls in the state have shown that notwithstanding the fact that other polls have shown Sanders with a narrow lead. The new Fox News poll, meanwhile, gives Sanders a thirteen point lead, one of the largest he's held in the Granite State in months and, if true, a sign that Clinton could be in trouble there. This new NBC News poll, meanwhile, is more in line with the polling we saw out of New Hampshire in November and December that showed Sanders still leading there, but much more narrowly than in the past. All of this leaves Sanders with narrow leads in the poll averages at both RealClearPolitics and Pollster in the Granite State, which for Clinton at least is better news than she was facing just a few months ago when the Senator from neighboring Vermont appeared to be pulling away.
In the end, it seems unlikely that Clinton would really lose both Iowa and New Hampshire, in no small part because her ground operation clearly seems to be much better than Sanders in both states. If she does lose both states, of course, there will be obvious speculation about Democrats being in disarray, especially since the idea of Sanders as the Democratic standard-bearer seems like something that only makes sense if its 1972 and Bernie Sanders changed his name to George McGovern. In the end, though, Clinton remains the overwhelming favorite beyond these first two states, especially in the remaining February contest states of South Carolina and Nevada, where she has double digits leads over Sanders and Sanders shows no signs of having a real organization that could exploit any victory he pulled off in either of the first two states. In the end, then, this remains Clinton's race to lose, and while it appears that she'll be facing some bumps in the road ahead there's no reason to believe that's going to change any time soon.