Democrats Aren't Buying Cory Booker's 'Unity' Message
Cory Booker's message of unity isn't going over well with Democratic voters eager for a fight.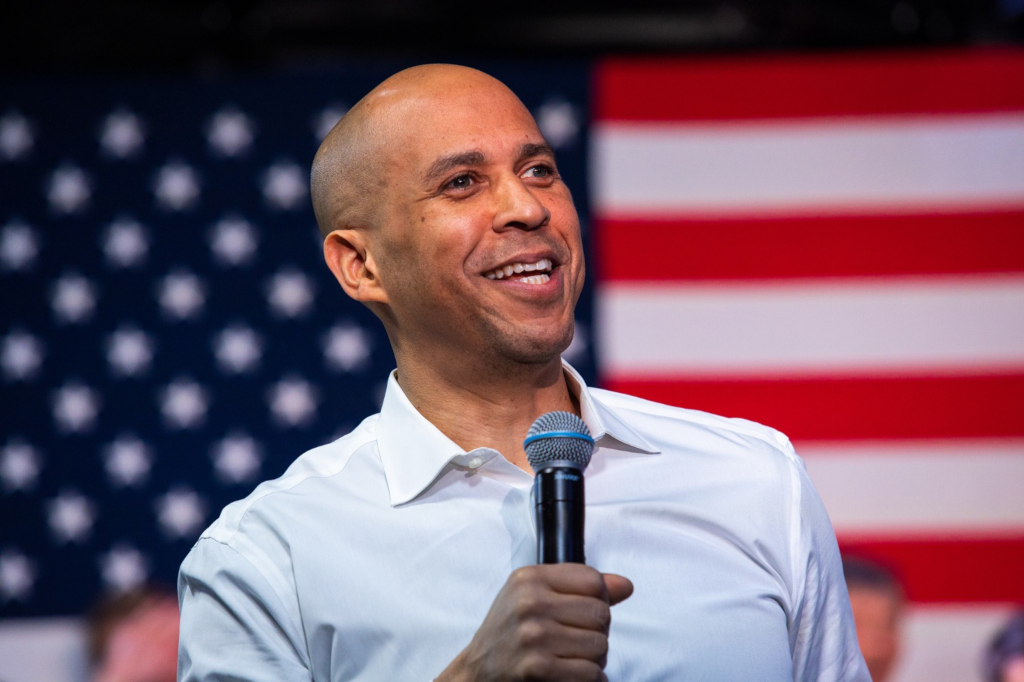 New Jersey Senator Cory Booker, who entered the Presidential race back in February, has been using his time on the stump trying to be the anti-Trump, pushing a message of unity in an era when Donald Trump is sowing division. distrust and hatred. So far, it doesn't seem to be playing well with his fellow Democrats:
SIOUX CITY, IOWA — Sen. Cory Booker launched a bid for the White House in February on a message of love and unity, painting himself as an inspirational leader who would help a polarized America find common ground.

Just 10 weeks later, Booker is discovering that so far love just isn't enough.

Polling in the single digits and lagging top-tier competitors in fundraising, Booker this week sought to reboot his campaign, launching a "Justice For All" two-week, national tour heavy on economic policy proposals and social justice messaging. In Iowa, he rolled out an expansive proposal for a new income tax credit and talked about the need for rural infrastructure investment. In Georgia, he unveiled a voting rights plan, vowing to make Election Day a national holiday and talked about restoring voting rights to ex-felons.


The recent steps aim to invigorate a presidential bid that has underwhelmed some Democrats who are questioning whether Booker's message is one that resonates in the Trump era.

Booker kicked off his presidential bid on Feb. 1 framing his run on the proposition that the nation's next leader needed to tap into ways to reunite an ever-divided country. Booker, who often references Martin Luther King Jr., is shaping his candidacy as one that seeks to bring back civic grace and discourse, saying that political tribalism in America runs so deep "we can't even do the things that we agree on."


"Right now what this country needs is not people having a race to the gutter, not a party that's going to show the worst of who they are, not when they go low we go lower, not fighting fire with fire," he said at a recent Iowa campaign stop.


It's a tricky platform to execute, said Sean Bagniewski, chair of the Polk County Democrats. While he said Booker's messaging is "compelling," it comes at a political moment when the party is hungry for candidates to offer up evidence that they can defeat President Donald Trump.


"The Democratic base is angry as hell and we're fighting for our lives," Bagniewski said. "That's how it feels every day. The primary voters are angry and they want to fight."


At an Iowa town hall this week, one potential caucus-goer commented on Booker's approach, telling him that "while we love your love message," tackling issues like climate change "has to be our first priority."
Even the senator acknowledged he's been second-guessed on his messaging.


"'That's not a strategy to win, Cory. You're fighting against Donald Trump. How you gonna to win?'" Booker said people will ask him. "And I say, 'please, I'm the guy who beat this machine in Newark, New Jersey.'"
Booker told that Iowa crowd he believes the election has to be about something more than just ousting Trump from the White House.

"We have a choice in this election. To make it about one guy and one election and just get rid of him? I understand that call, but it's got to be about something bigger than that," Booker said. "We Democrats in this room, it can't just be about beating Republicans, no. This is a moral moment in our country where it's got to be about uniting Americans."


A March Focus on Rural America poll in Iowa backs up Booker's premise: 50 percent of those surveyed said it was "absolutely critical" that a 2020 candidate is "someone who can heal the racial, ethnic and partisan divide in our country."
The extent to which Booker's opening message has fallen flat can be seen in both the polling and the fundraising numbers that have been released to date. The most recent poll of Iowa Democrats by The Des Moines Register, for example, puts Booker at just three percent, which is better than many candidates in the field but significantly trails better-known candidates such as Joe Biden, Bernie Sanders. Elizabeth Warren, Kamala Harris, and Beto O'Rourke. The same poll Booker at just three percent as a potential second choice for Iowa Democrats, which is an important fact due to the manner in which the Democratic Caucuses are run. Nationally, the polls show Booker averaging 3.5% according to RealClearPolitics, which is better than candidates such as Amy Klobuchar, Julian Castro, John Hickenlooper. and Kirsten Gillibrand who are in the 1-2% range, but far behind poll leaders Joe Biden and Bernie Sanders as well as the middle of the pack which includes O'Rourke, Warren, Harris, and South Bend, Indiana Mayor Pete Buttigieg. Finally, the most recent fundraising numbers show Booker raised $7.9 million in the first quarter and has roughly $6 million in the bank, placing him near the bottom of the list among the current field.
It's not surprising that Booker's message of unity is falling flat in the era of Trump. For one thing, as I noted last week, Democratic voters really, really want to get behind a candidate that they believe is capable of taking on Trump in 2020. For many of these voters, this appears to mean a candidate who is capable of taking the President on in his own territory, which is anything but a message of "love" and unity. They are, in other words, looking for a fighter, not a lover, and so far at least Booker isn't offering that message. For better or worse, Donald Trump has at least for now changed the political landscape to the extent that he has engaged in rhetoric that would have previously been considered unacceptable and has managed to make it acceptable. Any Democrat that wants to take him on and win is going to need to match that rhetoric blow for blow while at the same time offering voters a different vision on policy from Trump and the Republicans. So far at least.. Booker isn't doing that.