Democrats' "New" Strategy: Blame Bush
The Democrats are pulling a trick from the Reagan playbook for the fall campaign. They might want to rethink that.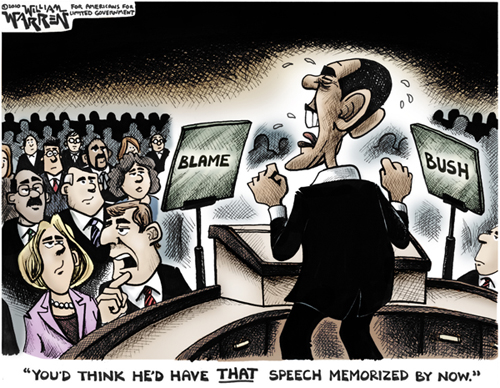 Taegan Goddard passes along a Paul Bedard report that,
The White House and congressional Democrats are looking at an unorthodox model to fashion their strategies for the upcoming midterm elections and President Obama's 2012 re-election campaign. Remember when Ronald Reagan, up for re-election in 1984, repeated his winning 1980 campaign question "Are you better off than you were four years ago?" while warning that Democrats would return the nation to Jimmy Carter's disastrous economic days? Well, get ready for top Democrats and the president to pick up that theme as they fight to keep the Republicans at the door.

"In 1984, Reagan was still blaming Jimmy Carter and it worked," says a Democratic leadership aide. "We'll not just blame [Bush] but point out that the best indication of what they'll do is what they've done."

[…]

Democratic researchers have been studying Reagan's 1984 speeches and say his convention address offers the best to crib from. For example, when Obama told Reid supporters that "what the other party is counting on is that all of you don't have very good memories," it was a version of this Reagan line: "Our opponents began this campaign hoping that America has a poor memory. Well, let's take them on a little stroll down memory lane."
This is both predictable and reasonable.  There's no doubt that Bush, like Carter, was horribly unpopular at the end and that he left some sizable messes to clean up.  Pointing to these things is both prudent and fair.
But Reagan had one wee advantage in 1984 that Obama won't have in 2010:   Things had actually gotten markedly better under his watch!
Reagan popularized the "Misery Index," which was obtained by adding the unemployment rate and the inflation rate.  Well, take a look at how it progressed: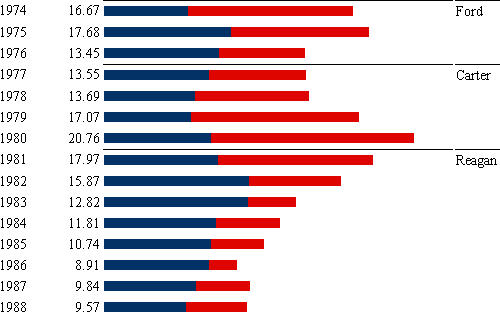 I include Gerald Ford because, in fairness, things weren't all that great when Carter took over.  But they got markedly worse, especially on the inflation side.   Unemployment actually went up during Reagan's early days but the combination of policy decisions to control inflation, stimulative spending, and the good old business cycle cut the Misery Index by almost half by the time of the 1984 elections from where it had been when Reagan was elected.
Sadly, the site hasn't been updated in a while, so I don't have the equivalent chart for the GWB/Obama comparison.
But the unemployment rate was 7.7 in January 2009, the last month Bush was in office, and inflation was at o.03.  That's a Misery Index of 7.703.  For June 2010, the last month for which data are available, unemployment is at 9.5 and inflation is at 1.05, for a Misery Index of 10.55.  I don't have annualized data, but they'd come out with a similar gap, since I'm using Bush's unemployment high point and Obama's recent low point.
Further, Republicans will be happy to point out that unemployment is even higher than the dire predictions Obama gave for what would happen if we didn't pass his stimulus.
As an aside, the fact that inflation has been essentially a non-factor for the last quarter century may make the Misery Index obsolete.   I'd argue that the economy is in much worse shape now than during Carter's nadir even though the index is half what it was then.