Democrats Seem Likely To Make The Same Debate Mistakes Republicans Did
Faced with the prospect of a large field like the one Republicans had in 2016, Democrats are trying to figure out how to handle debates. So far, the ideas being put forward are as bad as what the GOP ended up doing.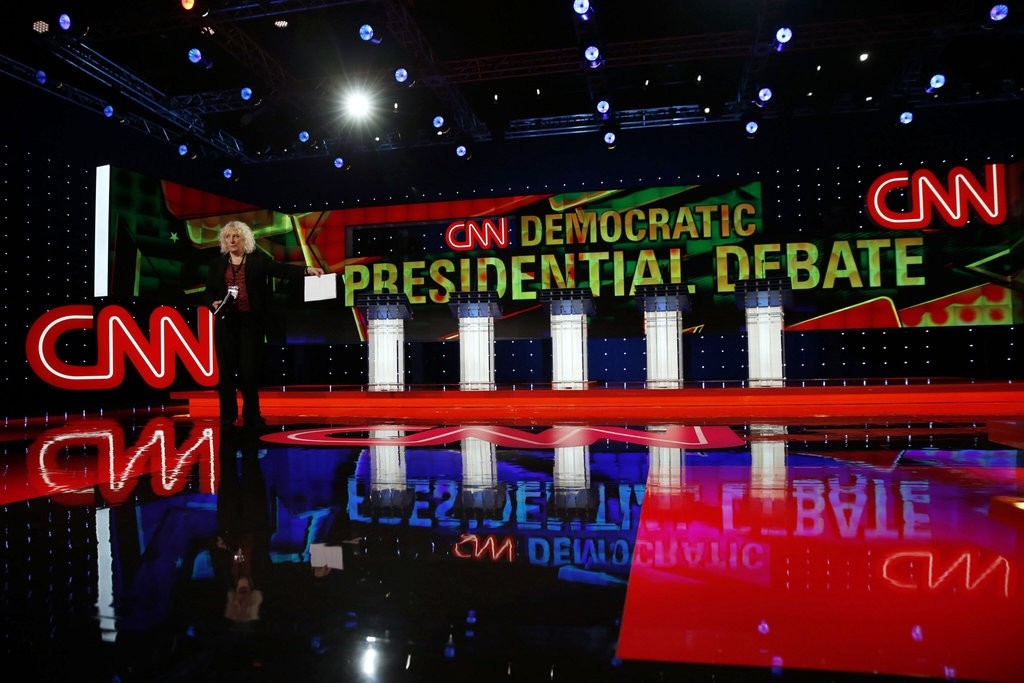 Shortly before Christmas, the Democratic Party unveiled plans for the pre-primary debates during the 2020 Presidential race:
WASHINGTON — The Democratic National Committee on Thursday unveiled the early outlines of its 2020 presidential primary debate plans, a process that could allow a large number of candidates to face off over two consecutive evenings in at least a dozen planned debates.

Tom Perez, the chairman of the committee, announced that the party would hold six debates in 2019 and the rest in the first six months of 2020. In a shift from tradition, none are scheduled for the early-primary states of Iowa, New Hampshire, South Carolina and Nevada until 2020.

With nearly three dozen Democrats pondering a presidential bid, party officials anticipate a rush of candidates eager to grab a spot in the nationally televised forums. Depending on the size of the field, the committee may decide to split the debate over two consecutive evenings in the same location, Mr. Perez said, and would conduct a random selection process that would take place publicly to determine which candidates speak on which nights. He did not elaborate on how that process might work.

Mr. Perez said the committee had not set a maximum number of candidates who could appear on the stage and was planning for the possibility of a "double-digit field."

"We will likely have a large field of candidates," he said. "We expect that large field and we welcome that large field. Accommodating a large field of such qualified candidates is a first-class problem to have."

The new process is a direct response to criticism leveled during the 2016 campaign that the committee organized the debate schedule to favor Hillary Clinton, the eventual party nominee. Her two primary opponents, Senator Bernie Sanders of Vermont and the former Maryland governor Martin O'Malley, accused the party's leadership of creating a "rigged" process by limiting the number of debates to six — two of which were scheduled for Saturday evenings and one for a Sunday. Eventually the committee sanctioned four more debates.

For the 2020 campaigns, the committee plans to change the threshold for participation to include factors beyond just the polling numbers, such as grass-roots fund-raising support, to capture candidates who may have support that isn't showing up in public polls. Many questions remain unanswered, including how the party will determine how many candidate are "too many" for a single debate stage, and what to do once the field begins to narrow.

"We want to make sure that the grass roots have a real say in who our next nominee is," said Mr. Perez. "Grass-roots fund-raising is one method of ensuring participation from candidates who may have a different background and profile and base of support."

The first debate will take place in June 2019 and the last in April 2020. The committee will not sanction a candidate's participation in any other debates, though forums hosted by other groups, including cable TV networks, are permitted as long as only one candidate appears on the stage at a time. The first primary contest, the Iowa caucuses, is scheduled for Feb. 3, 2020, the same day early voting will open in California. Early voting in Vermont will begin a few weeks before, if the current schedule holds.

The two-night format differs from the way Republicans handled their big field in 2016, when more than a dozen candidates were entered. Officials created a format of two debates on the same night, based on poll numbers, with some candidates relegated to an early face-off that was not nationally televised.

Mr. Perez, whose stewardship of the Democratic committee has been attacked by some members of his own party, called the plan the "most inclusive debate process in our history." He said the committee's goal was to give all the candidates an opportunity to express their vision to voters while also avoiding weakening the eventual nominee for the general election.

The process comes after extensive consultation with Democratic politicians, strategists and activists, including former and current advisers to both Mrs. Clinton and Mr. Sanders, and potential media partners for the events. To avoid any perception of bias, the committee did not consult with any potential 2020 candidates or their aides.
As noted in the article above, while it's not clear at this point, it seems apparent that there will be a large number of Democrats in the race for the nomination, at least at the beginning of the process in 2019. In this sense, Democrats will be faced with many of the same logistical problems that Republicans and their debate partners were faced with at the start of the 2016 election cycle, when the first debate was held in August 2015. At that point in the race, there were seventeen people in the race for the nomination, including former Senators, Governors, and Members of Congress. While many of these candidates were near the bottom of the field in the polls, the organizers of the early debates recognized that excluding them entirely was not practical. Given the fact that having seventeen people on the same stage at the same time would have been impractical, the RNC and organizers came up with the solution of dividing the debate into essentially two events. The main debates, which aired in prime time, included the candidates leading in the polls, while what came to be called the "undercard" debate included other candidates who were further down in the polls but nonetheless arguably had resumes that demanded they not be ignored entirely. It was far from an ideal solution, but given the size of the field, it wasn't entirely a bad idea about how to deal with an otherwise intractable problem.
The biggest problem with the undercard debate idea, of course, is that it really didn't address the fundamental complaint of the lower-ranked candidates that they were being denied the media coverage that the participants in the "main" debate would get. In some cases, this was because some of these candidates, such as former Virginia Governor Jim Gilmore, didn't qualify even for the undercard debate, but mainly it was because the undercard debates would typically be held before the main debate beginning around 6:00 p.m. Eastern time, a time when Americans in the eastern half of the country were still making their way home from work and Americans in the western half of the country. The main stage debates, meanwhile, typically didn't start until 9:00 p.m. on the East Coast, meaning a much larger audience available to watch the debate.
Instead of the main and "undercard" debate, Democrats appear to be coming to a consensus on the idea of two-night debates where the participants would be selected somewhat randomly so that they would include both high-ranked and low-ranked candidates, thus at least theoretically making it less likely that the lower-ranked candidates would essentially be consigned to that status forever due to being included in a debate that nobody was watching. They also appear to be proposing to include other criteria beyond polling position to determine debate eligibility. These criteria would include how organized candidates were in specific states, although it's unclear how some of these criteria can be objectively measured.
While this plan is arguably better than the "main" debate and "undercard" idea that the Republicans had, it arguably suffers from some of the same weaknesses. For example, how many people are actually going to watch two nights of debates, especially if the candidates they prefer all end up being in one debate rather than the other. Additionally, it's unclear if media outlets such as CNN, MSNBC, and the other broadcast networks would be willing to give up two nights of prime-time programming for political debates. Finally, to the extent that debate inclusion will be decided based on non-objective criteria this could result in some candidates arguing, with merit that they are being unfairly excluded or consigned to a second-night event that may not end up drawing as much viewership.
As an alternative, media and political pundit Jeff Greenfeld has a different idea:
The only way to do this fairly is to get rid of all the debates. That's right: No debates! Let's cancel political Christmas, at least for all of next year.

There is widespread consensus among Democrats that the party's 2016 approach—a handful of primary debates, two of which were on weekends—did not work. But in that year, there were only a handful of candidates at the outset. The Republicans, by contrast, had 17 contenders, which forced the party to split debates between "serious" contenders (measured by poll numbers) and a "kiddie table" of lesser entrants, including former and sitting senators (Rick Santorum, Lindsey Graham, Rand Paul) and governors from big states (Rick Perry, George Pataki).

If in fact 25 or 30 Democrats decide to run, the challenge of a rational debate process becomes insurmountable. The DNC, according to the Washington Post, is contemplating going beyond poll numbers—"possibly including staffing, fundraising and number of office locations"—to decide who participates and how. (Historical note: Back in December 2007, perennial is-he-kidding candidate Alan Keyes opened an office in Iowa for the sole purpose of being included in a Republican presidential debate).

But in a field that could include entrants ranging from a former vice president to the mayor of South Bend, Indiana, any process of inclusion will be ludicrous. Perhaps the debates can be segmented by net worth, with a special billionaires' forum including Michael Bloomberg, Tom Steyer and Howard Schultz. Maybe age could be the measure, with the septuagenarians one night, the Gen Xers another.)

No matter how the field is divided, the prospect of any meaningful exchange of ideas among even seven or eight participants is nonexistent. My memory of the 2016 GOP debates is an endless clamor for the chance to offer a 30-second response to a one-minute answer to a question more or less forgotten by the time the last debater got a chance to speak.

(emphasis mine)
As Greenfeld goes on to note, instead of participating in multi-candidate debates that don't really accomplish much of anything, candidates would find themselves freed up to participate in different kinds of forums, such as town hall appearances and other processes where candidates have more direct contact with voters than they with journalists. Additionally, such a policy would leave open the possibility of individual networks or other news outlets having their own forums featuring one or more candidates in ways that allow for responses from candidates that last longer than eight minutes. This wouldn't mean that there wouldn't be any debates at all. The party can always leave open the option of having such forums as we get closer to the time when voting actually would take place, at which point the field will no doubt winnow down as candidates discover either through a lack of money or a lack of public interest that keeping their campaigns going doesn't make much sense. At that point, they could use a combination of polling, actual performance in primaries and caucuses that have taken place, and others to determine who participates and who doesn't. Before that point, though, the kind of multi-candidate affairs that we've become familiar with is really just a waste of time so why not give Greenfeld's idea a try and just say "no" to the idea of early debates? I know I wouldn't miss them.