Did Paul Ryan Just Throw The Ryan Plan Under The Bus?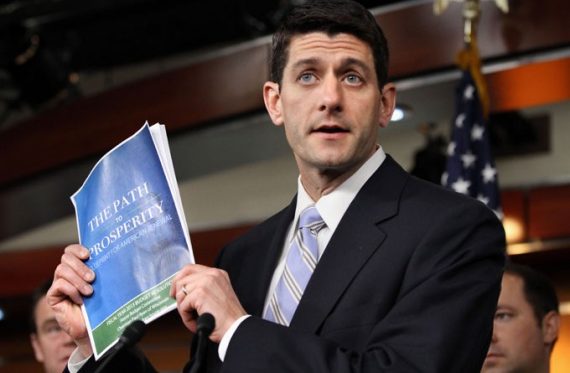 Paul Ryan appears to have repudiated a big part of his own budget plan:R
Rep. Paul Ryan, in a Fox News interview that aired on Tuesday evening, renounced $716 billion in cuts to Medicare that were part of his fiscal 2013 budget.

That assertion helps strengthen an attack line on President Obama's health reform law that had been partially undermined by the details of Ryan's controversial budget proposal. In the interview, the House member from Wisconsin said he now favors overturning the health reform law in its entirety, including its budget-saving measures.

"I am on the Romney ticket," Ryan told Fox's Brit Hume. "And what Mitt Romney is proposing is to repeal all of 'Obamacare.' And in the House, repeatedly, I have voted with that position. I support that position. I'm pleased to support the position of getting rid of every piece of Obamacare, including the cuts to Medicare which are used to pay for Obamacare."

Romney has been hammering Obama for cutting more than $700 billion from the Medicare program, arguing that his own plan, which would partially privatize the program in 10 years, will better guarantee benefits for current retirees. On Tuesday, his campaign released an ad suggesting that Obama was stealing from current beneficiaries to pay for new programs.

The Obama health reform law achieves its savings by reducing pay increases to hospitals and payments to insurance companies that administer Medicare Advantage plans, among other changes, though they would not cut any benefits.

That attack line had been blunted by the details of Ryan's budget, which would have overturned the health reform law but kept those budget cuts in place. Though Romney never specifically endorsed those cuts, he did express his approval of the Ryan budget overall. That has allowed the Obama campaign to peg him as hypocritical for challenging Obama on the Medicare cuts.

"Mitt Romney's ad is dishonest and hypocritical," said Obama campaign spokeswoman Lis Smith on Tuesday. "The savings his ad attacks do not cut a single guaranteed Medicare benefit, and Mitt Romney embraced the very same savings when he promised he'd sign Paul Ryan's budget."

Now, however, that critique may be harder to make stick.
There's some budget wonkery going on here, but it sure sounds to me like Paul Ryan just basically threw his own plan under the bus.