Team Obama Begins To Unveil Its Plan Of Attack On Romney/Ryan
The Obama campaign has begun to respond to the addition of Paul Ryan to the Republican ticket.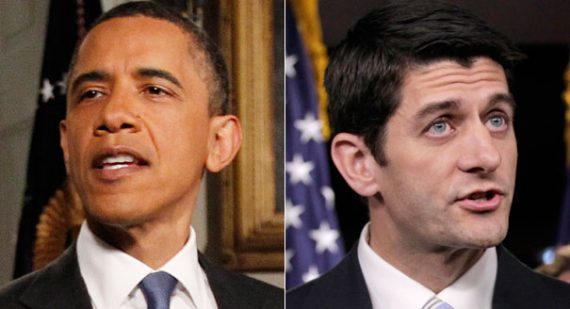 While Republicans are generally greeting the news of Paul Ryan's selection as Mitt Romney's running mate with a high degree of enthusiasm, their opponents on the other side of the aisle don't exactly seem to be cowering in fear. In fact, to listen to many Democratic pundits and operatives over the past several days as Ryan's name rose to the top of the Veep speculation list, Ryan is exactly the candidate they want. They seemed to be eagerly awaiting the opportunity to add the attacks on the Ryan Plan that we've seen in the past to their current attacks on Mitt Romney as out of touch with regular Americans. Now that the pick is official, National Journal's Major Garrett writes that the Obama campaign is eagerly looking forward to the opportunity to take on the Romney/Ryan ticket:
Whether it's true or not, senior advisers to President Obama's re-election campaign believed, long before presumptive Republican nominee Mitt Romney picked Wisconsin Rep. Paul Ryan as his running mate, that Romney had been oddly and helpfully "collaborative" in making the Obama case against him.

That's the word David Axelrod used in an interview with National Journal to describe Romney's unwillingness to pitch a strong national narrative about his life, his plans for the nation or how he understood the economic travails of the middle class. Axelrod found Romney's dug-in refusal to release more tax returns (only 2010 so far, with 2011 coming) similarly helpful. Axelrod even thought Romney's overseas trip helped Obama reinforce a not-quite-ready-for-prime-time meme.

From team Obama's perspective, the Ryan choice transforms this imagined and perceived collaboration into a virtual partnership.

"It plays right into it," a senior Obama strategist told National Journal. "Romney believes in cutting taxes for the wealthy and making the middle class pay for them. Ryan not only believes it, but he's actually done it. It's Romney's agenda in action."

Obama aides had been convinced that Romney would settle on former Minnesota Gov. Tim Pawlenty. Again, fevered perceptions of rival campaign weaknesses are just that. But they now believe Romney has used his biggest choice of the campaign to drive home their central indictment of his candidacy and his policies — that they pose a threat to middle-class livelihoods and aspirations.

One Obama backer privately said — not the least bit in jest — that the campaign could now siphon off cash donations for margarita machines, because there was so much to celebrate between now and Election Day.

Another Democratic operative declared the election effectively over — that Ryan was the self-hammered nail in Romney's own coffin.
While I agree with the Ryan pick is in many ways a risky one because of the manner in which it puts the Medicare issue front and center in a way that it probably would not have been had the VP nominee been, say Tim Pawlenty or Rob Portman. Nonetheless, I think it's a bit premature for Team Obama to be counting their electoral chickens. The conventions haven't even been held, the September campaigning hasn't occurred, and the debates haven't happened. It's certainly possible that Obama For America will be as successful in negative campaigning against Romney/Ryan as they were against Ryan, however it's also possible that those negative ads could backfire. Moreover, if the economy continues to stagnate and job growth remains as pathetically lukewarm as it has been for months, then the message that Romney and Ryan seem to be settling on with the theme "America's Comeback Team" could end up resonating. While the President continues to lead in the polls, those same polls all show that the public is dissatisfied with the direction of the country and that a majority of Americans disapprove of the President's handling of the economy. I understand the desire of campaign representatives to show confidence to the press, but one would assume that they are just a bit more sober in their evaluations behind closed doors.
Michael Hastings, meanwhile, tells us to expect to hear one word from Democrats a lot over the next several days:
Within minutes of Gov. Romney taking the stage to announce Paul Ryan as his vice-presidential pick, Obama campaign manager Jim Messina dropped the "R-word" in an email blast to supporters.

"Congressman Paul Ryan," Messina wrote, "is best known as the author of a budget so radical The New York Times called it 'the most extreme budget plan passed by a House of Congress in modern times.'"

So radical.

It was a line of attack that the Obama campaign had tried over the past year to pin on Romney.

In April, Obama himself blasted what he called Romney and the Republicans attempt to "impose a radical vision on our country."

But the line didn't quite stick to the former governor — Romney's shifting positions and technocratic record made painting him as an extremist a messaging challenge for Chicago.

(…)

For the most part, the Obama camp abandoned their attempts to make Romney seem like a radical. They found more success in describing the Republican candidate as an out of touch, super-rich corporate felon with bank accounts in the Caymans and tax loopholes wider than gaps in the O-Zone.

But the choice of Paul Ryan makes the R-word once again chic, and Chicago is now going to combine the narratives they've set for their rivals–to, in essence, run against the rich guy and the radical.
Indeed, within hours of this morning's announcement in Norfolk, Obama for America was out with this video:
At one and three-quarter minutes, this ad is far too long to be put on television in its present form (although it would be possible to edit it down into a one minute or 30 second spot in the near future) but you can expect to see pieces it on the Sunday morning shows tomorrow morning and on cable for a good part of next week. Presumably, the Romney campaign will be out with a positive piece of some kind in the next couple days, but that Obama piece is a pretty good idea of what we're likely to hear all the way through the convention. It's not really a surprise,  trying to pin the word "radical" on the Republican nominee has been a part of the Democratic mantra going back to when Jimmy Carter was running against Ronald Reagan (and before that when Johnson was running against Goldwater). In the modern era at least, it hasn't always worked. Reagan was simply too charismatic for the attempts to demonize him to work. The argument in 1988 that George H.W. Bush was some kind of "radical" was simply silly, and the same was true of Dole in 1996, Bush 43 in 2000, and McCain in 2008. Not all those candidates won, of course, but I would submit that they ones who lost  did so due to reasons independent of any campaign to paint them as a "radical."?
Will it work this time around? We won't really know that until the race begins in earnest, but the real question is going to be whether or not such a tactic is going to be sufficient to distract the public from the terrible state of the economy. Personally, I still believe that the President and Vice-President have the advantage in this race, but if I were the staffers at Obama HQ in Chicago, I'd hold off on drinking those margarita's until Election Night as a means of either celebrating or drowning their sorrows.
Photo via Politico