Did Todd Akin Hint He's Still Willing To Consider Dropping Out?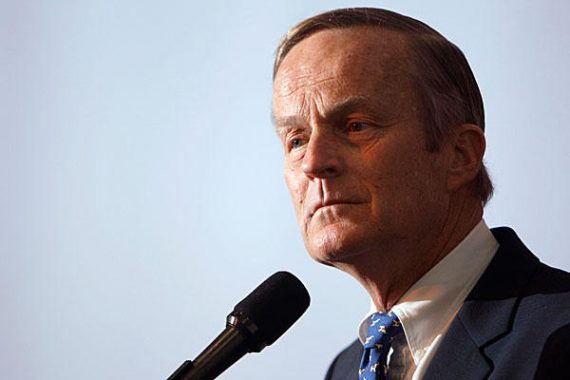 Less than a day after the deadline for him to withdraw from the Missouri Senate race easily had passed, Todd Akin was on national television hinting that the door is still open for him to leave the race:
Here's what Missouri Congressman Todd Akin said when I asked if he was in the race to stay – even if it looked like he would lose and possibly cost Republicans control of the Senate.

"Well George, I'm never going to say everything that could possibly happen. I don't know the future, but I do know this. I knew that the party voters took a look at our hearts, understood who we were, had a chance to meet us in many, many different ways and made a decision," Akin told me. "And it makes me uncomfortable to think that the party bosses are going to dictate who runs as opposed to the election process."

Republicans are lining up to ask Akin to drop out, including Mitt Romney and his running mate Paul Ryan. And the Chairman of the Republican Party asked Akin not to attend next week's convention in Tampa.

Akin told me he will honor the wishes of Reince Priebus and not attend the convention, but insists he can still win the Senate seat. He's staying in the racebecause of how he won the primary – running on his principles.

"We've given this a lot of thought. And that is the fact is that over more than a year period of time, a number of us ran in this Republican primary.  Each of us had our messages.  I was outspent by a large amount in terms of media. And yet by standing on principle and putting politics aside and talking about the foundations of this country, the people of Missouri chose me to be their candidate," he said.
As I've mentioned before, it would still be possible for Akin to drop out before September 25th, the only difference from yesterday is that he'd need to get Court permission and pay any costs incurred to reprint ballots.However, ballot printing in Missouri won't begin until some time after Labor Day so he could theoretically limit those costs by dropping out before then. There are some who are theorizing that Akin may be staying in to see where the polls go, or how his fundraising does given the fact that outside money has been cut off (on that end his current fundraising drive has brought in about $11,000 so far) before deciding once and for all what to do. If the numbers aren't in his favor, he may be more persuadable than he has over the past several days. That, obviously, would be very good news to Republicans both nationally and in Missouri itself. However, to some extent, Akin has already done damage to his party by stepping into this issue. Withdrawing will limit the damage, but it won't make it go away.