Do Businessmen Make Good Presidents?
The Oval Office is nothing like a corporate boardroom.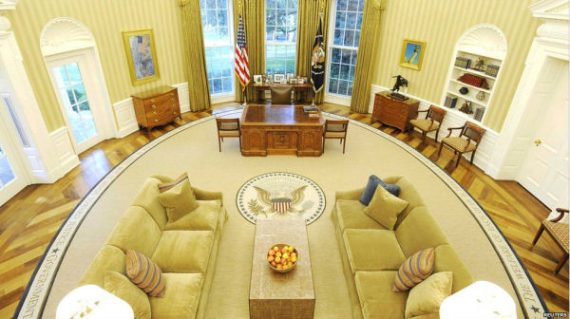 One of the central tenants of Mitt Romney's campaign for the Presidency, both now and four years ago, is the idea that his experience as a businessman gives him unique insights into economic issues that he'd be able to put into action as President for the benefit of the entire country. He's not the first person to make that argument, of course, his father made similar arguments when he ran for President in 1968, as did Ross Perot in 1992 and 1996, and Herman Cain this past year. Additionally, the American public, and the media, has often been fascinated with the allure of the businessman coming in from the outside and "fixing Washington." In the past, men such as Lee Iaccoca and Donald Trump has seen their names mentioned as potential Presidential candidate, and of course Trump milked that for all it was worth just last year.
The question, though, is whether any of these assumptions that people have about the ability of businessmen, or anyone from outside the political system of that matter, to function at the top of the political ladder are true. Bloomberg's David Lynch argues, quite convincingly, that they aren't:
Since 1900, few former businessmen have made it to the Oval Office. The most prominent was the nation's 31st president, Herbert Hoover, whose handling of the economy during the Great Depression cemented his reputation as a failure.

"Our greatest presidents, like Lincoln and FDR, were career politicians," says Bruce Miroff, an expert on the presidency at the State University of New York in Albany.

The presidency's unique requirements mean that everyone who holds the office needs some on-the-job training, something Romney has done before. Still, the White House would bring unfamiliar constraints. There's no equivalent in the corporate world to the separation of powers that often thwarts a president's will. And the job demands political savvy more than managerial excellence.

"Our entire system of government is meant to preclude models and skills used in the corporate world, which may be why presidents with business experience are not our most successful presidents," says Barbara Perry, a senior fellow at the University of Virginia's Miller Center.

Coming from a profit-centered environment where they enjoy unrivaled authority, executives often stumble amid politics' fungible goals and multiple power centers, says Mickey Edwards, who served eight terms as a Republican congressman from Oklahoma. And compared with the iron logic of a balance sheet, the politician's ability to read the public mood — an essential skill for governing — is amorphous.

"You have to like politics," says former U.S. Representative William Frenzel, 83, a Minnesota Republican, who spent 20 years in Congress after a 16-year business career. "You can't object to glad-handing. You can't object to taking some abuse from people you have no reason to take abuse from."

The late Richard Neustadt, author of the classic study "Presidential Power and the Modern Presidents," rejected the analogy of the president as an all-powerful CEO, writing: "Presidential power is the power to persuade."

George W. Bush was the first president with a master's in business administration. His father, George H.W. Bush, made a fortune in oil before entering politics. In their pre-Oval Office days, Jimmy Carter ran a peanut farm and warehouse and Hoover was a wealthy mining executive and financier.
As Lynch goes on to point out, of those four, only George W. Bush was re-elected, and that happened in the middle of two wars and the still omnipresent wake of the worst terrorist attack in American history.
Perhaps the most important point that Lynch makes is that, contrary to the way people seem to frequently put it, the Presidency is not like being a Chief Executive Officer. Not only does the analogy end up being an incomplete description of presicsely what a President's duties and role in the Federal Government actually are, but it deliberately ignores the significant differences between the two roles. When a corporate CEO makes a decision, he can reasonably expect that what he decides will be what actually happens, and if it doesn't then he's going to fire someone. To some extent, the CEO is restrained by the Board of Directors, which does ultimately have the power to remove him or her, but for the most part what the CEO says goes. No such luck for a President. Even with the way that Presidential powers have expanded in recent years, there is still much that an American President cannot do without the agreement of other branches of government. Often this means having to negotiate with a Congress controlled in whole or in part by the opposing party, but sometimes a President must also deal with opposing factions in his own party. Just ask Barack Obama about that one.
Another issue goes to the entire idea of the outsider President. The President is, above all, a politician and being a successful President means being able to successfully work ones way through the Washington political scene. This doesn't mean that the President needs to be a Washington insider, of course. Some of our best President — Ronald Reagan and Bill Clinton are two that come to mind — were not part of the Washington scene when they became President, but they had political skills learned from the time they were Governors that they were able to use to great effect in Washington. Of course, being a Governor doesn't always lead to success in Washington, as Jimmy Carter could testify. For the most part, though, the kind of political skills one tends to learn as a Governor is a prerequisite for being a good President. Businessmen don't learn those kinds of skills, and they'd have a steep learning curve transitioning from the business world to the Oval Office.
None of this is to say that Romney's business history isn't relevant, or that it wouldn't arguably help him as President. Lynch's article goes on to relate several anecdotes from people who have worked with Romney in the business world, and during his time as Governor, that seem to suggest that he does indeed have the kind of skills one needs to be President. However, to some extent, if that's the case it will largely be in spite of his business experience, not because of it.