DOJ Wants Emergency Powers
How do we balance societal and individual rights during a pandemic?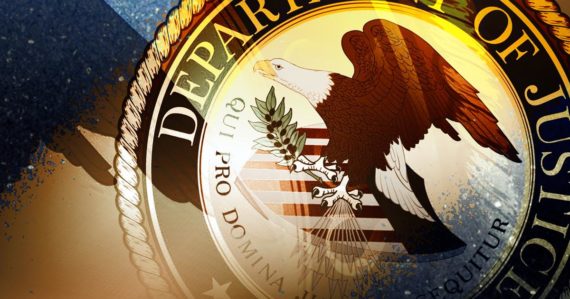 At the end of a recent post about Chelsea Manning's latest legal issues, I mused "We could go through this again with another grand jury, although probably not any time soon given coronavirus prevention measures. Indeed, one wonders whether the courts will be able to operate under social distancing."
Apparently, senior officials at the Justice Department have been wondering the same thing and are asking Congress for permission to suspend normal rules because of the emergency. Details are thin because the request was made in secret. And it's either simple advanced planning or an ominous attempt to bypass the Constitution, depending on who's telling the story.
POLITICO is fairly low key in its report "DOJ seeks new emergency powers amid coronavirus pandemic."
The Justice Department has quietly asked Congress for the ability to ask chief judges to detain people indefinitely without trial during emergencies — part of a push for new powers that comes as the coronavirus spreads through the United States.

Documents reviewed by POLITICO detail the department's requests to lawmakers on a host of topics, including the statute of limitations, asylum and the way court hearings are conducted. POLITICO also reviewed and previously reported on documents seeking the authority to extend deadlines on merger reviews and prosecutions.

A Justice Department spokesperson declined to comment on the documents.

The move has tapped into a broader fear among civil liberties advocates and Donald Trump's critics — that the president will use a moment of crisis to push for controversial policy changes.

[…]

The DOJ requests — which are unlikely to make it through a Democratic-led House — span several stages of the legal process, from initial arrest to how cases are processed and investigated.

In one of the documents, the department proposed that Congress grant the attorney general power to ask the chief judge of any district court to pause court proceedings "whenever the district court is fully or partially closed by virtue of any natural disaster, civil disobedience, or other emergency situation."

The proposal would also grant those top judges broad authority to pause court proceedings during emergencies. It would apply to "any statutes or rules of procedure otherwise affecting pre-arrest, post-arrest, pre-trial, trial, and post-trial procedures in criminal and juvenile proceedings and all civil process and proceedings," according to draft legislative language the department shared with Congress. In making the case for the change, the DOJ document wrote that individual judges can currently pause proceedings during emergencies, but that their proposal would make sure all judges in any particular district could handle emergencies "in a consistent manner."

The request raised eyebrows because of its potential implications for habeas corpus — the constitutional right to appear before a judge after arrest and seek release.

"Not only would it be a violation of that, but it says 'affecting pre-arrest,'" said Norman L. Reimer, the executive director of the National Association of Criminal Defense Lawyers. "So that means you could be arrested and never brought before a judge until they decide that the emergency or the civil disobedience is over. I find it absolutely terrifying. Especially in a time of emergency, we should be very careful about granting new powers to the government."

[…]

Another controversial request: The department is looking to change the Federal Rules of Criminal Procedure in some cases to expand the use of videoconference hearings, and to let some of those hearings happen without defendants' consent, according to the draft legislative text.

"Video teleconferencing may be used to conduct an appearance under this rule," read a draft of potential new language for Federal Rule of Criminal Procedure 5(f), crossing out the phrase "if the defendant consents."

"Video teleconferencing may be used to arraign a defendant," read draft text of rule 10(c), again striking out the phrase "if the defendant consents."
Rolling Stone is a bit more hyperbolic in "DOJ Wants to Suspend Certain Constitutional Rights During Coronavirus Emergency," which seems to be a reaction to the POLITICO report rather than an independent report.
While the asks from the Department of Justice will likely not come to fruition with a Democratically-controlled House of Representatives, they demonstrate how much this White House has a frightening disregard for rights enumerated in the Constitution.

[…]

But the Constitution grants citizens habeas corpus which gives arrestees the right to appear in front of a judge and ask to be released before trial. Enacting legislation like the DOJ wants would essentially suspend habeas corpus indefinitely until the emergency ended. Further, DOJ asked Congress to suspend the statute of limitations on criminal investigations and civil proceedings during the emergency until a year after it ended.

[…]

As coronavirus spreads through the country, activists are calling on politicians in office to release prisoners and immigrants held in detention centers, both of which can be a hotbed of virus activity with so many people in close quarters and limited or non-existent supplies of soap, sanitizer, and protective equipment. Some states have already begun to do so. But with this, the Trump administration is taking steps to hold more people in prisons for an undetermined amount of time — showing their priority is not saving lives but giving themselves more power.
Let's acknowledge that this conversation would be different with a more normal administration in power. President Trump and Attorney General Barr have demonstrated time and again a wanton disregard for the rule of law and an appalling willingness to lie to the American people. That makes it impossible to trust them, even during a crisis.
With that whopping caveat established, however, DOJ has identified legitimate questions and much of what they're asking for seems warranted.
Policing and administration of a justice system are essential services that can't be suspended even during this time of social distancing. Police officers simply have to patrol their beats to keep their communities safe. And judges have to continue going to work to issue warrants and do other vital parts of their work. Presumably, both are enacting some safeguards for self- and community-protection but the bottom line is they have to do their jobs.
But we surely can't ask grand juries and petit (trial) juries to meet, certainly not under the usual procedures. And courthouses have to be on minimal staffing, both to protect non-essential workers and because somebody has to take care of all the kids who are home from schools that are shut down.
Under these circumstances, it seems perfectly reasonable to automatically extend statutes of limitations. Similarly, allowing the use of videoconferencing technology to maintain social distancing seems obviously prudent.
But we simply have to find a way to enforce the rights of those accused of crimes to a fair and speedy trial. And, hell no, we shouldn't start holding them indefinitely without a hearing.
Just as the healthcare system has to triage cases during emergencies, prioritizing those in greatest danger and with the best prospects of recovery, the judicial system will have to adjust to limited bandwidth.
We should prioritize the handling of those accused of violent crimes who can't be released indefinitely on bail, followed by serious offenses which nonetheless allow the accused to be released pending trial.
We may well need to extend the concept of a "speedy trial" for those who can be released on bail. That's less than ideal but seems a reasonable balance under the circumstances.
And we should certainly de-prioritize the enforcement of misdemeanor offenses and minor drug crimes during the emergency.