Donald Trump and Alexandria Ocasio-Cortez: A Study in Contrasts
The President of the United States and the most-talked-about freshman Representative in ages could not be more different.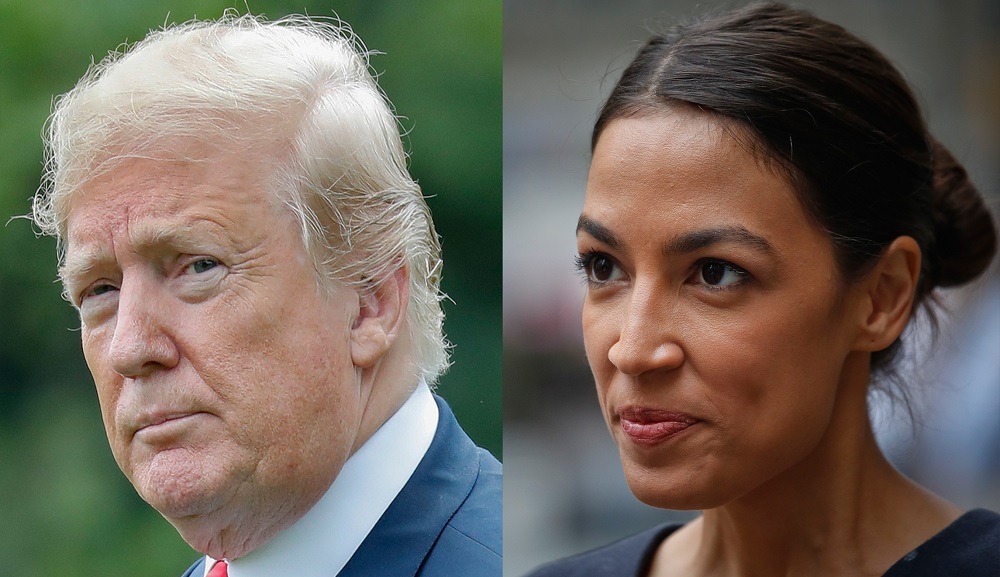 Two stories out overnight highlight important differences between the President of the United States and the most-talked-about freshman Representative in ages.
Samantha Vinograd, a CNN National Security Analyst who served on President Obama's National Security Council and at the US Treasury under President Bush ("Hanoi Summit Failed Because Trump Refuses to Prep"):
President Donald Trump's failure to engage in the most basic preparatory work for this summit—and his longstanding penchant for putting personal convictions ahead of his experts' opinions—meant that there was no way that he could have come out of this summit with a denuclearization deal.

I helped prep President Barack Obama for high-level meetings, and President Trump's failure to engage in the first step of any presidential meeting prep was a strong indicator that this summit was doomed to fail.

Typically, summit prep begins with the president and his intelligence community agreeing on a baseline assessment of the state-of-play, in this case the status of North Korea's nuclear program and Kim Jong Un's intentions. The intelligence community's assessment that North Korea will not denuclearize, the open-source analysis that Pyongyang is still proliferating weapons of mass destruction, and reporting that North Korea is taking extra steps to disburse its arsenal seemingly fell on deaf ears.

In January President Trump said that his intelligence community was wrong on North Korea and there's reporting that he put more faith in Vladimir Putin's North Korea analysis (which is never unbiased) underplaying North Korea's missile threat than he did in the U.S. intelligence community's analysis.

Without presidential agreement on a baseline assessment on North Korea's program and Kim's intentions, it was clear that President Trump couldn't have been fully prepping with his own, home team. Absent an agreed upon assessment, there was no way to identify a realistic goal for the summit or a strategy to achieve it.

Because President Trump still thought that denuclearization was possible heading into the Hanoi Summit-based on his own personal assessment (or Putin's) of Kim Jong Un's intentions-his goals for the Summit were out of touch with reality.

The intelligence community assessed that Kim wouldn't denuclearize, but instead of taking a step back and reassessing what we could realistically get from Kim—a nuclear freeze vs. denuclearization for example—President Trump went into the summit with unachievable goals.

Because he didn't prepare appropriately and fully understand his counterpart's intentions in this complex negotiation he pushed for something that none of his intelligence experts thought he would ever get.
There's quite a bit more but you get the gist. This fiasco of a summit was a microcosm of the Trump presidency. Leaving aside concerns about corruption, cozying up to our nation's adversaries, making common cause with autocrats, and the other nefarious things with which many accuse him, this administration fails to achieve even the legitimate goals which it should have because of Trump's laziness and inability to utilize the enormous talents and informational advantages that come with heading up the Executive branch of government.
Yesterday morning, I got into a Twitter conversation about this very issue with several national security hands, notably Steve Metz and Steve Saideman. Metz made an offhand tweet wondering when it is that the notion that a President could go to a summit meeting without the outcome already in hand. I noted that Barack Obama actually campaigned on that very notion in 2008, to the ridicule of his eventual Secretary of State, Hillary Clinton, and his future Republican opponent, John McCain. Saideman pointed out that it's very different to go into a summit without preconditions and quite another to go without preparation.
I agreed wholeheartedly. While Obama's early campaign position was naive, it was well-intentioned. And while he insisted that he never abandoned it, he actually did quite early in substance. And that's because, while I thought Obama lacked the experience and seasoning for the office, he was both incredibly smart and a natural grind. He took the job seriously and worked studiously to learn the ropes.
Similarly, while there's ample room to criticize Obama for relying too much on his inner circle and not enough on career experts, he instinctively understood that, while he may actually have been the smartest guy in the room most of the time, he wasn't the smartest on any given issue. As Vinograd says, he let people who knew what they were doing lay the ground for his success. And, to the extent they were successful in doing so, he rightly reaped the credit.
Contrast that with this story by Daniel Marans and Paul Blumenthal at HuffPo ("Behind Alexandria Ocasio-Cortez's Masterful Interrogation Of Michael Cohen"):
The freshman New York congresswoman "expertly laid a trap" to get President Donald Trump's tax returns, and "won" the Cohen hearing, according to two raving press accounts.

[…]

Notwithstanding her impressive performance, the secret to Ocasio-Cortez's success was remarkably prosaic ― a team effort informed by the desire to uncover truth for the public's benefit, according to staff.

"If there was one person that wasn't involved in this question preparation and committee preparation, it wouldn't have been as successful as it was," said Klarissa Reynoso, Ocasio-Cortez's chief legislative correspondent who supervised the congresswoman's preparation for the hearing.

Working alongside intergovernmental affairs chief Randy Abreu, Reynoso began her research on Cohen last Thursday when the staff learned the date of Cohen's committee testimony.

The professional staff of the House Committee on Oversight and Reform worked nonstop last weekend to draft a list of 35 questions that each Democrat on the panel could choose from, and put their own stamp on.

On Tuesday, after conferring with Ocasio-Cortez, Reynoso met with committee staff to select a question. She chose to pursue the line of inquiry about Trump's efforts to devalue golf course property to lower his taxes.

"If we didn't ask those questions we would be doing an injustice for the American people," Reynoso explained. "We wouldn't be doing our jobs."
I redacted a lot of the substance of the questioning—which was indeed masterful—because it's tangential to my point here. Leaving aside the fanboy breathlessness of the reporting and self-serving nature of her staff's answers, we see rather clearly what's driving Ocasio-Cortez' meteoric rise. Yes, she's young and attractive. Yes, she's glib on social media. But it's also clear that she has a very strong work ethic and heavily relies on her staff.
A few weeks back, Dan Drezner tweeted admiring how good AOC is at Twitter—replying to attempts to "own" her with awesome rejoinders that not only embarrassed the opponent but reinforced her Progressive message. I replied that, at worst, she had a staff that was very good at it. Some of her fanboys jumped in berating me for daring to challenge the notion that a young woman could be good at something. No, I replied, it was actually intended as a compliment. AOC is clearly quick on her feet and incredibly poised. But it's much important for a leader to be able to utilize a team to achieve their goals. I frankly don't want my political leaders sitting around on social media all day coming up with clever quips. To the extent she has surrounded herself with a good team and allows them to serve her well, it enhances, not diminishes, her.
Even more so than Obama, AOC came to the job without the typical seasoning. She has made numerous silly gaffes stemming from naivete and ignorance. But she appears, like him, to be willing to put in the work to get better and, just as importantly, surround herself with people who know what they're doing and take advantage of their advice.
The contrast with the 45th Presdident of the United States couldn't be more stark.