Donald Trump Fails The Leadership Test Again
President Trump's reaction to the failure of health care reform efforts in the Senate demonstrates yet again that he doesn't know how to be President.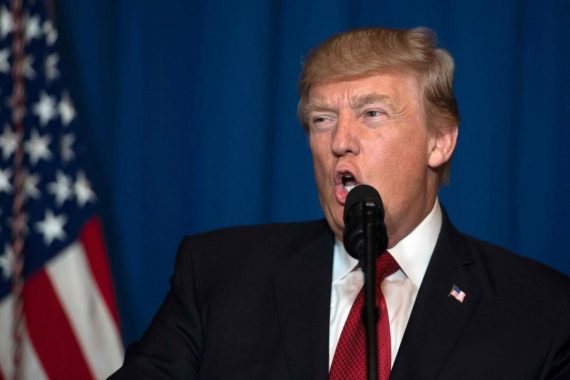 President Trump's reaction to the one–two punch of the failure of two Republican health care reform proposals in the Senate in less than twenty-four hours is noteworthy enough to quote in full: (Emphasis mine)
"It's an absolute disaster. And I think you'll also agree that I've been saying for a long time, let Obamacare fail, and then everybody's going to have to come together and fix it. And come up with a new plan and a plan that's really good for the people with much lower premiums, much lower costs and much better protection. I've been saying that, Mike (Vice President Pence), I think you'll agree, for a long time. Let Obamacare fail. It will be a lot easier, and I think we're probably in that position where we'll just let Obamacare fail. We're not going to own it. I'm not going to own it. I can tell you the Republicans are not going to own it. We'll let Obamacare fail, and then Democrats will come to us and say, how do we fix it? How do we fix it? Or how do we come up with a new plan?"
What the President is basically saying here, of course, is that he's willing to sit back and do nothing even if it means millions of people are negatively impacted by what the GOP contends will be the collapse of health insurance markets across the country. At that point, he claims, Democrats will come to him begging to help them fix the system and Republicans will win. There are, of course, several problems with this strategy. First of all, it is by no means certain that we will see the nationwide collapse of insurance coverage that Republicans have been predicting for the past seven years. While there have been signs of trouble in some states, others have shown that the system continues to work as intended, albeit imperfectly. Second, the assumption that the public would blame Democrats for this if it did happen seems fundamentally wrong. In all likelihood, they'll blame whoever happens to be in power at the time, starting with the President and working their way down, and that means things will only get more difficult for a President who already has the worst job approval numbers of any new President since World War Two.
As Chris Cillizza notes, such an attitude is hardly Presidential:
The first job of every president is to protect the people who elected him. Yes, as Trump likes to note, that often means protecting people from foreign adversaries.

But it also means protecting them from problems within our borders, too — like, for example, people losing health care in states where the market is failing or insurance companies are pulling out.

What the president SHOULD do in that situation is step in and demand that Congress find some sort of fix — or fixes — to make sure the current law, which is the Affordable Care Act, works for the most people possible as soon as possible. That is the president's job unless and until a majority of the 535 people elected to represent the country in the House and Senate decide to change that law.

What Trump is doing is almost the exact opposite. He is skating over the fact that "let Obamacare fail" has real-world consequences — that being President isn't solely about figuring out the best political calculations minute-by-minute.

As a candidate, it's fine to spend most of your time trying to win. After all, if you don't win, you can never govern, right?

But being president means sometimes doing things that aren't perfect politics for you. It means doing things you don't like or don't want to do. You're the president of all the people, not just the people who agree with you or voted for you.

Trump, in his first six months in the White House, has never seemed to grasp that difference — that being President is bigger than politics. That decisions he makes, and doesn't, have serious consequences for the people he ran to represent.

As president, you don't get to throw up your arms and say "let it fail." You've got to be the one always willing to find a solution — even a deeply imperfect one — to protect the people you serve.

This is not that. It's the furthest thing from that. Too bad Turmp doesn't get that.
I'm not sure if it's the fact that Trump doesn't understand the difference between being a candidate and actually being President, or if he just doesn't care. It hardly matters which, of course, since he's basically saying he's willing to let people suffer the consequences of what could happen if the PPACA really did bring the havoc that Republicans have long been predicting in order to supposedly gain a bargaining position over Democrats when the time comes to fix the system again. As I noted above, that requires that several assumptions that are by no means certain to end up coming true, but it also comes across as incredibly callous and un-Presidential. Rather than the buck stopping at the President's desk as Harry Truman once put it, Trump is basically saying that he isn't responsible for what might happen under his watch. Reality is likely to prove to be quite different.
For those of us who spent the better part of a year and a half warning Republicans and Americans in general about the kind of President Donald Trump would be none of this is a surprise.  In two days, we mark six months since the day Trump took office and we've already seen every one of those predictions come true. Whether it's the way in which his twin obsessions with watching cable news channels and tweeting about what he sees have repeatedly undermined even the agenda that his own White House is trying to communicate during a given week, or the fact that he continues to lash out at people who criticize him in the media like a petulant child, the President has made clear on a daily basis that he either doesn't understand what it takes to be President, or just doesn't care to do what's necessary. The next three and a half years are only going to bring more of the same, or quite possibly something worse if and when the time comes that Trump is faced with an international crisis that poses a real danger to the United States or American interests abroad. At that point, it will be far too late to do anything about it.