Donald Trump: I Thought Being President Would Be Easy
Donald Trump discovers reality.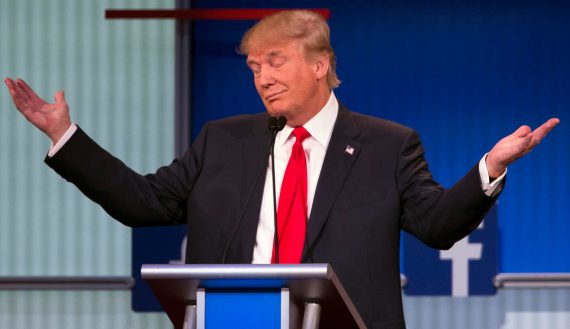 For the second time in less than a month, President Trump is telling reporters that he didn't realize how hard it be to be President of the United States:
He misses driving, feels as if he is in a cocoon, and is surprised how hard his new job is.

President Donald Trump on Thursday reflected on his first 100 days in office with a wistful look at his life before the White House.

"I loved my previous life. I had so many things going," Trump told Reuters in an interview. "This is more work than in my previous life. I thought it would be easier."

A wealthy businessman from New York, Trump assumed public office for the first time when he entered the White House on Jan. 20 after he defeated former Secretary of State Hillary Clinton in an upset.

More than five months after his victory and two days shy of the 100-day mark of his presidency, the election is still on Trump's mind. Midway through a discussion about Chinese President Xi Jinping, the president paused to hand out copies of what he said were the latest figures from the 2016 electoral map.

"Here, you can take that, that's the final map of the numbers," the Republican president said from his desk in the Oval Office, handing out maps of the United States with areas he won marked in red. "It's pretty good, right? The red is obviously us."
As I noted, this isn't the first time that Trump has noted publicly that the Presidency was more difficult than he thought it would be. He said much the same thing in an interview about two weeks ago when he noted that the job was harder than he thought it would be. This isn't an uncommon observation for new Presidents, of course, it's often the case that an incoming President will comment that they didn't realize the full scope of the job until they were actually in the position. In Trump's case, though, the comments are notable for two reasons. First of all, these are some of the few times we've seen anything approaching a moment of self-reflection from Trump during his entire time as a public figure. More so than even the most publicity conscious celebrity, he has always been a close guarding of his public image and he has always projected an air of self-confidence that borders on arrogance. Dropping that veil even slightly is interesting, and while I'd like to think that it portends a more reflective, less reactionary Trump in the future, the thirty years of his history in the public eye tells me otherwise. Second, these comments strike me as telling us something else about Trump, and it's not a good thing. I honestly believe that he thought from the moment he entered the race for the President twenty-two months ago that Trump thought that being President would indeed be "easy" and that he'd be more than able to overcome whatever obstacles might appear in his way, even the obstacle known as reality. This is a man, after all, who has always believed his own press clippings and his own exaggerated and grandiose claims he has made about himself. He also likely believes that he is smarter than practically everyone else in the room no matter what the subject matter is, and given the fact that he spent the time from the moment he graduated from the Wharton School of Business and started working for his father surrounded by yes men and sycophants ready and willing to do his bidding, he believed that running the government and being the leader of the free world would indeed be easy when the opposite is the reality.
As Philip Bump notes, Trump also seems to be unknowingly acknowledging something that many of his have known since June 2015, that Donald Trump was in no way prepared to be President, As Bump notes in his post, throughout the 2016 campaign, a majority of Americans said that they didn't believe Trump was ready to be President. Despite that fact, sixty-two million of them went on to vote for him and he managed to get enough votes in the right states to pull off an Electoral College victory. You can reach your own conclusions about what that says about the voters, about American politics in general, about Trump specifically, and about a seemingly better-prepared opponent who was nonetheless unable to defeat him. In any case, as they often are, the American people were right in their observation that the nominee of a major American political party was patently unprepared for the office he sought. In the meantime, I suppose we'll have to rely on Trump's on the job education, although perhaps it wouldn't hurt to remind him that if he really does miss the life he left behind he could easily return to it if he really wanted to. But I suppose that's just wishful thinking on my part.