Donald Trump: Republican Frontrunner? Or, Harbinger Of Republican Doom?
For the first time, Donald Trump is leading a poll for the GOP 2012 nomination. That's bad news for the GOP.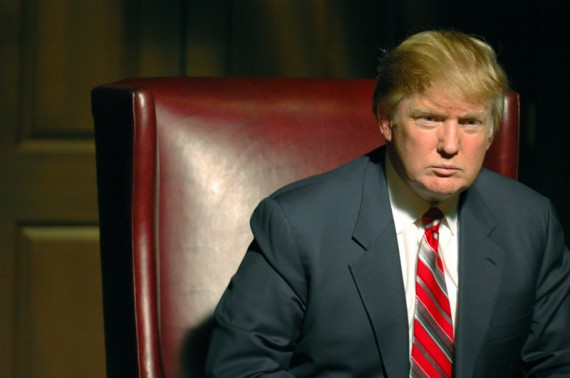 Whatever it means, the surge of support for Donald Trump among prospective Republican voters continues notwithstanding the seemingly bad press he continues to get for his obsession with the birther controversy, or his most recent comments that some have interpreted as racially insensitive. The latest evidence for this phenomenon is a new Public Policy Poll which shows Trump lead the GOP field nationally:
Only 38% of Republican primary voters say they're willing to support a candidate for President next year who firmly rejects the birther theory and those folks want Mitt Romney to be their nominee for President next year. With the other 62% of Republicans- 23% of whom say they are only willing to vote for a birther and 39% of whom are not sure- Donald Trump is cleaning up. And as a result Trump's ridden the controversy about Barack Obama's place of birth to the highest level of support we've found for anyone in our national GOP polling so far in 2011.

Trump's broken the perpetual gridlock we've found at the top of the Republican field, getting 26% to 17% for Mike Huckabee, 15% for Romney, 11% for Newt Gingrich, 8% for Sarah Palin, 5% for Ron Paul, and 4% for Michele Bachmann and Tim Pawlenty.

Among that 23% only willing to vote for a birther Trump is cleaning up even more, getting 37% to 13% for Huckabee and Palin, and 10% for Romney and Gingrich. He's a lot weaker with the 38% who say they're perfectly happy to vote for someone who's dismissed the birther theory- with them Romney leads at 23%, with Huckabee at 18%, Trump at 17%, Gingrich at 10%, and Palin at only 7%.
Of course there are many who doubt that Donald Trump is actually going to run for President, myself included, so it's interesting to see what happens if you take Trump out of the picture:
If you take Trump out of the mix Huckabee leads with 22% to 16% for Romney, 15% for Gingrich, 12% for Palin, 8% for Paul, 6% for Pawlenty and Bachmann, and 3% for Haley Barbour.

If you look at the field with Huckabee, Palin, and Trump all out of the mix you end up with a showdown between Romney and Gingrich. Romney gets 25% to 23% for Gingrich, 13% for Paul, 10% for Pawlenty, 8% for Bachmann, and 4% for Barbour.
Ben Smith isn't really impressed with the poll, or with the effort to tie in birtherism with candidate selection:
Who seriously thinks Republican primary voters spend much time thinking about whether birth certificate views disqualify a candidate, much less are going to vote on those purported views. It's really a great example of the deep irrelevance of most early polling.
Indeed, as I noted only a few days ago, early polling hasn't been very predictive of the final result of Presidential primary contests, and Trump's surge is more of a reflection on the state of the GOP field than Trump himself:
What Trump's numbers really mean, then, isn't so much that Republican voters are in love with the idea of Donald Trump as their nominee, as that there is no clear frontrunner that people are rallying around right now. That's likely to be the case until the debates and the voting actually start.
Additionally, both Nate Silver and Mark Blumenthal have pointed out quite well that the Trump phenomenon should be taken with a grain of a salt to say the least. Nonetheless, the Trump for President phenomenon seems to continue to grow on the right. Trump is a fairly regular guest on Fox News Channel's shows, he's got his own weekly gig on the FNC morning show, and he appeared today on Rush Limbaugh's radio show (which is interesting principally because Limbaugh has been fairly critical of Trump's birther obsession of late). As one commentator said recently on MSNBC's Morning Joe, Trump is acting exactly like you'd expect someone who intended to seek the Republican nomination for President to act.
Whether he runs or not, though, Trump's popularity among the GOP base is an indication that there is something seriously screwy about the Republican Party right now:
By latching on to the birther movement, Donald Trump has accomplished more than just giving his possible presidential campaign a rocket-powered boost in publicity. He has also inadvertently revealed the Republican Party to be singularly unserious about governing the country. A party that features a large mass of voters who view questions about Obama's origins with an uncritical eye and contempt for logic and reason is a party that can't be trusted with the privy seal.

(…)

Trump's going "right after him" is what the conservative base believes John McCain didn't do in the 2008 campaign. Despite running an extremelynegativecampaign, McCain's failure was that he didn't make an issue of Reverend Wright, Bill Ayers, Father Pfleger, or any of the other radical associations in Obama's past and present. Nor did McCain refer to Obama as a "Marxist" or a "socialist" often enough. This is what the conservative base means when they want GOP candidates to "go after" Obama. And it's what Rush Limbaugh means when he says that the GOP should forget about what independents might think and attack the president in a far more personal way than they have previously. The irony is that the harder Obama is hit, the more sympathy he garners and legitimate criticisms of his disastrous policies are given less weight.
It's the same reason, really, that politicians like Sarah Palin are popular with the GOP base, but wildly unpopular among the general electorate, and it's a sign that a candidate who spends the next year pandering solely to the Republican base, without keeping in mind the independents that they'll need to win the General Election in November 2012. As insane as it sounds, it might be possible for Donald Trump, or any other Republican, to win the Republican nomination with the rhetoric that he's been using over the past month or so. It would require him to actually spend the next year or more doing non-stop in person campaigning, which he doesn't seem temperamentally suited for and this is likely to be the reason he won't run in the end. If he did win the nomination in this manner, though, he will have so sufficiently poisoned the well among independents, though, that any chance at victory in November would seem to be a long shot. The problem for the GOP isn't that he specifically might win, then, it's that he will succeed in legitimizing conspiratorial nonsense as a mainstream Republican idea, and that will just serve to make the party as a whole a laughingstock.