Donald Trump Returns To Dark, Dystopian Themes In Convention Speech
Donald Trump started out his campaign by telling us that the American dream is dead, and he returned to those dark and pessimistic themes in his acceptance speech last night.00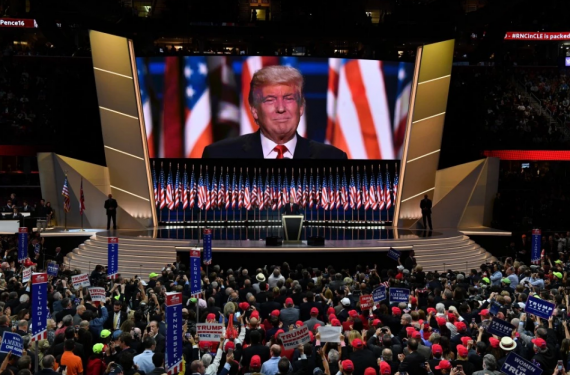 All the way back on June 16, 2016 Donald Trump began his campaign for the Presidency by presenting a picture of an America overrun by illegal immigrant rapists, Islamist terrorist, and incompetent leadership that only he could deal with. 'The American dream,' he told us, 'is dead' and only a Trump Presidency can 'Make America Great Again.' As his campaign went on, Trump continued to wallow in that dark, pessimistic view of American politics and in the process managed to find any number of people to blame it on, including immigrants, Muslims, the Chinese and pretty much every other nation on the planet, and his opponents. He scored political victories by engaging in cheap, tawdry, personal attacks against his opponents, many of whom had spent decades in public service actually trying to solve the problems that he was pontificating about from the podium, or over the telephone from Trump Tower as he appeared on an endless number of cable news shows in a campaign that admittedly demonstrated his ability as a media manipulator. In the process of running for President, he appealed to the some of the worst aspects of American politics in a manner not seen since the campaign of George Wallace in 1968 and Pat Buchanan in 1992 via demagoguery that Republicans quickly rose up to denounce even while doing next to nothing to stop the man. Unfortunately, this strategy succeeded far better than anyone watching that June day a year ago could have anticipated and, last night, Donald Trump formally accepted that nomination in a speech that was as dark as the rest of his campaign has been:
CLEVELAND — Donald John Trump accepted the Republican presidential nomination on Thursday night with an unusually vehement appeal to Americans who feel that their country is spiraling out of control and yearn for a leader who will take aggressive, even extreme, actions to protect them.

Mr. Trump, 70, a New York real estate developer and reality television star who leveraged his fame and forceful persona to become the rare political outsider to lead the ticket of a major party, drew exuberant cheers from Republican convention delegates as he strode onto the stage of the Quicken Loans Arena and delivered a speech as fiery as his candidacy.

With dark imagery and an almost angry tone, Mr. Trump portrayed the United States as a diminished and even humiliated nation, and offered himself as an all-powerful savior who could resurrect the country's standing in the eyes of both enemies and law-abiding Americans.

"Our convention occurs at a moment of crisis for our nation," an ominous-sounding Mr. Trump said, standing against a backdrop of American flags. "The attacks on our police, and the terrorism in our cities, threaten our very way of life. Any politician who does not grasp this danger is not fit to lead our country."

Mr. Trump nearly shouted the names of states where police officers had been killed recently, as the crowd erupted in applause, and returned repeatedly to the major theme of the speech: "Law and order," he said four times, each time drawing out the syllables.

Evoking the tumult of the 1960s and the uncertainty that followed the Sept. 11 terrorist attacks, Mr. Trump made a sharp departure from the optimistic talk about American possibility that has characterized Republican presidential candidates since Ronald Reagan redefined the party over 30 years ago. In promoting his hard-line views on crime, immigration and hostile nations, Mr. Trump was wagering that voters would embrace his style of populism and his promises of safety if they feel even less secure by Election Day.

But his speech — the longest, at an hour and 15 minutes, since at least 1972 — had relatively little new to offer women, Hispanics, blacks and others who have been turned off by Mr. Trump's incendiary brand of politics. He did sound like a different sort of Republican at times, though, making no mention of abortion — a core issue for many Republicans — and saying of his support among evangelical voters, "I'm not sure I totally deserve it."

Mr. Trump also challenged Republican orthodoxy as he promised to end multilateral trade deals and limit American intervention in global crises. He denounced "15 years of wars in the Middle East" — a rebuke of his party's last president, George W. Bush — and pledged to help union members, coal miners and other low-wage Americans who have historically supported Democrats.

"These are the forgotten men and women of our country," said Mr. Trump, a billionaire with a mixed record of job creation and layoffs. "People who work hard but no longer have a voice — I am your voice."

He even vowed "to do everything in my power to protect our L.G.B.T.Q. citizens from the violence and oppression of a hateful foreign ideology." As the audience applauded, Mr. Trump made a deviation from his prepared text, observing: "I have to say, that as a Republican, it is so nice to hear you cheering for what I just said."'

(…)

Mr. Trump dwelled at length on illegal immigrants and lawless Americans, saying they are as dangerous for the nation's security as the Islamic State and Syrian refugees. In doing so, Trump advisers said, he sought to win over undecided voters who are sickened by the recent violence against police officers and worried about safety yet are unsure if Mr. Trump has the temperament and abilities to be commander in chief.

"I have a message to every last person threatening the peace on our streets and the safety of our police: When I take the oath of office next year, I will restore law and order to our country."

While nomination speeches are traditionally optimistic and personal, full of hope and revelations that cast candidates in the best possible light for voters, Mr. Trump sounded like a wartime president, using the word "threat" seven times and promising to "defeat the barbarians of ISIS." He also recited homicide rates in American cities and the thousands of illegal immigrants with criminal records, promising to control violence at home and abroad.

"It is time to show the whole world that America is back — bigger, and better and stronger than ever before," Mr. Trump said.
It was a speech, in other words, that was vintage Trump and not substantively different than what we've seen from him since his campaign started thirteen months ago. In that respect, though, it was quite different from acceptance speeches we've seen from Republicans and Democrats in the recent past. There was no shining city on a hill, for example, and no 'thousand points of light' guiding the nation toward a future of prosperity and peace. Given the headlines that we see every day, and especially in the past several months involving everything from terrorism at home and abroad, mass shootings seemingly unrelated to any rational cause, police being shot for doing their jobs, and police shooting people first and asking questions later, it's perhaps easy to understand why a candidate like Trump would focus on the gloom and doom, especially since it's often the case that voters tend to toss rational thinking aside once they start believing that threats lurk around every corner. Trump's speech last night, for example, reads as if it was part of the "law and order" theme that Richard Nixon successfully rode to victory in 1968. The difference is that, while there was a real crime problem in America in the 1960s and 70s, that simply isn't the reality today. With the exception of a handful of cities like Chicago and Baltimore, violent crime remains at generational lows notwithstanding the fact that there has arguably been a slight uptick in some categories over the past year. Robbery, assault, and a whole host of other violent crimes are far less likely today than they were thirty or forty years ago, and yet to listen to someone like Donald Trump we are facing an epidemic of crime that only his presence in the White House can solve. That's both a lie, and an appeal to arrogant self-promotion on Trump's part that, while consistent with the image he has presented on the campaign trail, should raise concerns among any sane person watching him speak last night who cares about the future of the country.
Peter Suderman at Reason sums up last night's speech perfectly:
Donald Trump's speech accepting the Republican nomination was easily the most overt display of authoritarian fear-mongering I can remember seeing in American politics. The entire speech was dark and dystopian, painting America as a dismal, dangerous place beset by violent outsiders. In response to the nation's problems, Trump had only one solution: Donald Trump, the strongman who would taecke America back, by force if necessary.

Trump framed the speech by painting America as a nation under siege from urban crime, terrorism, and immigrants. He talked of rising homicide levels in some cities. He warned darkly of terrorist and immigrants, practically conflating them with urban violence, and told stories of Americans killed by those who had entered the country illegally. The simplest and more straightforward way to interpret Trump's speech was as a warning that outsiders are coming to America to kill you and your family.

But portraying America in such a dark light let Trump cast himself as the nation's dark hero, a kind of billionaire-businessman fixer, unbound by rules or expectations of decorum—President Batman, the only one with the guts and the will to fight for the people.

(…)

The hour and fifteen minute long speech was a tour de force of grandiose narcissism, a petulant demand to be placed in the most powerful office in the most powerful nation in the world. Thanks to the Republican party, which nominated him and gave him his platform last night, he is alarmingly close to achieving this goal. Trump is the threat, but the Republican party as an institution deserves nearly as much scorn as Trump for making this happen. The GOP has proved a willing vessel for his ambitions, a ready audience for his dark and troubling argument.

The essence of that argument is that America is unsafe and decline, and that as a result it should be cut off from the world, plunged into fear, and managed by a simple-minded strongman who ego and bluster know no limits. This was the argument that Trump made last night. It is his pitch for the presidency. And it is a lie—a fictitious, nightmarish vision that a power-hungry narcissist invented for the purpose of acquiring power for himself by being elected president. That's the all-too-possible nightmare that should terrify us most.
At least temporarily, I expect that Trump will get a bump in the polls from this weeks convention notwithstanding the fact that it has not gone nearly as smoothly as the Democratic Convention is likely to proceed next week. Largely, this will be a reflection of the natural enthusiasm that conventions create among supporters and voters leaning toward a particular candidates. At the same time, it's unlikely that this bump will last very long. In no small part, this is because the Democratic National Convention is following right on the heels of the Republican gathering, meaning that there will be very little time for polls to capture the impact that the convention may have had on the race on its own versus the impact of the two conventions back to back is likely to be. The question going forward, though, will be whether the American people will really respond positively to a campaign built on emphasizing how bad things are in the United States and which seeks to blame that condition on minorities, immigrants, and certain religious groups while at the same time advocating policy ideas without substance and without explaining exactly how he would accomplish them. Trump supporters will remind us that their candidate succeeded with the this strategy in beating sixteen other candidates for the Republican nomination, but the General Election is a very different race and candidates who base their campaigns on telling Americans how bad they have it and playing on their fears of the other have, happily, not succeeded in the past. Hopefully that will remain true in 2016 as well, because the idea of a man like Donald Trump with political power is, to put it mildly, a troublesome one.
Donald Trump is the perfect reflection of the irrational populism, xenophobia, and fear-based politics the GOP has been practicing for the better part of the past 20 years. Until now, though, they've generally nominated Presidential candidates who at least tried to emphasize the positive rather than appealing to the worst in people. Whether it succeeds will be up to the American voter.
In any case, if you missed the speech and want to see for yourself, you can read the transcript, or watch the video: