Donald Trump's Demagoguery Comes Home To Roost
At a town hall last night in New Hampshire, it became clear just what kind of supporters Donald Trump's demagoguery is attracting.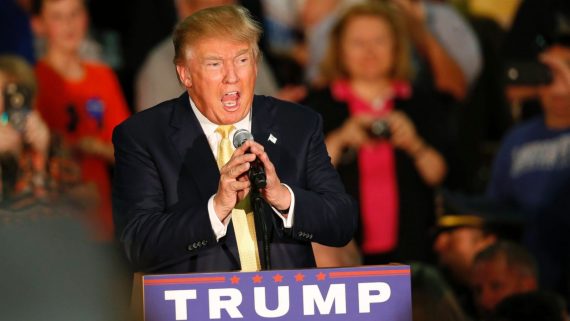 Less than twenty-four hours after the second Presidential debate ended, Donald Trump was back in the news again but this time it was less about what he said than what he didn't say:
Confronted with a questioner who called Muslims a "problem" and asserted that President Obama is a Muslim and not American, Donald Trump did not correct him on Thursday night.

"We have a problem in this country, it's called Muslims. Our current President is one. We know he's not even an American," said a questioner at a town hall in New Hampshire. "We have training camps growing where they want to kill us. That's my question, when can we get rid of them?"

"A lot of people are saying that and a lot of people are saying that bad things are happening out there. We're going to be looking at that and a lot of different things," Trump responded.

Trump has been a leading proponent of the discredited theory that Obama was not born in the United States.

"The media wants to make this issue about Obama. The bigger issue is that Obama is waging a war against Christians in this country. Christians need support in this country. Their religious liberties are at stake," a Trump campaign spokeswoman said in an email.
Here's the video of the exchange:
As is the nature of all political speeches today, word of what happened in New Hampshire broke almost immediately as reporters who were on the scene, as well as others who were watching the speech on television, immediately took to social media. The reactions quickly broke down into two camps.
First, of course, there were those who immediately jumped on the fact that the person asking the question had repeated the long-standing myth on some conservatives that the President is either a Muslim or was not born in the United States, or both. Given Trump's history as the most public face of the so-called "birther" movement thanks to his months-long obsession with the issue of the President's birth in 2011 that ended with the White House producing the President's birth certificate, the fact that Trump appeared to agree with the assertion raised eyebrows. In fact, Trump has not spoken directly about the birther issues or his 2011 crusade at all during the course of this campaign, telling reporters who asking the question that he's 'not campaigning on that' when asked if he still believes what he said four years ago when he claimed the President was not born in the United States.
Beyond the birther issue, though, Trump's apparent agreement with the idea that Muslim-Americans were a problem and needed to be deported, and that there are "training camps" for terrorists in the United States. Rather than refute the assertion, or basically tell this guy that he was crazy, Trump seemed to accept the premise of his question and said that it was something that should be "looked into." This isn't the first time that Trump has flirted with outright bigotry, of course, and given the fact that his entire campaign is based on appealing to the worst aspects of American politics, it isn't likely to be the last. This would seem to be especially true given the fact that polling has consistently shown that Trump supporters are far more likely to believe that the President is foreign born and/or a Muslim than the supporters of any other candidate. In addition to be being a good example of the relative intelligence of his supporters, this is fairly good example of the kind of people that Trump's nativist demagoguery is attracting, and it isn't very pretty.
Trump's response and the way he handled this obvious nut stands in start contrast to how Arizona Senator John McCain handled a similar situation back when he was running for President. In October 2008 at a town hall event in Minnesota, a woman told the Senator that she was concerned about then Senator Obama because he was "an Arab" who couldn't be trusted. McCain's response earned him headlines that day, although it probably didn't help him with the hard right wing of his party:
Rather than responding like this, or pointing out to this audience member, that the vast majority Muslim-Americans are good Americans, and that there is no evidence of "training camps" in the United States except in the bizarrely wired minds of the people who write at places like World Net Daily and Breitbart News, Trump clearly seemed to agree with what the gentleman was saying. The fact that Trump didn't do this speaks volumes about the kind of campaign he is running, the kind of people he is rallying to his side, and the kind of person he is, and none of it is very good.  In later statements, Trump's campaign tried to down play the significance of what happened at the town hall. One Trump aide emailed reporters claiming that Trump was talking about protecting the religious liberties of Christians notwithstanding the fact that this clearly wasn't even the subject matter of the question that was asked. Trump's Campaign Manager Cory Lewandowski said that Trump was specifically addressing the question about "training camps." something he repeated in an interview with The Washington Post's Robert Costa. No matter how you spin what happened last night, though, the implications of what was said, and how Trump reacted, speak for themselves and they say a lot about the kind of campaign he is running and the kind of people he is appealing to.
As has become inevitable every time something outrageous happens in connection with the Trump campaign, people are speculating about what this might mean for the race going forward. Kevin Drum suggests that this incident, combined with what many seem to agree with a bad debate performance on Trump's part and signs the candidates like Carly Fiorina may be on the rise, could be the beginning of the end for Trump. Even before last night's event in New Hampshire, some analysts were suggesting that early numbers connected to the debate were suggesting that Trump may be started to head downward in the polls. Perhaps this will happen, but it's worth remembering that we've been here before. When Donald Trump started his campaign by calling Mexican rapists, it was suggested that his rhetoric would bring his campaign to a quick end. When he insulted John McCain's military service and many Republicans stood up to condemn him, everyone waited for the inevitable drop in the polls. When he attacked Fox News host Megyn Kelly in a rather vile manner because she asked tough questions at a debate, people once again thought we were seeing the beginning of the end. The same predictions were made when Trump attacked Carly Fiorina based not on her policy positions, but her physical appearance. I too have, admittedly, forecast Trump's demise more than one over the past three months (see here, here, and here for example), and all of them have been wrong. Perhaps the debate and incidents like this will be what finally turns Republican voters off, but we've all said that before and it didn't happen. The people supporting his campaign have proven to be almost immune to any criticism, and they cheer him on every time he does something that would shock any decent person. Perhaps they too have a breaking point, and perhaps we've reached it, but until I actually see the poll numbers dropping I'm not going to believe it.