Donald Trump The Saudi Apologist
President Trump is serving as a knowing apologist for a despotic regime.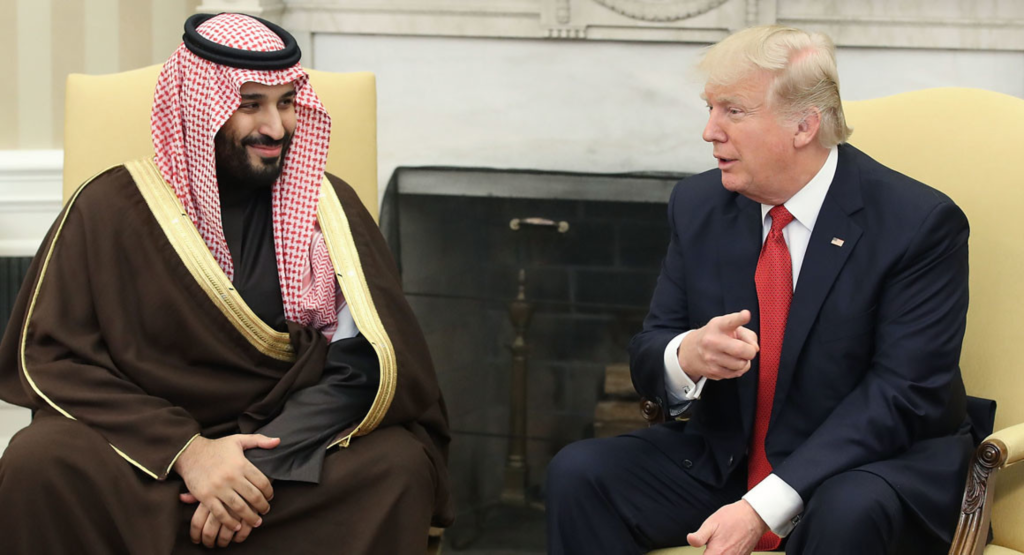 While the evidence against the Saudi government in the disappearance and apparent death of Jamal Khashoggi continues to mount, the President of the United States appears to be taking on the role of the chief defender of the Saudi government:
BEIRUT, Lebanon — The Trump administration pushed back on Tuesday against rising condemnation of Saudi Arabia and showed support for its crown prince, who has been linked to the disappearance and possible murder of a leading dissident journalist inside a Saudi consulate in Turkey.

In his strongest language to date over the missing journalist, President Trump said in an interview with The Associated Press: "Here we go again with you're guilty until proven innocent."

Hours earlier, Mr. Trump's top diplomat, Secretary of State Mike Pompeo, arrived in Riyadh, the Saudi capital, smiling and shaking hands with the crown prince, Mohammed bin Salman.

Mr. Pompeo issued a statement saying Saudi leaders had promised a "thorough, transparent, and timely investigation" into what had befallen the journalist, Jamal Khashoggi, after he entered the consulate on Oct. 2. Mr. Trump and Mr. Pompeo also said the Saudi leaders had repeated their emphatic denials of any involvement in Mr. Khashoggi's disappearance.

After days of leaks by Turkish officials that accused Saudi Arabia of sending a hit squad to kill Mr. Khashoggi and dismember him with a bone saw, this was the latest indication that the Trump administration would help its top Arab ally defuse an international crisis.

The administration's moves have come as criticism of Crown Prince Mohammed has intensified — including by Republican members of Congress, business leaders and human rights officials — over Mr. Khashoggi's disappearance and apparent murder.

Saudi Arabia also took steps on Tuesday to please the White House. Just as Mr. Pompeo met with Saudi leaders, a long-promised Saudi pledge of $100 million to help American aid efforts in Syrian areas liberated from the Islamic State was deposited in State Department accounts.

Neither Mr. Trump nor Mr. Pompeo provided any new insights into what had happened to Mr. Khashoggi. But with his comment about presumed guilt, Mr. Trump drew a parallel to the sexual assault accusations made against his newest Supreme Court justice, Brett M. Kavanaugh.

Mr. Trump's reference to the bitter confirmation battle over Justice Kavanaugh was telling. In that case, he initially took a restrained tone, observing that the judge's accuser, Christine Blasey Ford, appeared credible in her testimony before the Senate about an alleged sexual assault.

But over time, as the furor threatened to irreparably tarnish his nominee, Mr. Trump discarded restraint. He complained that Justice Kavanaugh had been unfairly accused, raised questions about Dr. Blasey's account, and even mocked her at a rally.

In the case of Mr. Khashoggi, Mr. Trump first expressed concern about the allegations and warned of severe consequences if the Saudi government were found responsible. But after days of unconvincing denials from the Saudis and growing evidence that Crown Prince Mohammed or his family may have been involved, Mr. Trump is shifting to a tone of defiance.

There are signs that Mr. Trump's defense of Mr. Kavanaugh appealed to his political base, and may even have boosted the prospects of Republicans in the midterm elections. But a Saudi prince is different from a Supreme Court nominee, and unlike in Justice Kavanaugh's case, there could yet be conclusive evidence of a heinous crime.

Mr. Khashoggi was last seen entering Saudi Arabia's consulate in Istanbul seeking marriage documents. Speaking anonymously, Turkish officials say they have evidence he was killed within two hours of entering the consulate by a team of Saudi agents.

"Answers will be forthcoming shortly," Mr. Trump said on Twitter, relaying that he had spoken with Crown Prince Mohammed on a phone call that also included Mr. Pompeo.

Prince Mohammed, Mr. Trump said, "totally denied any knowledge of what took place in their Turkish consulate."

The crown prince "has already started, and will rapidly expand, a full and complete investigation into this matter," the president said.

Speaking to reporters in Riyadh early Wednesday before departing for Turkey for talks with its top officials, Mr. Pompeo said Saudi leaders had promised him a complete and transparent investigation. "They made a commitment that they would show the entire world the results of their investigation," he said. "They also made a commitment they would get this done quickly."

Asked if the Saudis told him whether Mr. Khashoggi was alive, Mr. Pompeo declined to answer. "I don't want to talk about any of the facts," he said. "They didn't want to either, in that they want to have the opportunity to complete this investigation in a thorough way."
The Washington Post has more about the extent of the President's excuse making for the Saudis:
President Trump offered embattled Saudi Arabia a suggestion of support Tuesday amid mounting pressure over the disappearance of journalist Jamal Khashoggi, saying the kingdom is being judged "guilty until proven innocent."

The remarks, in an interview with the Associated Press, put Trump widely out of step with many world leaders amid Turkish assertions that Khashoggi was killed by a Saudi hit team this month after entering the Saudi Consulate in Istanbul.

They also could complicate talks planned Wednesday between Secretary of State Mike Pompeo and Turkish leaders on the Khashoggi case.

"Here we go again with you're guilty until proven innocent," Trump told the AP, comparing the situation to allegations of sexual assault leveled against now-Supreme Court Justice Brett M. Kavanaugh during his confirmation hearing.

Trump has shifted his views several times since Khashoggi — a Washington Post columnist and U.S. resident — was last seen in public Oct. 2.

Trump last week said that Saudi Arabia would face "severe punishment" if the kingdom was found to have a link to Khashoggi's apparent death. But he appeared to reject possible sanctions, claiming they could harm the United States' deep defense industry ties with Saudi Arabia.

(…)

Pompeo was in Riyadh on Tuesday to hear an entirely different account: Another round of denials from Saudi rulers.

In a statement, Pompeo said the crown prince pledged "a full and complete conclusion with full transparency for the world to see." But Pompeo gave no details on the possible findings or when such a report could be issued.

Earlier, Trump tweeted that the crown prince "told me that he has already started, and will rapidly expand, a full and complete investigation into this matter. Answers will be forthcoming shortly." Trump, too, did not elaborate.
President Trump has also taken to Twitter regarding the Khashoggi matter this week, and his statements constitute little more than a regurgitation of the Saudi government line:
Just spoke to the King of Saudi Arabia who denies any knowledge of whatever may have happened "to our Saudi Arabian citizen." He said that they are working closely with Turkey to find answer. I am immediately sending our Secretary of State to meet with King!

— Donald J. Trump (@realDonaldTrump) October 15, 2018
Just spoke with the Crown Prince of Saudi Arabia who totally denied any knowledge of what took place in their Turkish Consulate. He was with Secretary of State Mike Pompeo…

— Donald J. Trump (@realDonaldTrump) October 16, 2018
…during the call, and told me that he has already started, and will rapidly expand, a full and complete investigation into this matter. Answers will be forthcoming shortly.

— Donald J. Trump (@realDonaldTrump) October 16, 2018
As Jennifer Rubin put it this morning, "It's tough to think of another president who autocrats snowed with such ease." Trump's response to all of this is not entirely surprising, of course. As I noted yesterday, this is a man who has a long established history of pandering to and making excuses for dictators and their violations of human rights both at home and abroad. He has dismissed the fact that the leader of North Korea has the blood of thousands on his hands, and instead has complimented on what was nothing other than a brutal and murderous rise to power at such a young age. This includes not only the oppression of ordinary North Korean citizens but also the extent to which he has reached out to eliminate potential threats to his power inside North Korea's leadership such as his Uncle and his own Half-Brother. He has dismissed the fact that the leader of Russia has killed and imprisoned dissidents and journalists critical of his regime, and the fact that he reached out to attempt to kill a former Russian spy on the soil of a loyal American ally. And he has praised the leader of China on the ruthless moves that have allowed him to attain unquestioned power and essentially make himself President for life, even suggesting that it would be a great idea for the United States to give that a try.
In the past, of course, American Presidents have often been forced, or think they were forced, to look the other way when supposed allies committed human rights violations. This was especially prevalent during the Cold War when the belief was that we needed to keep these nations within our orbit in order to battle the spread of Soviet influence around the world. On many occasions that support has ended up backfiring on us spectacularly, most notably in several nations in Central and South America, in Cuba, and of course in Iran after the downfall of the Shah. During this time period, many American Presidents looked the other way while leaders such as the Shah, Augusto Pinochet, and others violated human rights on a regular basis based on the logic that 'he may be a son-of-a-bitch, but he's our son-of-a-bitch.' Even while we were engaging in those policies, though, there was at least a subtle acknowledgment that we were backing some really bad actors in the name of broader national security interests.
That isn't the case with this President. As I've noted repeatedly, this President has an utter fascination with authoritarian rulers ranging from al-Sisi in Egypt all the way up the scale to Vladimir Putin, Xi Jinping, Kim Jong Un, and of course the leadership of Saudi Arabia. Because of this, it's rather obvious that Trump is going to accept whatever ridiculous explanation the Saudis come up with regarding the death of Jamal Khashoggi and that he will defend them and use that defense as an excuse not to take any significant action against the Kingdom Of Saudi Arabia, the Royal Family, or Saudi business interests around the world. It's also worth noting that Trump is responding to the allegations against the Saudis in the same manner that he did last year to the accusations against Roy Moore and the way he did last month regarding the allegations against Justice Kavanaugh. In each of those cases, the mere fact that the accused had issued self-serving denials that provided nothing. The Saudis are basically doing the same thing, and the President is dutifully repeating their propaganda. I'd call it shameful, but with this President, it's just standard operating procedure.