Donald Trump: Women Who Get Abortions Should Be 'Punished'
Donald Trump takes opposition to abortion to a new, extreme, level.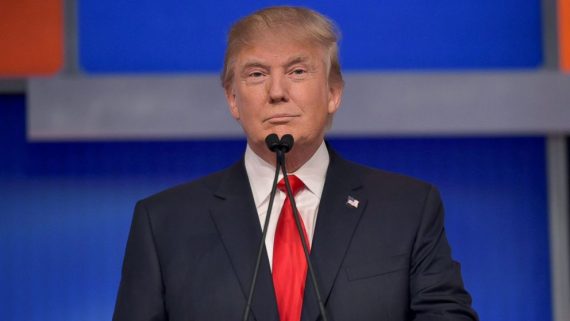 Donald Trump says that women who seek abortions should be punished, a position that is earning him criticism from even the most strident pro-life conservatives:
GREEN BAY, Wisc. — Donald Trump believes that there should be punishment for women who undergo abortions if the procedure was outlawed, but indicated he has yet to determine what that punishment should be.

In an exclusive interview with MSNBC's Chris Matthews, the GOP front-runner described himself multiple times as "pro-life" but struggled to define what the legal ramifications of that position should be. When continually pressed for what the answer is regarding punishing women who would break any theoretical ban, Trump said the "answer is that there has to be some form of punishment, yeah."

When asked what kind of punishment he had in mind, Trump lacked specifics and said he has "not determined what the punishment would be." Trump noted that he does "take positions on everything else but this is a very complicated position."

"If you say abortion is a crime or abortion is murder, you have to deal with it under the law," Matthews stated, making the pivot from the moral position of being pro-life to the practical implications of implementing that position in the law.

Trump asked Matthews "are you going to say, well wait, are you going to say put them in jail? Is that the punishment you're talking about?"

Matthews responded that that's the question he was asking the front-runner himself. Trump responded that he was pro-life.

The MSNBC host followed up wondering if a man should bear responsibility for abortions as well, to which Trump said "no" he didn't think so.

Trump asked repeatedly about the Catholic church's position on abortion, at multiple points trying to turn the questions on the interviewer himself in relation to how he squared the moral position of the church with the real life implications.

Should the United States change the law of the land on abortion as set by the landmark SCOTUS ruling Roe vs Wade Trump says "you'll go back to a position like they had where people will, perhaps, go to illegal places." Still, he maintains "you have to ban it."

After the interview, the Trump campaign released a statement from the candidate saying: "This issue is unclear and should be put back into the states for determination. Like Ronald Reagan, I am pro- life with exceptions, which I have outlined numerous times."
Already, Trump's position is being denounced by John Kasich and Ted Cruz as well as spokespeople from several leading anti-abortion groups who have generally taken the position that if abortion were to be made illegal it should be the medical care provider, rather than the women seeking the abortion, who should be punished under the law. More importantly, Trump's position that women who seek abortion, if he really means it, puts him at the extremist edge of the anti-abortion movement since this is generally not the position that most anti-abortion activists take, preferring instead to focus punishment on doctors and other medical care providers. In no small part, of course, this is because the prospect of punishing women who have already made the profoundly emotionally difficult decision to have an abortion is one that doesn't play quite so well with the public at large, even among people who might be sympathetic with the idea of restricting abortion at some point during the course of a pregnancy.
On some level, this is kind of an odd statement for Trump to make since he's never really been known as someone who takes strong positions on social issues like this. As Trump's opponents have argued in the past, there was a time in the not too distant past when Trump insisted that he was pro-choice and he criticized the Republican Party for wedding itself to the pro-life position so closely. Now that he's running for the Republican nomination, Trump claims to have become pro-life thanks to some revelation in the recent past, but abortion has not played a prominent role in his campaign, not even during the run up to the Iowa Caucuses and South Carolina Primary. In any case, the position Trump is taking here is unlikely to help him with women voters, a demographic where he has been performing poorly since virtually the beginning of the campaign. Indeed, between this, and his continued mocking of the female reporter who his campaign manager is accused of committing battery against, one wonders if Trump just might set a record for the worst performance among women voters if he does end up becoming the GOP nominee.
Update: The Trump Campaign is now attempting to walk back Trump's answer to Chris Matthews' question:
In statement, Trump takes back abortion comments says doctors should be punished, not women, adds, "My position has not changed."

— Shushannah Walshe (@shushwalshe) March 30, 2016
"My position has not changed," Trumps says while adjusting his position from earlier in day. pic.twitter.com/0v4fn5R9Xi

— Shane Goldmacher (@ShaneGoldmacher) March 30, 2016