Donald Trump's Campaign Manager Charged With Battery Against Reporter
The 2016 Campaign just keeps getting weirder.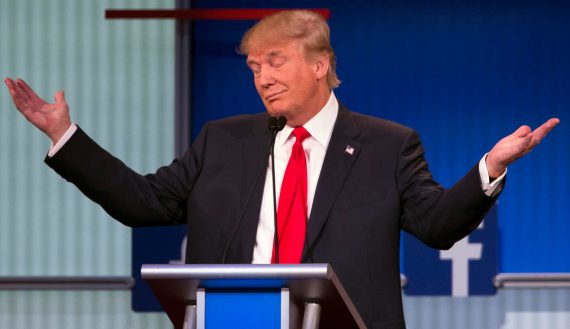 Corey Lewandowski, Donald Trump's campaign chairman has been charged with battery in a case involving a former reporter for Breitbart News who alleges that he grabbed her and pulled her down when she tried to ask Trump a question at the end of a post-election night press conference at Trump's Florida resort:
Donald J. Trump's presidential campaign manager, Corey Lewandowski, was charged with battery Tuesday by the police in Jupiter, Fla., who said he had grabbed a reporter as she tried to ask the candidate a question.

The charge stems from an incident on March 8 that attracted days of news coverage and became a distraction for Mr. Trump's campaign as his victories in the March 1 Super Tuesday contests gave way to more mixed results.

It occurred after a news conference at Trump National Golf Club, as Mr. Trump made his way out of a crowded room and the reporter, Michelle Fields of Breitbart News, a conservative website, sidled up to him.

Ms. Fields said she was trying to ask Mr. Trump about judges and affirmative action when Mr. Lewandowski grabbed her roughly. She posted on Twitter a picture of finger-shaped bruises on her arm.

Mr. Lewandowski denied touching her and called Ms. Fields "delusional."

But Ms. Fields pressed charges three days later, according to a police report. The investigating officer, Detective Marc Bujnowski, took statements from Ms. Fields and a Washington Post reporter, Ben Terris, who said he had witnessed the incident. The detective also obtained security video footage from the Trump golf club, which he said "parallels what Fields had told me."

Mr. Lewandowski, Detective Bujnowski wrote, "grabbed Fields left arm with his right hand, causing her to turn and step back."

Indeed, a series of still photographs captured from security cameras at the golf club, released on Tuesday by the Jupiter Police Department, appears to corroborate Ms. Fields's version of events: Mr. Lewandowski can be seen reaching for and then grabbing her arm, tugging at her clothing as he pulls her; he then walks ahead of her, close behind Mr. Trump. The entire incident takes less than four seconds.

Mr. Lewandowski turned himself in at the headquarters of the Jupiter Police Department at 8:10 a.m. on Tuesday. He was given a court date of May 4 at North County Courthouse in Palm Beach Gardens, Fla.

"He came in and signed the notice to appear himself, on his own will," said Officer Joseph Beinlich, a spokesman for the department. Officer Beinlich described the appearance as a brief interaction, and said that after handling the paperwork, Mr. Lewandowski "walked out the door."

A spokeswoman for Mr. Trump, Hope Hicks, said Tuesday that Mr. Lewandowski was "absolutely innocent of this charge"; that he would plead not guilty; and that he had not actually been arrested, but had merely been issued a "notice to appear."

But Officer Beinlich said otherwise. "A notice to appear is an actual arrest," he said.
As I noted when this story first became public, the available evidence, which includes both an eyewitness account of the incident from Washington Post reporter Ben Terris and an audio recording obtained by Politico that picked up the conversation between Fields and Terris immediately after the incident appeared to corroborate the claim that it was Lewandowski who pulled Fields to the ground during the incident. That version of events was also corroborated by videos of the incident gathered from news organizations who were covering Trump's exit from the room and is also apparently corroborated by video from the security cameras at Trump's resort, which police report as clearly showing Lewandowski grabbing Fields. By definition, that is sufficient in and of itself to qualify as a battery under the law, and certainly enough to justify charges being filed against Lewandowski based on the available evidence. As in all cases, Lewandowski is innocent until proven guilty beyond a reasonable doubt, but it's going to be hard for him to rebut the evidence that his employer's own cameras seem to clearly reveal what happened.
The Trump campaign, of course, is steadfast in its defense of Lewandowski, with Trump himself now attacking Fields and  claiming that Fields touched him first even after claiming earlier this month that he was unaware anything had happened and later saying that nothing had happened. Fields herself has left Breitbart since the incident occurred, as have several other employees, largely because the sites editors apparently decided shortly after the incident became public that it was more important to defend Donald Trump than stand behind one of their own employees. Of course, that action was entirely consistent with the position that Breitbart has taken for months now since the website has largely become little more than a cheerleader for the Trump campaign.
In any case, Lewandowski's case will move forward and probably go to trial right in time for the Republican National Convention.