In Campaign Shake Up, Donald Trump Fires Campaign Manager
A campaign shake up at Trump Tower, but it's unlikely to change fundamentals.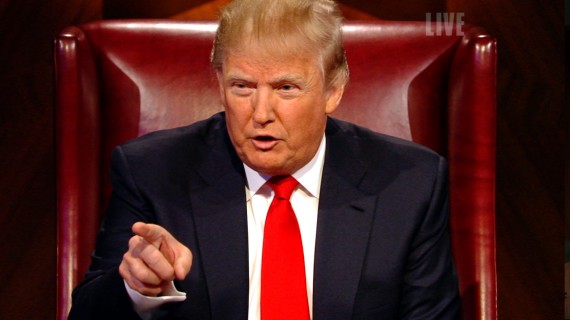 Corey Lewandowski, the controversial campaign manager who led Donald Trump's Presidential campaign as it disposed of sixteen Republican rivals and won the Republican nomination for President, has been dismissed from the Trump campaign in a move that seems to have come as a surprise to even many of the other workers on the campaign itself:
Donald J. Trump has fired his divisive campaign manager, Corey Lewandowski, a move that comes as the presumptive Republican nominee faces challenges as he heads into the general election.

Mr. Lewandowski could not immediately be reached for comment about his departure, which was announced by the campaign.

"The Donald J. Trump Campaign for President, which has set a historic record in the Republican primary having received almost 14 million votes, has today announced that Corey Lewandowski will no longer be working with the campaign," the campaign spokeswoman, Hope Hicks, said in a statement. "The campaign is grateful to Corey for his hard work and dedication and we wish him the best in the future."

With the Republican National Convention looming next month, Mr. Trump is facing the task of broadening his team to include people with previous presidential campaign experience. Mr. Trump also has been turning his attention to fund-raising for the first time, a task that Mr. Lewandowski had assumed oversight of and one that has gone slowly for the campaign. The campaign has aired no ads in the general election and there has been no "super PAC" that received a clear public blessing from Mr. Trump and his top advisers.

The loss of Mr. Lewandowski was intended as part of a larger shift toward the final sprint of the race, according to those briefed on the matter.

Mr. Trump had faced increasing concerns from allies and donors, as well as his children, about the next phase of the campaign. It is a move that could reassure donors and Republicans more broadly that he can adjust toward a November election strategy.

Two people briefed on the move, who spoke on condition of anonymity, said that Mr. Lewandowski was fired.

The campaign manager was seen as having a hostile relationship with many members of the national press corps who cover Mr. Trump, and many officials at the Republican National Committee had strained relationships with him.

And Mr. Lewandowski was often at odds with Mr. Trump's chief strategist, Paul Manafort, who was brought on in March when the candidate seemed poised for a lengthy fight over delegates.

Mr. Lewandowski was said to have resisted certain moves that would have increased the number of staff members, at times blocking Mr. Manafort from making hires or later undoing them.

But the people briefed on Mr. Lewandowski's departure said that the circumstances went well beyond any particular episode or any particular relationship. Mr. Lewandowski had a penchant for making headlines about himself that overshadowed his boss, including being charged with misdemeanor battery, a charge later dropped, after he was accused of grabbing a reporter as she approached Mr. Trump with a question in Jupiter, Fla., on March 8, a night when the candidate won three of four Republican state primary votes.

One person stressed that the move had been in the works for many weeks, particularly since it became clear that Mr. Trump would be the nominee. The person added said that the campaign is now focusing on bringing the party together, including hiring new staff members and adjusting to the race against Hillary Clinton. And there had been a desire for many weeks to make changes ahead of the Republican National Convention, July 18-21 in Cleveland.
Given the trouble that the Trump campaign has been having of late, it is, I suppose, no surprise that there would be a shakeup and that Lewandowski would be the one who lost out on whatever internal battles may be going on over at Trump Tower. It was Lewandowski, after all, who was not too long ago given the responsibility of coordinating the campaign with Republican National Committee and calming whatever tensions might exist between Trump and both the RNC and Republican office holders. What we've seen instead is a wide swath of Republicans distancing themselves from Trump to the point where it is seemingly becoming a stampede. In reality, it's hard to see what Lewandowski could have done given the fact that most of these defections were based on things that the candidate was saying himself, whether it was seemingly racist statements about the Judge presiding over the Trump University case or Trump's decision to renew his call for a ban on Muslim immigration to the United States. It is this rhetoric, along with everything that Trump has said in the past, that has been responsible for the GOP rejection of the Trump campaign, although admittedly Trump's historically atrocious polling numbers haven't helped the situation. Of course, the fact that Lewandowski may not have been directly responsible for any of this doesn't really matter. In politics there's always a sacrificial lamb in these sorts of situations, and Lewandowski's history with the campaign was already controversial enough, mostly notably in connection with the battery charge against journalist Michelle Fields, then a reporter for Breitbart, for which Lewandsowski was formally charged before the prosecutor decided not to proceed with the case. Additionally, it has been widely reported that Trump's family, principally Trump's daughter Ivanka and her husband Jared Kushner, had been pushing Trump to fire the campaign manager for some time now. Given that, Lewandowski's fate was likely sealed long ago and it was just a matter of time before he was let go.
Shaking up a campaign that has manifested the kind of trouble that Trump's has is hardly unusual. It happens all the time at all levels of politics, including the Presidential level. A shake up like this at this point in the race isn't a sign of a healthy campaign of course, but whatever the timing might be it's often the only option a campaign in crisis has to both reset the direction of the campaign itself and attempt to regain the confidence of Republican insiders who see nothing but cratering poll numbers and a lack of the money needed to run an effective campaign going forward. As Chris Cillizza notes, though, it's unlikely to get to the heart of the problems with Trump's campaign:
Here's the problem as I see it:  Trump is the campaign manager, chief strategist, lead organizer and every other senior role within the campaign. (Yes, Lewandowski "managed" the campaign but only in the sense that he executed things that Trump asked him to do.  "Campaign implementer" is a more accurate title for what Lewandowski did.)

The only way Trump's campaign changes in any meaningful way then is if Trump himself changes.  He's rhetorically flicked at the idea of becoming "more presidential" and insisted that if he is elected president he will act with much more gravitas. But, Trump keeps making that promise — remember how he said he was going to be more presidential once he won the primary? — and not keeping it.

Why? Because people don't change. Especially very successful people who are 70 years old.

Firing Lewandowski is totally meaningless unless, in getting rid of his alter ego, Trump finally makes those long promised changes in how he behaves — both toward those in his own party and on the issues facing the country. It's hard to imagine.
Cillizza is right, of course. In the end, the problems with Donald Trump's campaign are attributable to Trump himself and they go to his personality and the things that he says. Trump clearly believes that following his instincts is what won him the nomination. That's why he's acting the same way he did then, and it's unlikely that he's going to recognize or admit that he's wrong. It's hard to believe that Trump will change either his behavior or his rhetoric and as long as that's the case it's hard to believe his campaign is going to change in any significant way.