Trump Campaign Manager Charged With Assaulting Reporter
The violence that Donald Trump encourages among supporters is manifesting itself in real life.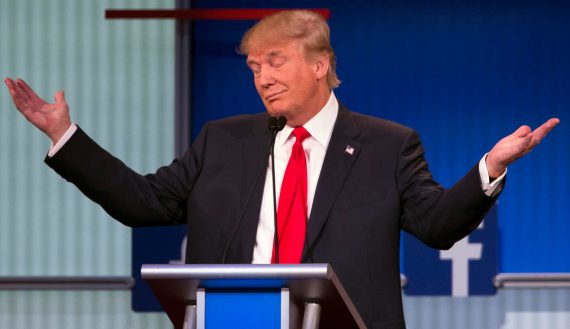 Breitbart News reporter Michelle Fields, who has worked in the past for The Daily Caller as well as appearing on Fox News Channel and other conservative outlets, is accusing  Corey Lewandowski, Donald Trump's campaign manager, of assault after an incident that occurred at the end of Donald Trump's election night press conference in Florida after winning the Michigan and Mississippi primaries. It all started when Fields published her own account of what happened at Breitbart itself:
On Tuesday night, I went to cover Donald Trump's press conference at the Trump National Golf Club in Jupiter, Florida. I was looking to cover the event like I have covered many live political events for Breitbart News, including an uneventful Trump press conference in Palm Beach the week before.

Addressing the gathered reporters and the nation at large, Trump was in an especially jovial mood Tuesday night. The networks just declared he had won the Mississippi Republican primary and, during his speech, that he won Michigan Republican primary as well.

I wasn't called upon to ask a question during the televised press conference, but afterwards Trump wandered around, stopping at every reporter to take their questions. When he approached me, I asked him about his view on an aspect of affirmative action. 

Trump acknowledged the question, but before he could answer I was jolted backwards. Someone had grabbed me tightly by the arm and yanked me down. I almost fell to the ground, but was able to maintain my balance. Nonetheless, I was shaken. 

The Washington Post's Ben Terris immediately remarked that it was Trump's campaign manager, Corey Lewandowski, who aggressively tried to pull me to the ground. I quickly turned around and saw Lewandowski and Trump exiting the building together. No apology. No explanation for why he did this.  

Even if Trump was done taking questions, Lewandowski would be out of line. Campaign managers aren't supposed to try to forcefully throw reporters to the ground, no matter the circumstance. But what made this especially jarring is that there was no hint Trump was done taking questions. No one was pushing him to get away. He seemed to have been happily answering queries from my fellow reporters just a moment before.  
Initially at least, the story wasn't picked up by many news organizations outside the blogosphere, although Politico's Hadas Gold did publish an account of what happened, and The Washington Post's Ben Terris, who was nearby when the incident happened and identified Lewandowski as the person who pulled Fields to the ground. Politico, meanwhile, released an audiotape that captured the conversation between Fields and Terris immediately after the incident that clearly corroborates both their version of events to the extent it records Terris's immediate identification of Lewandowski as the person who pulled Fields down. While the campaign has since denied that anything even happened and accused Fields of making the entire story up notwithstanding the fact that she tweeted pictures of what clearly appear to be bruises she said resulted from the incident, initial reports suggested that Lewandowski was fully aware of what happened and explained that he didn't know who Fields worked for because she wasn't part of the regular press pool that normally follows Trump around:
[S]ources said Lewandowski acknowledged to Breitbart's Washington political editor, Matthew Boyle, that he did manhandle Fields.

Lewandowski's explanation to Boyle, said these sources, was that he and Fields had never met before and that he didn't recognize her as a Breitbart reporter, instead mistaking her for an adversarial member of the mainstream media.
In other words, Lewandowski is sorry for assaulting someone who works for a media outlet that has been generally positive toward the Trump campaign, but thinks it would have been perfectly okay to assault someone who is a member of the "adversarial" press. In reality, this is hardly a surprising attitude coming from a Trump campaign aide because it perfectly reflects the boss's attitude toward the media and toward anyone who disagrees with him. There's hardly a Donald Trump rally that goes by without the candidate speaking out against the press, calling them "scum" and "garbage" while they stand in the back of the room giving him the free media coverage that he craves, and even talking about changing libel laws to make it easier to sue reporters who publish things politicians and celebrities don't like. These are the same Trump rallies where protesters have been manhandled and beaten by members of the crowd, including an incident just this week in which a Trump supporter was arrested after punching a protester in the face. Given such an atmosphere, it's not entirely surprising that one of Trump's campaign aides would find it acceptable to assault reporters.
The Trump campaign continues to deny that anything happened, and after initially supporting their reporter, the pro-Trump sycophants at Breitbart now seem to be filing investigative "reporting" pieces trying to debunk her version of events, an investigation that the Post's Ben Terris, the only real witness to the incident, completely disputes. Now, the incident has taken a new turn with the filing of assault charges against Lewandowski in Florida:
Florida law enforcement is investigating an alleged physical altercation between Donald Trump campaign manager Corey Lewandowski and Breitbart reporter Michelle Fields, who filed a police report against Trump's top aide on Friday.

Fields alleges Lewandowski strong handed her on Tuesday night as she tried to ask Trump a question following his press conference in Jupiter, Florida. Washington Post reporter Ben Terris has backed up her claim.

The Jupiter Police Department released a statement confirming that the report had been filed on Friday. "The Jupiter Police Department is currently investigating an alleged battery that occurred at 115 Eagle Tree Terrace (Trump National) on March 8, 2016. A police report was filed with the Jupiter Police department on March 11, 2016 at approximately 10:00AM and the investigation is ongoing. As with any investigation, specific details concerning criminal investigative information is not releasable while the investigation is considered active. Any additional details regarding this incident will be released once the investigation has concluded. The initial report, outlining the date, time, location, and nature of the incident will be released today," the police said.

Independent Journal Review first reported on the charges on Friday morning.

The Trump campaign has flatly denied the allegations, going so far as to question Fields' motivations and personal history. Following Thursday's CNN debate, Trump told reporters that the Secret Service told him nothing happened and that Fields might be making the story up.
As is always the case, Lewandowski is innocent until proven guilty of the charges against him. At the same time, given the environment that Trump's campaign has created, reports like this are both unsurprising and rather disturbing, especially when Trump himself says things like this:
During a Friday news conference, Republican presidential frontrunner Donald Trump characterized protesters getting punched at his events as "very, very appropriate" because "these are people that punch, there are people that are violent people." His comments came two days after Rakeem Jones was sucker-punched at a Trump rally in North Carolina by a man who was later charged with assault.

(…)

On Friday, Trump went on to say "we have had a couple [protesters] that were really violent, and the particular one when I said I'd like to bang him, that was a very — he was a guy who was swinging, very loud and started swinging at the audience and the audience swung back and I thought it was very, very appropriate."

"He was swinging, he was hitting people and the audience hit back and that's what we need," he added.

Trump didn't make clear what specific incident he was referring to. But during a rally in Las Vegas last month, Trump had this to say about a protester who was escorted away: "The guards are being very gentle with him… I'd like to punch him in the face, I'll tell you that." He added that the protester had been "throwing punches."

Politico, however, spoke with security guards who worked the event, and none of them saw the protester try to punch anybody.

Trump "was just over-exaggerating," said one security guard, who asked Politico not to use his name.

Publicly, at least, Trump has repeatedly made clear he doesn't view violence at his rallies as a problem. The topic came up during Thursday night's GOP presidential debate. Trump said he hopes his campaign hasn't created a tone of violence, but then described his supporters as simply having "tremendous passion."

"When they see protesters, when they see what's going in on the country, they have anger," Trump said. "They don't like seeing bad trade deals, higher taxes, loss of their jobs."
And this is the Republican frontrunner for President of the United States.
Update: Newly released video from C-Span appears to corroborate Fields and Terris's version of events. More on this video at The Daily Beast.