Drop In Hillary Clinton's Favorability Numbers May Not Be A Big Deal
Hillary Clinton has suffered drops in her favorability numbers lately, but that may not mean much for 2016.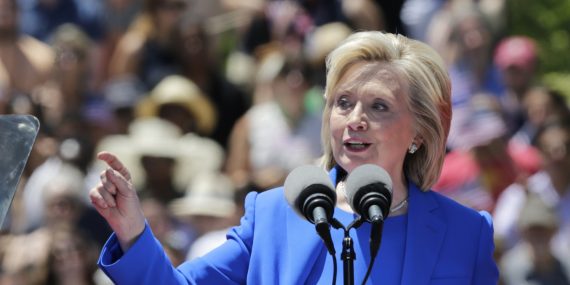 Over the past several months, many who have been writing about the 2016 election, myself included, have made a great deal out of Hillary Clinton's declining favorability numbers and poll results that indicate that voters do not consider her trustworthy. The fact that Clinton continues to lead the race for the Democratic nomination by a wide margin, and continues to have fairly good leads over her prospective Republican rivals, has pushed back on the importance of these numbers to some extent, of course. The response of analysts, though, has been that it may only be a matter of time before Hillary's declining favorability and other problems catch up with her. In The New York Times, however, Brendan Nyhan argues that the numbers that we've all been concentrating on don't really mean that much at this point in the election cycle:
Candidate perceptions are not a good predictor of the ultimate election outcome, especially this early. In April 1992, for instance, a Gallup poll found that Bill Clinton's ratings were 34 percent favorable and 47 percent unfavorable, but he went on to defeat George H.W. Bush by more than five percentage points in the popular vote seven months later. By contrast, even though an April 2008 Gallup poll found that 60 percent of Americans had a favorable view of John McCain, he ended up losing to Barack Obama by more than seven percentage points.

While it might seem obvious that people vote for the candidate they like best, that notion often gets the direction of causality backward. In the heat of the campaign, we ultimately tend to find reasons to support candidates who share our party affiliation or seem to have a good record in office (and to oppose candidates who do not). One way people do this, as the George Washington University political scientist John Sides notes, is by focusing on the positive aspects of candidates they are inclined to support (Mitt Romney's management experience) and playing down any less appealing aspects (his likability).

(…)

Could Mrs. Clinton lose? Of course! But it's far too soon to know, especially given the powerful effect that the state of the economy next year will have on the eventual outcome. At this point, I'd look to the betting markets, which put Democrats' chances of retaining the presidency at approximately 60 percent. People with real money on the line seem to have a more favorable view of her odds in 2016.
Nyhan's comments are well taken, and I think a lot of the reasons behind the breathless reporting and blog posting we've seen in the wake of new polls showing Hillary Clinton's declining favorability has largely been yet another example of how politics tends to be covered by the media. There's a lot pressure to find something, anything to talk about, and new poll results are certainly a great opportunity for everyone who fancies themselves a political analyst to chime in with their opinion. On the partisan side, of course, Republicans have touted this numbers as evidence of Clinton's vulnerability in 2016. In the wider media, though, it's less about partisanship than it is about the need to create a story when there may be one there at all. In this case, the story is Clinton's alleged vulnerability which has also led to a great deal of coverage for Bernie Sanders, who is obviously not going to be the Democratic nominee for President, as well as another round of speculation about Vice-President Biden, including a piece today in National Journal. To a large degree, the news networks know that their political coverage is not going garner good ratings if there aren't good stories to tell, so they go out looking for stories. On the Republican side, that job has been made very easy thanks to Donald Trump's candidacy. On the Democratic side, they've largely had to create the stories with coverage of Sanders and the supposed crises in Clinton's campaign as demonstrated by these poll numbers. As Nyhan points out, there's likely less there than meets the eye.
Is it possible that Clinton's bad poll numbers could catch up with her? Certainly it is, there are just over fifteen months left before the General Election and anything can happen in that long a period of time. Clinton's own habit of being less than forthcoming when answering questions about things like her use of a private e-mail server and other issues could come back to bite her in the end. At the same time, though, it's more likely that the outcome of the election is going to be decided by whatever issues are forefront in the mind of the public a year from now. If the economy is in good shape and the international scene hasn't exploded into chaos, then that will likely benefit Clinton as the nominee of the incumbent party, for example. Additionally, how the fight for the Republican nomination plays out is likely to have an impact on the race as well. Clinton's approval numbers will fit into the mix somehow, obviously, but as Nyhan's notes it's generally the case that people end up finding a way to like the person they decide to vote for, and while Hillary Clinton may not see the high popularity numbers she had when she was Secretary of State between now and the election, it would not be unusual to see her bounce back from the point where she is now.