DSCC Pulls Ads For Grimes In Kentucky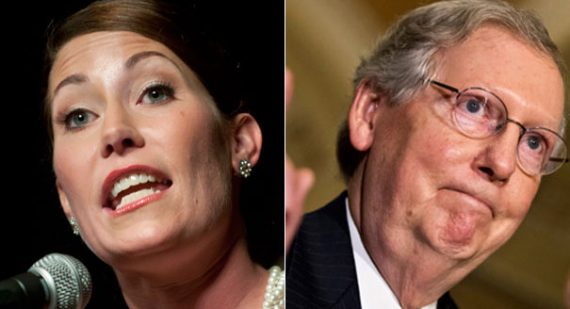 The Democratic Senatorial Campaign Committee will not be spending any money for television ads in the final three weeks of the campaign in Kentucky, a move that seems to send a signal about what national Democrats really think about the prospects for Alison Lundergan Grimes:
The Democratic Senatorial Campaign Committee has gone dark in Kentucky, where the party is targeting Senate Minority Leader Mitch McConnell.

After a significant investment in support of Kentucky Secretary of State Alison Lundergan Grimes, the DSCC had not reserved time for the final three weeks of the race and, as of today, is no longer on the air.

"The DSCC has now spent more than 2 million in Kentucky and continues to make targeted investments in the ground game while monitoring the race for future investments, but is currently not on the air in the state," a DSCC official told CQ Roll Call.

McConnell has held small but consistent leads in nearly every recent public poll.

As it seeks to keep Republicans from picking up six seats and the Senate majority, the DSCC's independent expenditure unit may see a better opportunity in Georgia, where it just purchased significant advertising time.
The sight of parties switching money out of one race and into an other is not uncommon, of course. In these final weeks of the race decisions must be made by both parties about where to concentrate resources to places where they might be most effective. In this case, notwithstanding one recent poll that suggested that Grimes had surged, a subsequent poll showed Senator McConnell back in the lead with a four point margin and the RealClearPolitics average gives him a 3 point lead. At this point in the race, that's going to be a tough margin to overcome for a Democrat running in what is largely a Republican state at the national level. Additionally, by near universal assessment, Grimes has not helped herself in the last few days with a babbling and incoherent response to the question of who she voted for in the 2008 and 2012 Presidential elections, a problem that continued in last night's debate. As Jeff Greenfield noted this morning, her response to the question, which would seem to be an easy one to answer, is politically dumb and tone deaf.
The Georgia race, by contrast, appears to be one that could be a good investment for national Democrats. While Republican nominee David Perdue does continue to lead in the polling average, three recent polls from Atlanta media, Survey USA, and Public Policy Polling do seem to suggest that Michelle Nunn is closing the gap. The issue that Democrats face in Georgia, though, is that it doesn't appear that either Nunn or Perdue will end up getting more than 50% of the vote on Election Day, meaning that the will be forced into a head-to-head runoff on January 6th. In that race, with just Perdue and Nunn on the ballot, Nunn may find it harder to keep up the performance that she has in the polling to date. In any case, though, for the moment Georgia appears to be a smarter investment than Kentucky where, absent some surprise, it really does appear that Mitch McConnell will pull of another victory.